Touring wheels: the best ones and how to choose
Among the fundamental components of the bicycle we must include, without a shadow of a doubt, the tourism wheels. But are there specific wheels for travelling? And in general, what characteristics should they have? Let's find out together.
As always, I give due permission and underline the fact that to travel by bike you don't need vehicles worth thousands of euros, with super-performing touring cycle wheels and top-of-the-range components. The grandfather's gate you find in the cellar is also perfectly fine: dust it a little, grease it up here and there and you can leave. I mean it seriously, convinced that it is so. But then everyone also has the right to feed their own hobby, to invest time and money in passions and therefore also in the means that make these loves come true.
Here, the same concept applies to cycle touring wheels: you can use the ones you find in your hands or you can invest money to have a specific product. Among other things, as we will see later, in the case of a touring bike it is not advisable to have top-of-the-range wheels and therefore the costs are ultimately quite affordable.
What characteristics must a cycle touring wheel have?
If you've already read some of my other articles dedicated to components and accessories for bike travel, you'll know perfectly well that I don't usually give unambiguous and definitive assessments. Don't expect my judgment of touring wheels to be any different. The choice and features depend a lot on the subject and the type of trip you want to undertake. It is evident that if you are a petite and light girl that travel in bikepacking with ultra-technical equipment and you limit yourself to two or three days of travel on asphalt, you will have different needs from me who , over the years, I've been putting on belly and traveling with a 3-person tent, winter sleeping bag, crockery, long johns, computer, moka, kilos of food and sometimes even with the trolley attached of the dog, often going to get stuck on very battered roads and paths.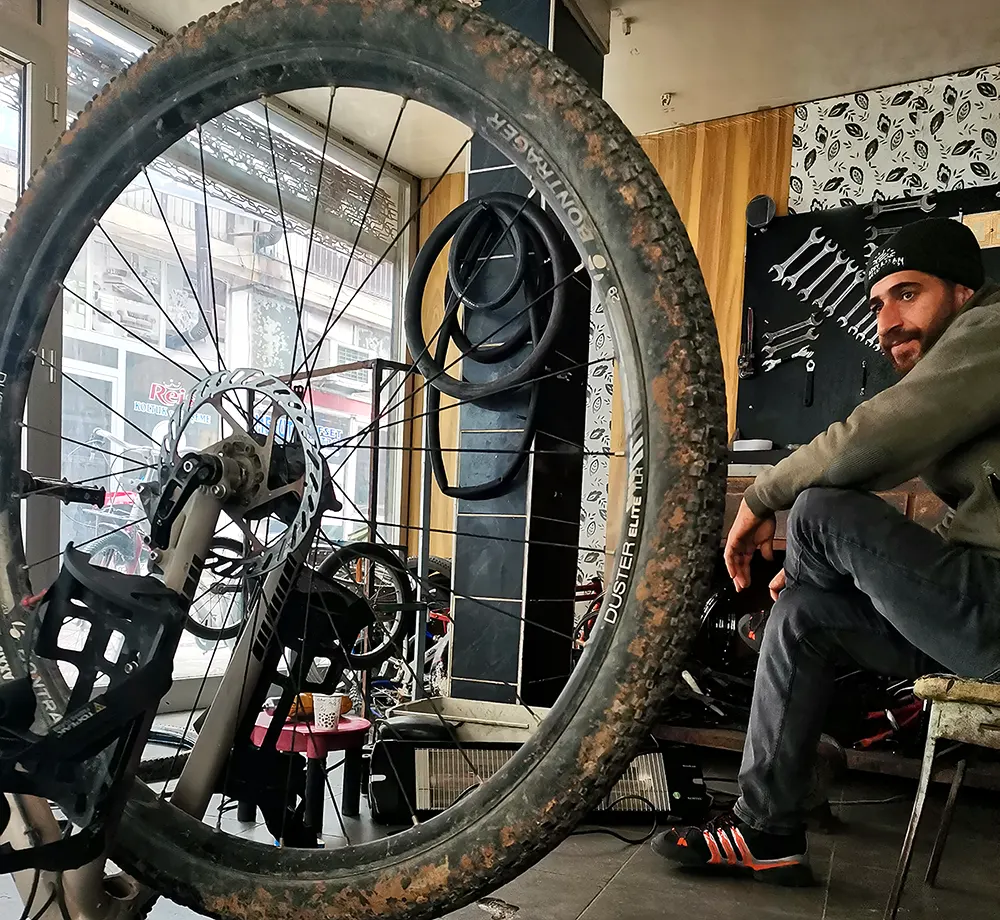 In short, I hope the concept is clear: total weight of biker + luggage and type of terrain on which you travel are important for choosing the right wheel.< /p>
In general, however, my subsequent evaluations are aimed at an average cycle traveler who doesn't have to do ultracycling competitions, but can pedal relaxed without looking at averages/kilometres/differences in height/watt/KOM and chipiunehapiunemetta.
The aforementioned cycle traveler must look for a cycle touring wheel that is:
solid: it must withstand the stresses of all types of terrain;
durable: it must withstand long journeys around the world over time;
reliable: he must ensure that he does not leave him stranded in the middle of a desert or rainforest
with a good load capacity: it doesn't have to suffer the weight of a slightly chubby cycle traveler and his luggage.
How is a bike wheel made?
There are four components of a wheel:
To which must then be added the the right tire for travel and possibly the inner tube. Let's then analyze the individual components, trying to understand which ones are best for cycling tourism.
Cycle touring wheel rim: how to choose it?
Certainly the first thing to evaluate is the diameter, but we have already talked about this by analyzing whether it was a 26", 27.5" or 29" wheel is better for cycling.
Given that you will have to focus on wheels with rims of the right diameter, there are other elements to take into consideration.
For example the material. Typically, the rims for touring bikes are made of extruded aluminum or, if you are looking for lightness, of carbon fiber.
If you travel loaded and in remote countries, I do not recommend carbon, even if by now the quality level of the fibers has reached quite high standards. However, its cost and its impossibility to be simply repaired still make me suggest caution in its use.
According to the above, for the average touring cyclist looking for strength and solidity, aluminum is the obvious option. In this case, the choice must fall on double-wall rims, which therefore have two aluminum planes in the section (see photo). Furthermore, ideally the holes in the rim should be reinforced with eyelets, also in aluminum which help distribute the tension exerted on the spokes and reinforce the rim itself. The eyelets can be single or, in the case of a double wall, double (they distribute the tension on both walls).
Another fundamental characteristic to consider in rims is the width. Historically, racing bike rims had an internal width of 13 mm, while today the trend is to use 17 mm rims to accommodate 25 mm tyres.
Even on mountain bikes, the width of the rims has gradually widened from the 19-23 mm of a few years ago to the current 24-30 mm not to mention the enduro where you get a 35mm and beyond.
You can see the correspondence between the width of the internal rim channel and that of the tire in this handy table created by Schwalbe: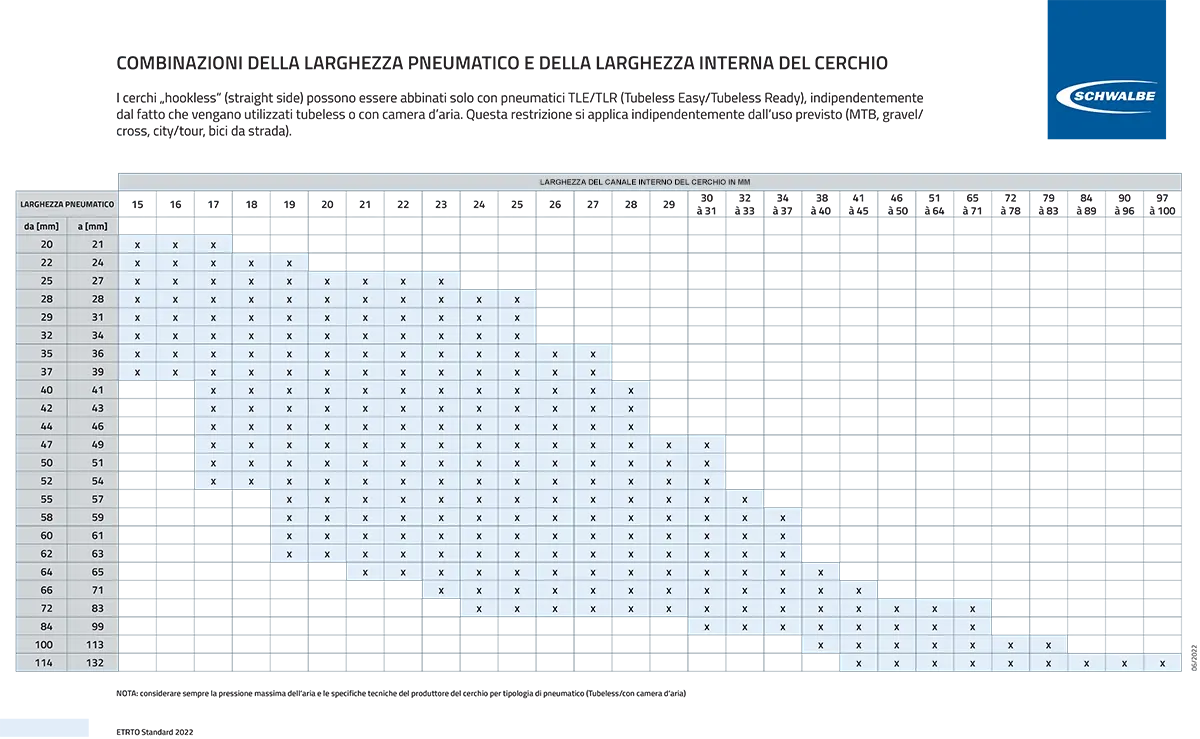 And for cycle tourism? What is the correct rim width measurement?
Again, it depends. It is clear that if you want a more agile and smooth-running bike to be used mainly on asphalt, you will have to mount wheels with narrow rims (I recommend not going below 19 mm on which 28" tires can be mounted). up to about 60 mm) while if you are looking for a more comfortable bike, with better grip, to be used also and especially off-road, I recommend going up a bit in section and reaching up to 35 mm. The Genesis Longitude that I use now mounts 35mm (27.5") WTB Scraper wheels and I must say that they are impressive in terms of comfort and grip and I have not yet used the Trailblazer tires in tubeless mode! Of course, on asphalt yes he loses a little, but you can't have everything in life right?!?
Perhaps the 35 mm of my rims are excessive (you can't fit tires under 2.3") for most cycle travellers, but my suggestion, if you want more comfort and tackle a bit of dirt road, is that of mounting 25 or 27 mm rims on which you can choose to mount tyresbetween 42 mm and 2.3".
Rays
The number of spokes and their type clearly influence the quality and durability of a cycle touring wheel.
The number of spokes can vary in general, for travel wheels, between 28, 32, 36, 40 or even 48. In reality, the 40 or 48 spoke setup should be considered, in my opinion, only if you are very heavy or, for example, on tandems. For all the others, a 32 or 36 spoke configuration is more than sufficient.

Having a configuration with 36 spokes is advantageous above all when one of them should break: in this case it is probable that the wheel will not be excessively off center and you will be able to continue pedaling for somewhat without problems, given that the overall structure remains almost intact.
On the other hand, the 32-spoke configuration is certainly more common and widespread and therefore easier to find suitable spare parts.
Then there are discussions about the thickness of the spokes (generally 2 mm) and about having different thicknesses between the drive side and the opposite side. On this point, I don't have the skills and knowledge to give an assessment, even if I believe that the actual advantages would only be appreciated by very few cyclists.
Nipples
Nipples are those joints that join the spokes and the rim through which it is possible to tension the spokes and consequently center the wheel.
The most suitable nipples for a cycle touring wheel are made of brass and not of aluminum because they are more resistant and durable.
Hub
The last thing to consider are the hubs. The two options available are cone and ball or sealed bearing. The first are, for example, all those used by Shimano, while many other companies have now switched to the second type.
The former are easier to maintain even in DIY, but they must be taken care of while the latter are probably more widespread and easy to find almost everywhere.
Even the material can vary and basically a steel hub should be preferable to an aluminum one, given the resistance.
Finally, you can mount hubs with internal gears (such as Rolhoff) and hubs with dynamo to recharge lights or device, but these are evaluations that I leave to you.
Disc or rim brakes
By now the vast majority of bikes, even for touring bikes, are equipped with disc brakes. The discussion has moved more to whether they are mechanical or hydraulic disc brakes.
If you're nostalgic and still prefer v-brakes or cantilevers, make sure you buy wheels that have a track for the brake pads. Vice versa, rims suitable for rim brakes can also be used with disc brakes.
Valve hole
Another factor to consider is that of the valves. By now, in most cases in Europe presta valves are used and the rims have holes with a diameter sized for these valves, but in less advanced countries the most common valves the schraders remain which have a larger diameter. Personally, it has already happened to me twice (in Bolivia and in Turkey) that I have to resort to a drill to enlarge the hole in the rim and make room for these valves. It's a detail, but it's better to keep it in mind.
Touring wheels that I recommend
The ideal is, as you will have understood, to have a set of wheels built according to your needs, combining selected rims and hubs and perhaps relying on a professional who puts his experience into the assembly.
Based on this reasoning, I suggest some perfect solutions for cycle travellers. In some cases these are rims to be combined with a hub of your choice while in others it is already a specific set of pre-assembled wheels. All of the models listed below have a 700c diameter, but sometimes there are 26" or 27.5" equivalents.
Ryde Andra 40
Touring rims from a Dutch company, resistant and with a width of 25 mm, suitable for accommodating wheels from 44 to 65 mm. Other models in the Andra series are better suited to narrower wheels. Available in disc or rim brake versions and in various diameter sizes. Find all the specifications on the manufacturer's website.&nbsp ;
Sun Ringle Rhyno
Other rims that are super popular with cycle travellers. Made of aluminum, they have excellent resistance to large loads. The internal width in this case is 21 mm for the 700c rim but also in this case different sizes are available. 
WTB Kom Light i23
One of the most active companies in the adventure sector as regards components is certainly Wilderness Trail Bikes. Kom Light rims come in various sizes and are mainly suitable for gravel or adventure bikes, designed to be used above all as tubeless, without reaching such extreme maximum loads as the Ryde Andra or Rhyno. Access the WTB website to discover all the features of these travel rims.
Stan's NoTubes S1 Crest
All-round wheels that wink at offroad with 23 mm internal width. The Stan's No Tubes wheels in question have rims with 32 holes made of aluminum like the previous ones. The hub is a Neo with Durasync. Again the max load isn't huge, but it's still suitable for most riders. For technical information, I refer you to the dedicated page on the Stan's No Tubes website.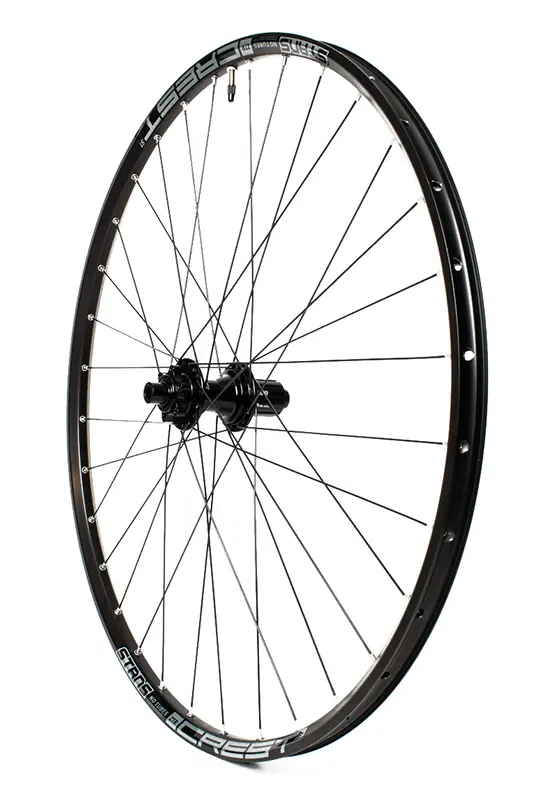 Velocity Cliff Hanger
Very popular American touring wheels. They can be mounted as desired with different types of hubs (even with dynamos). The only real problem could be import taxes if you buy online on the velocity site

DT Swiss HU 1900 Spline
Designed specifically for ebikes, these wheels are designed to hold up to greater loads and therefore also suitable for cycle travellers. With an internal channel of 25mm for the 29" diameter and 35mm for the smaller 27.5", they are suitable for almost all travel tire dimensions and also designed for those who love tubeless technology.
ITA - Cicloviaggiatore lento con il pallino per la scrittura e la fotografia. Se non è in viaggio ama perdersi lungo i mille sentieri che solcano le splendide montagne del suo Trentino e dei dintorni del lago d'Iseo dove abita. Sia a piedi che in mountain bike. Eterno Peter Pan che ama realizzare i propri sogni senza lasciarli per troppo tempo nel cassetto, ha dedicato e dedica gran parte della vita al cicloturismo viaggiando in Europa, Asia, Sud America e Africa con Vero, compagna di viaggio e di vita e Nala.
EN - Slow cycle traveler with a passion for writing and photography. If he is not traveling, he loves to get lost along the thousands of paths that cross the splendid mountains of his Trentino and the surroundings of Lake Iseo where he lives. Both on foot and by mountain bike. Eternal Peter Pan who loves realizing his dreams without leaving them in the drawer for too long, has dedicated and dedicates a large part of his life to bicycle touring in Europe, Asia, South America and Africa with Vero, travel and life partner and Nala.