Cinque Terre bike tour: the scenic route
Cinque Terre bike tour is an unforgettable experience. Small villages on top of the hills on the cliff above the sea, it might seem impossible to be able to cycle through Monterosso, Vernazza, Corniglia, Manarola and Rio Maggiore. It's actually possible, and it's amazing!
Cinque Terre bike tour: amazing!
We're totally in love with Liguria and during these last years we've visited it many times. We know there is a more technical and stunning itinerary on the Alta Via delle Cinque Terre (the High Route) for MTB riders, but in this occasion I'd like to introduce you to the Cinque Terre Bike Tour, a bicycle touring itinerary in order to explore this wonderful area.
It's a 100% on paved roads, following the scenic route of the Cinque Terre, from Levanto to La Spezia. A medium difficulty itinerary, with 800 m of elevation gain, all in the very first section. If you're not satisfied with stunning views and you want some small villages, prepare to add some ascent, up and down towards the sea, even if my personal advice is to split this visit in two days and fully enjoy the ride in a more relaxed way. Besides, if you love longer itineraries, this Cinque Terre bike tour is included in the European route variation of the Eurovelo 5 of Romea Francigena Way.
Uphill from Levanto
Leaving Levanto and its seafront to climb towards the backcountry. After the first kilometre, we pass over Ghiaiaro river to take the SP38 towards La Spezia. The road starts climbing towards the mountains, and the Termine Pass: 10 km with a medium gradient of 7,5%, with some higher peaks. Passing by Legnaro then Fontona on the South. Looking back you can appreciate Levanto from the height. After Chiesanuova the road gets easier and we reach Colle di Gritta, 330 m high, where we can turn towards Monterosso.
Let's keep our quota on these beautiful views of the Cinque Terre bike tour and on Punta Mesco. Just a bit further we reach the Nostra Signora di Soviore Sanctuary, the perfect excuse for a stop and some pictures. The first difficulty of the day is about to finish: Termine Pass and the detour towards the Cinque Terre by bicycle are reached.
Cinque Terre bike tour: cycling on the stunningly scenic route
You deserve a resting moment before this constant up and downhill: the road isn't busy at all, especially if you ride during the week. Pedalling towards the backcountry the typical terracing gives place to the Mediterranean scrub woods.
Leaving behind the detour towards Vernazza, we're almost half the way there.
The pace can get faster, up and downhills are softer and never too demanding. The road moves back towards the sea after a backcountry segment, and the terracing gets the space back, interrupted by the big blue expanse in front and below.
Corniglia appears down there, hanging at the rocks of the Mar Ligure. We reach Volastra, descending towards Manarola, the most accessible village of this Cinque Terre bike tour. Itineraries like this really help to relax and to enjoy life, with its ups and downs.
After the detour towards Manarola, we start climbing again to a first tunnel of the Cinque Terre road. Once passed it, we reach Riomaggiore and after its valley, with the famous Madonna di Montenero on the left, we climb again to start sighting the last bits of the stunning Cinque Terre National Park. In front of us, far away, we can glimpse the islands of Tino, Tinetto and part of Palmaria, rising in front of Portovenere.
The city gets closer and the traffic intensifies. Once passed the tunnel, we're in the La Spezia Gulf with the Arsenal and the port. The fast descent brings us to the city hinterland, and to the train station.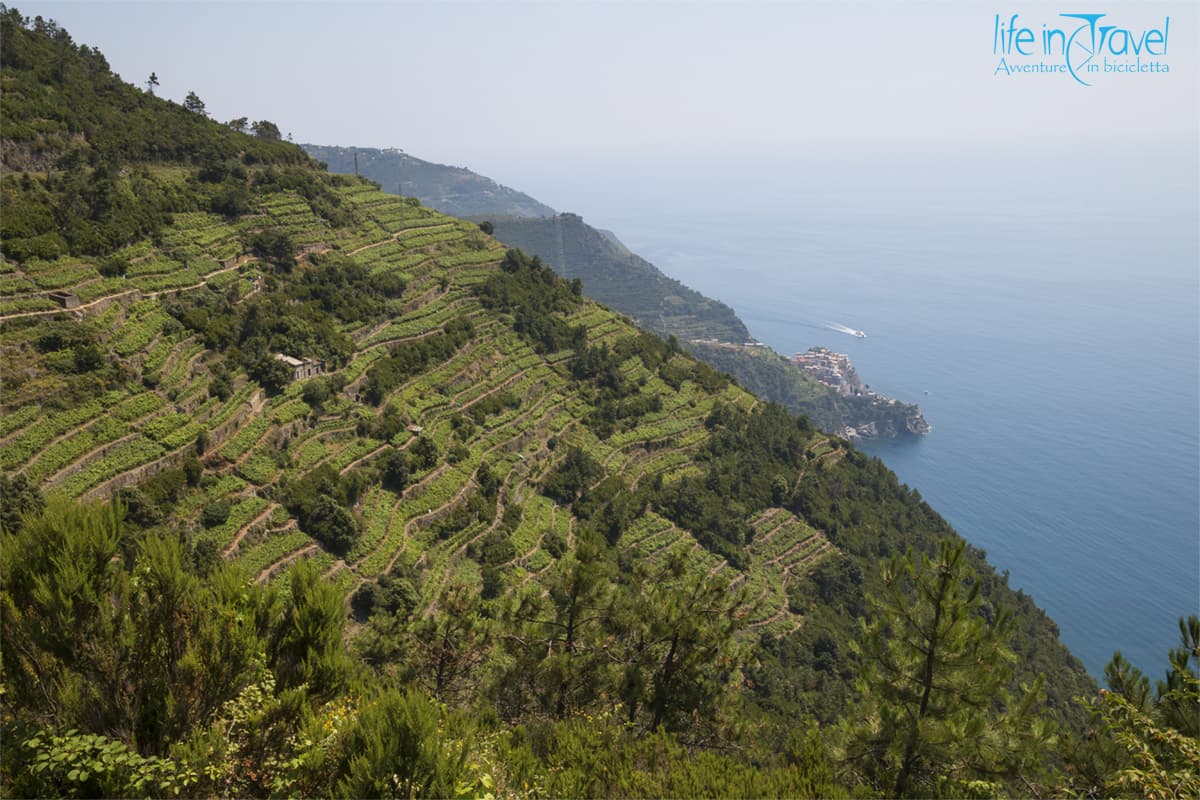 I suggest coming back to Levanto by train, comfortable and panoramic: check the possibility to carry the bike on the train. Alternatively, you can come back cycling in the Vara valley, but you have to be in shape to close this ring in a day, and you'd enjoy the scenery a bit less.
This Cinque Terre bike tour ends here. I'm sure that if you're cycling it, you'll remember it!
The main attraction of this itinerary is the panorama on 5 Terre. You can admire different landscapes every kilometre and the sights over the terraces of vines and the villages standing out on the rocks overlooking the sea: you cannot miss this!
The Sanctuary of Nostra Signora di Saviore, located on the climb towards the Passo del Termine, is worth a stop, if only for rest.
How much does it cost to sleep at Levanto? Levanto and Liguria in general, like all seaside resorts, undergo incredible price changes with significant increases in summer and more than accessible prices in other periods. The advice is, therefore, because economic, climatic and traffic reasons, to travel off-season in this area, in spring or autumn!
Where to sleep in Levanto? Levanto is a touristic town and there are all types of accommodation, from the cheapest camping to the luxury hotel. Do an online search and you will find the structure suitable for your pockets. If you prefer more freedom you can book an apartment on AirBnB.
What to eat in the 5 Terre? Liguria is the best location to try pesto, eaten with trofie (pasta) if possible. But also focaccia (white pizza) and farinata (thin chickpeas flour and oily bread) are delicious, not to mention fish dishes. A typical dish of Levanto is the Gattafin, fried ravioli filled with wild herbs and chard, along with the typical Panissa.
Where to eat in Levanto? Levanto is full of taverns, restaurants and pizzerias, so you have a good choice. To eat an excellent pizza I recommend the Pizzeria La Picea, while if you want to eat typical dishes go to the Osteria Tumelin, where you can find also fresh fish dishes.
ITA - Ho 33 anni e sono piemontese, anche se da qualche anno vivo e lavoro in Lombardia. Dopo un inizio da totale inesperto in questo campo, mi sono avvicinato al mondo dei cicloviaggi e della bicicletta sempre più. Oggi posso definirmi "cicloviaggiatore", e assieme all'altra mia passione - il videomaking - non mi fermerei mai! Cyclo ergo sum, pedalo quindi sono, per cercare di capire perché andare in bici sia così bello, terapeutico, ricco... E ogni volta che provo a capirlo, non ce la faccio, e sono costretto a ripartire sui pedali!
ENG - I'm from Piedmont and I'm 33 years old, I have been living and working in Lombardy for a few years. After a start without any competence in this field, I then approached the bicycle world more and more. Today I can call myself a bicycle traveller and videomaker who would never ever stop. Cyclo ergo sum, I cycle therefore I am. I ride my bike trying to understand why it is so beautiful, rich, therapeutic. And every time I try, I do not understand it. So I must leave again...
Latest from Francesco - Life in Travel