Some of the best bikepacking saddle bags
The rear area is one of the most used areas for transporting luggage by bike. In bikepacking you work in the absence of luggage racks, but fortunately there are many bikepacking saddle bags in which to store clothes, sleeping bag and mattress, food... Surely this is the largest area, but everyone chooses what to place in these bags. In this article we will see the main features to take into consideration for the purchase of a bikepacking seat bag and I will present you 18 of the best on the Italian and International market.
Can the bikepacking saddle bag replace a rack?
If I say bikepacking, the shape of the bike immediately comes to mind with this haughty and protruding offshoot: the saddlebag, the most inflated and well-known element in a set of bikepacking bags. However, few know that before arriving at this purchase one must (no, not "one must", "one can") go through the central frame area and then the front handlebar area.
While in the front area the front rack is replaced by the numerous Gorilla Cages, the area usually used for the transport of greater weights and volumes with a rear rack is "replaced" (even if it will never beat the carrying capacity of a rack with two bags and maybe even a central bag) from this bag, fixed in two or three points under the saddle - to the tube and to the frame of the same.
What can I carry in the bikepacking saddle bag?
There is - of course - no rule and as in many other cases when it comes to cycling or bikepacking, it depends on what type of traveler you are, how long you will travel and what your habits, priorities and equipment are... As I mentioned earlier, few consider this to be the latest purchase in a complete bikepacking kit. In fact, for short rides, you will only need a frame bag, a handlebar and one or two top tubes or headsets. The saddlebag comes next, when you consider stopping outside to sleep and need more volume, as well as more capacity. Or it can be useful in mountain bikes: an MTB saddlebag could help you where there is little space in the triangle due to the presence of a shock absorber. But be careful if you own a MTB with dropper post... the MTB saddlebag could scrape on the tire!
Secondly, while the central area, the headset bags and the handlebar bags are the most accessible, the bikepacking saddle bag does not lend itself to disassembly and reassembly during an outing or a stage. As a result, you can cram sleepwear, spare time spare parts, food supplies or chargers and cables for your tech trinkets. In short, all the material you don't need during, but after the ride. For example, both on the trip to Latvia in bikepacking and the one in the Peloponnese in bikepacking, I transported the spare parts for the evening, the clothes for the night, the beauty case with the bathroom set, the towel, the slippers, the spare shoes, a second cycling outfit and little else. As you can see in the image above, Matteo uses the saddlebag as an object holder and, in addition to the 20 liters of capacity, he uses the external straps to fix slippers, a mess tin and other clothes that are naturally drying.
Bikepacking saddle bags: features and parameters to consider
There are many features to consider when buying a bikepacking saddle bag for your bicycle. The main aspect to take into consideration is the space we have, that is the light between the underseat area and the rear wheel. This is the parameter from which we absolutely cannot escape. Everything else is the details, the compression valves, the rigid internal structure, the materials, the litter, the buttonholes, the straps, the velcro... a universe of nylon, TPU, cordura, laminates and technicalities.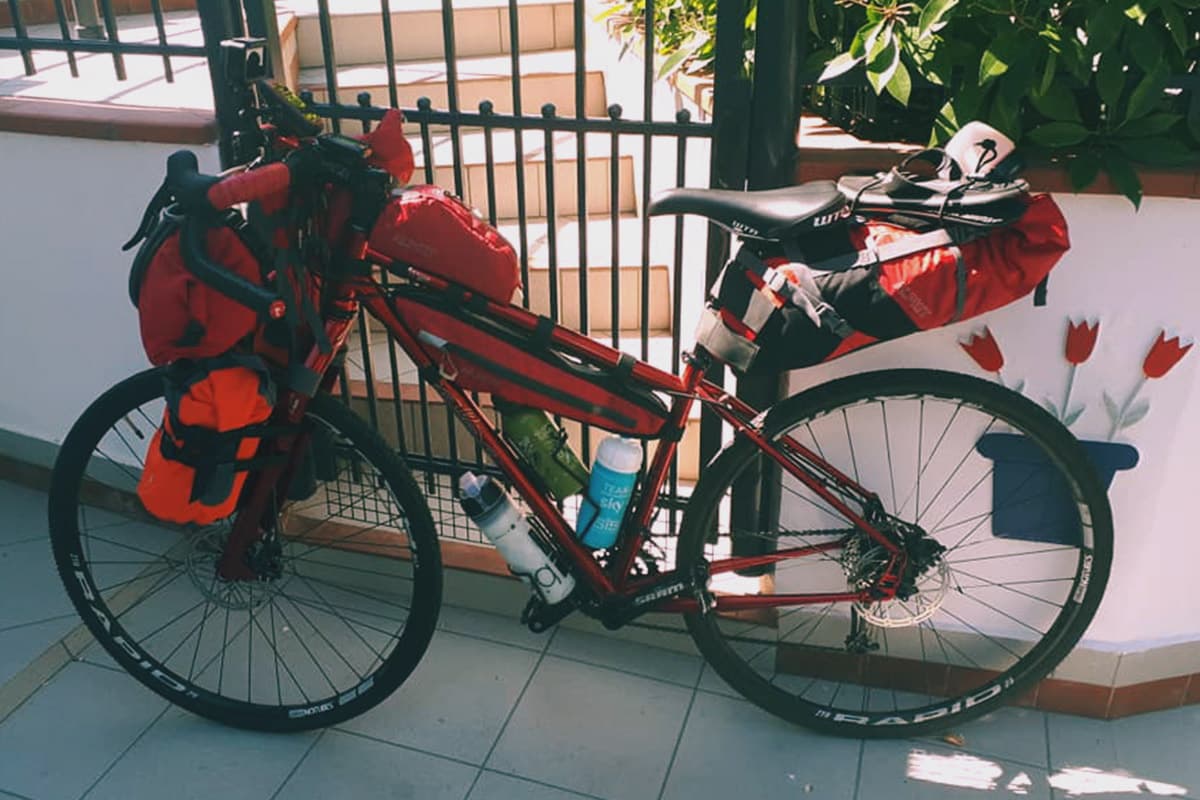 We have already said it because we believe in it very strongly: "Everyone does her/his own bikepacking". Once we know the type of trip we face or will face, the height of our saddle (which can therefore exclude some types of bags), the amount of material we want to carry in the saddlebag (just like when choosing whether to face a trip in bikepacking or classic cycle touring mode) below we find the main characteristics to consider for the difficult choice.
Size and capacity
It depends on the space left under your saddle and on your needs: you can carry from 4 up to 20-22 litres.
Waterproof materials
These bicycle saddle bags are made of different materials, from nylon to TPU, passing through polyester and cordura... almost all of these bags are waterproof, preventing the materials or clothing contained from getting wet. If your bikepacking bag is "only" water resistant, you can always use the "bag technique" and pack objects and clothing that you put in the saddlebag to waterproof them.
Bag closure
As for the bikepacking saddle bag, there are no variants of the roll closure (literally "rolling", on one side only). Some handlebar bags use zips, other clips or magnets, but they are rarer.
Hooking system
This aspect needs to be explored a bit because here, in my opinion, a basic distinction can be made, which you will also see in the list below.
The first category of bikepacking saddle bags includes accessories that are usually cheaper and more popular among those who want to try bikepacking without knowing if it really could be the "chosen" travel mode, that is, bags that attach directly to the seat post and to the frame of the same through Velcro or clip straps (usually one or two around the seat post and a pair of clip straps - one on each side - under the saddle frame) and tie the bag directly to the seat post. The advantage could lie in the price of some of these bags, but in my opinion this category immediately reveals its limits: on the one hand these risk wagging their tails frantically in rough sections or in off-saddles, on the other the inserted equipment turns out to be untouchable objects, from close and fasten to the bike in the morning and unhook and open in the evening, forcing us to choose carefully what to carry.
To make up for the first lack of this type of bags, some are equipped with a sort of harness system, a harness that stabilizes the bag more and at the same time allows easy and quick extraction and re-insertion, during a stop or to remove / put something on the fly. Within this second category then, we can distinguish the soft shells or the rigid harnesses in aluminum / steel, to further complicate the choice parameters. On this distinction we can therefore choose the category we prefer, always according to the type of traveler we are and the journey we face. I'll give two examples on the fly, introducing two Italian manufacturers: Miss Grape for the first category and Vap Cycling for the second. Their products are both very stable, so one of the negative points of the first category is not mentioned in this case, but the substantial difference is that the first of the two bags takes time to be removed and put back in place, because they have to be unhooked and hang up all velcro strips or straps. The second is instead a bag that inserts and extracts from the shell much faster. Not the same story as bikepacking VS rack difference, however, for some it could play a fundamental role in choosing the best bikepacking saddle bag.
Price
Last but not least: there are bags from a few tens of euros up to hundreds, so for every pocket. Our mission at Life in Travel is to dispel the myth of "the more you spend, the less you spend", even if in some cases some really cheap bikepacking "trinkets" have turned out to be cyclops, while higher quality and therefore more expensive products translate into best. Warning! It is not a universal axiom, although I usually recommend that you be wary of gifted items.
The best bikepacking saddle bags on the market
Before going into the endless list of the best bikepacking saddle bags, I have to name some brands that will not be included in the same, due to the difficulty of finding the products or due to the lack of information relating to them. In this category, in addition to many others not considered, I therefore include Crivit (LIDL brand already reviewed by Vero), WAG, Arkel, Jpaks, Porcelain Rocket, Bedrock... Once all the main aspects of bikepacking saddle bags have been considered, below you will find 18 models among the best available on the market (sometimes with relative variants, therefore more than 18!), with a comparative table that summarizes the main features with pros and cons of each model. As for prices, the Italian market, and more generally the European one, sometimes do not offer the indicated product and therefore we refer to the price in dollars of the American market or in pounds of the English one.
Product Name
Weight
Materials
Capacity
Size
Price
LIXADA ROSWHEEL
Saddle Pannier
520 g
TPU, Nylon Ripstop
10 L
40 x 14,5 x 11,5 cm
LEZYNE XL Caddy
434 g
Nylon
7,5 L
42 x 17 x 14 cm
RHINOWALK Saddle Bag
520 g
PVC laminato
10 L
47 x 15 x 16 cm
LOMO 13L Seatpack Dry Bag
395 g
TPU
13 L
52 x 25 x 20 cm
32,99£ on LOMO's website
TOPEAK Backloader
413 g
Nylon, Polyethylene
10 L
60 x 20 x 18 cm
ORTLIEB Seatpack L
456 g
PS21R
16,5 L
64 x 30 x 22
130€ circa online
APIDURA Expedition Saddle Pack
425 g
Dimension-Polyant VX21
17 L
52 x 18 x 9 cm
130€ circa online
ALPKIT Big Papa 17L
380 g
VX21 / 500D Cordura
17 L
50 x 18 Ø
105£ on Alpkit's website
SALSA EXP Series Seat Pack
380 g
1000D Nylon
6-14 L
50,5 x 30,5 x 17,5 cm
130€ circa online
MISS GRAPE Cluster 20
478 g
Nylon 420, Polyester 300
20 L
62 x 18 Ø
149€ on MissGrape's website
KICKING DONKEY Seat Bag 17L
520 g
Dimension-Polyant VX21
17 L
72 x 16 x 15,5 cm
95-105€ on Kicking Donkey's website
RUSJAN Sottosella 17L
515 g
Trilaminated, Kevlar, Hypalion
17 L
50 x 21 x 14 cm
214€ on Rusjan's website
REVELATE DESIGN Terrapin 14L
540 g
VX21, Nylon Ripstop
14 L
30,5 x 17,5 x 12,5 cm
VAUDE Trailsaddle
350 g
Nylon eco-friendly PVC free
12 L
48 x 20 x 20 cm
ACEPAC Saddle Bag
570 g
Nylon 6.6, Nylon Ripstop
8-16 L
36-58 cm x 21 Ø
SPECIALIZED Burra Burra Stabilizer Seat Pack
657 g
Aluminium, Nylon
20 L
55 x 19 x 10 cm
140€ circa online
BLACKBURN OUTPOST
Universal Seat Pack
572 g
Nylon
10,5 L
34 x 20 x 18 cm
VAP CYCLING Kangaroo
780 g
Acciaio, Nylon
15 L + 2 L
55 x 20 Ø
170€ on VAP Cycling's website
LIXADA ROSWHEEL Saddle Pannier
The first of the 18 bikepacking saddle bags analyzed is the number 1 in Amazon sales, although this figure is only indicative of one feature that makes it so famous: it costs little. This bag has all the trappings of a complete product: small volume, with the possibility of being compacted to 3 liters and extended to 10, upper elastic to fix additional material, reflective external parts, area for fixing lights... BUT. Among the many (shocking) enthusiastic reviews, in many cases a fear of mine is confirmed: this bag is very long - if filled so much - and a single fixing to the seat post is not enough. Good idea of ​​using an internal waterproof material (the same blue TPU as the LIDL bags). I remain skeptical.
Pros
Price
Upper elastic
Cons
Small capacity
Only one hook to the seatpost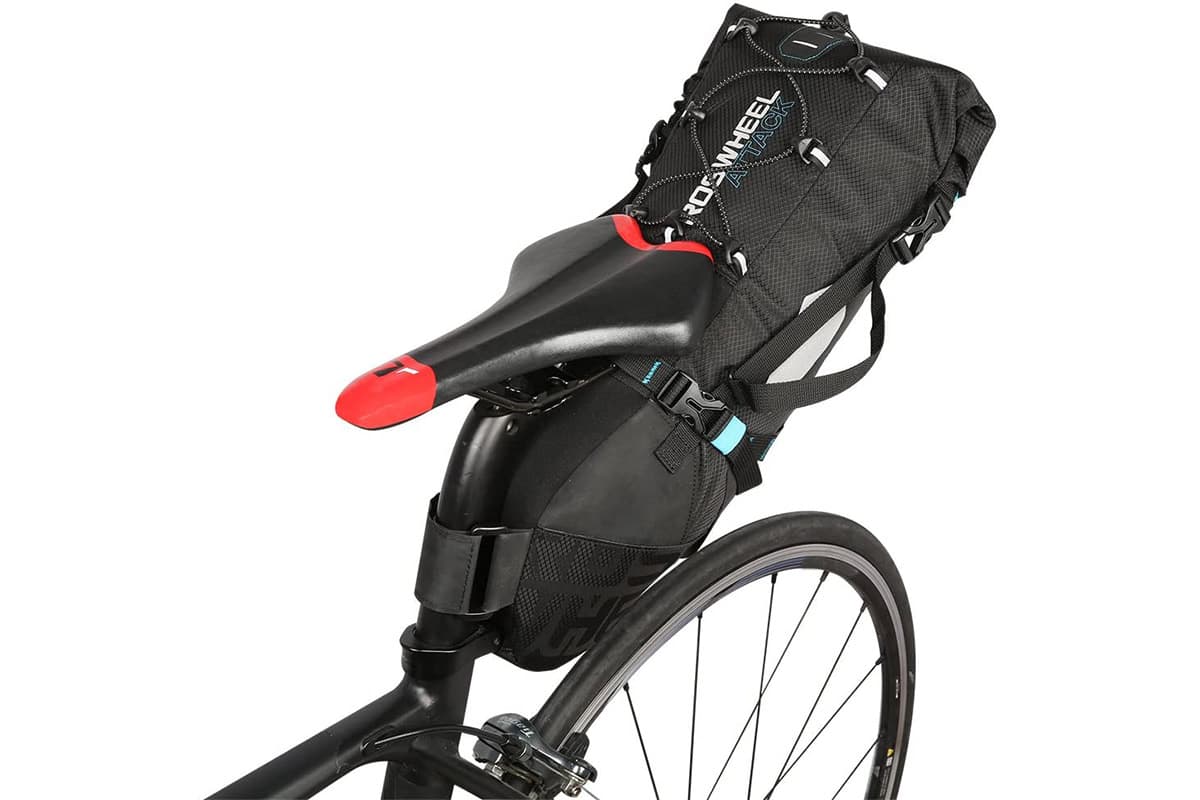 LEZYNE XL Caddy
As above, only one attachment to the seat post, justified by the fact that it is a small saddlebag (slightly larger than the minimal ones well known to road riders): it makes you smile that online it is described as a "saddlebag with a high load capacity". Probably good for everyday rides, but at this point a frame bag or handlebar suitable for this function is better. It costs a lot (on Amazon), even if you can find it by spending less on other sites. It seems decidedly more robust than the previous one, but in any case the liter/price ratio remains too unfavorable.
Pros
Apparently robust
Compat
Cons
Small capacity

Litres/price ratio
RHINOWALK Saddle Bag
Another extremely cheap product... and we can see it! It can be seen from the heat-sealed seams, the weight of the saddlebag, the limited attention to detail (such as the buttonholes for the rear light, which illuminates the sky and does not shed light behind). Available in the 5, 10 or 13 liter version, the only certainty is that it is waterproof... but in my opinion it is not enough.
Pros
Waterproof
Price
Cons
Weight
Quality
LOMO 13L Seatpack Dry Bag
LOMO is Scottish and knows what rain, columns of water, mud, humidity mean. So, as in the case of the bikepacking frame bag I reviewed, it could only give birth to another valid mid-range product that is completely waterproof. Compared to other bags with trinkets, straps, velcro and straps, it is a bit sparse. But it seems to do its job, with medium capacity, double fixing to the dinghy, usual roll closure... It's a pity that an element that would make it more practical is missing: a breather valve, as it is difficult to compress.
Pros
Essential
Price
Cons
No breather valve

TOPEAK Backloader
Three formats available, from 6, 10 and 15 litres. In the list I have included the easiest to find, the median one. Not sure whether to buy a water resistant or completely waterproof bag? Strange intuition in the Topeak headquarters: to create a water resistant bag, inside which a waterproof bag with a vent valve is inserted to compress it. This strange solution allows you to use the bag only in the water resistant version, or add the watertight inner bag: I'm thrilled. For the rest, all in line with what has been said of the previous bags: upper elastic, slots for lights, one attachment to the tube and two to the saddle frame.
Pros
Bag + inner waterproof bag
Details
Cons
The inner bag breaks easily
ORTLIEB Seat Pack L
Available in 11 and 16.5 liter versions, this is unmistakably an Ortlieb saddlebag. The black-orange German giant has entered the world of bikepacking with a straight leg and also in this sub-category of saddle bags. The structure seems very rigid and resistant, especially the attachments to the seat post. There is everything: straps and compression valve, elastic, PVC free waterproof material... only the dimensions convince me a little: it is practically a very long torpedo, which risks tailing and swinging strongly on off-saddles or for standing shots.
Pros
Rigid and resistant
Capacity
Cons
Veeeeery long
APIDURA Expedition Saddle Pack
Too bad it is very difficult to find on the market! Among the gravel bikepacking saddle bags, this one has a high volume, the right dimensions, refined details, perfect materials. Roomy, resistant, watertight, with an unmistakable black/peach yellow color. Again, really a pity that it is so difficult to find, even on the Apidura site itself. The younger sister of the Backcountry version is slightly cheaper, but still well made.
Pros
Materials, size, capacity
Details
Cons
Difficult to find on the market
ALPKIT Big Papa 17L
Good materials, capacity, elastic, beautiful, available in numerous colors (for aesthetic fetishists)... For strengths and weaknesses I bothered my travel companion Alessio, with whom I recently traveled to the Peloponnese. Alessio says he has never been bad, using it from 2017 to today. The only flaw - and I personally confirm - is the excessive length of the straps that secure the saddlebag to the saddle frame, a feature that wastes precious time in trying to stabilize it at best, perhaps with a double turn to the steel frame. For the rest, Alpkit promoted.
Pros
Litres, compact, materials
Many colours available
Cons
Straps too long
SALSA EXP Series Seat Pack
We have already seen this with bikepacking handlebar bags: at Salsa, in addition to beautiful bikes, they make excellent bags. This is no exception, even if the volume is a bit contained. Not just details: compression valve, upper elastic, slots for the rear light: everything is there. And it is also "contained" in the price, due to its quality.
Pros
Quality/price ratio
Cons
Little capacity
MISS GRAPE Cluster 20
And after a long wandering we arrive at our local production, with the bags of Nure a.k.a. Miss Grape bikepacking. Here I can tell you about my personal experience, always positive. Excellent materials, excellent workmanship full of details, very stable with almost indestructible straps, excellent volume. The Cluster bag is water resistant and therefore requires the use of internal insulating bags, but recently its WP, waterproof version has been introduced. It applies to all bags but I repeat it here: heavier clothing and objects must be placed on the bottom, the lighter ones on top, to avoid the typical sagging of those who throw things randomly in the saddlebag. It costs a bit, but it is completely made in Italy. Available in 7, 13 or 20 liter versions.
Pros
Very well made
Details, stabilization
Cons
Price
KICKING DONKEY Seat Bag 17L
As I was able to see in the process testing my bespoke frame bag, Kicking Donkey bikepacking is synonymous with colors, excellent materials and maximum customization. Possibility of using 9 different materials and colors, available in the Regular 13-liter and Big 17-liter versions, this is another excellent Made in Italy. Low cost, water-resistant, maximum customization: what more do you want? Proudly on the list of the best bags.
Pros
Customization
Great making

Cons
None
RUSJAN Sottosella 17L
Another Italian excellence. Very small and very controlled production, top materials, products as expensive as fire but definitely valid and appreciated. The range goes from 6 to 17 liters, with fully waterproof gravel saddlebags and hooks to be tightened without fear. Touch of class: the upper elastic for attaching additional clothing or objects (or even an additional bag).
Pros
Top quality
Cons
Price
REVELATE DESIGN Terrapin System + Bag 14L
With this well-known US company we enter the second group of bikepacking saddle bags, those that are not only made up of the bag itself, but supported by a harness, in fabric or metal. As for the model of the handlebar bag, also in this case we find a comfortable harness, the Terrapin System (reviewed by Vero), which is fixed to the seat post and to the frame of the same to accommodate the 14 liter waterproof bag, complete with vent valve and excellent finishing details. If desired, there is also the younger brother, Spinelock, which has a different but still stable fixing. It might be hard to find, except for Bikejamming, who sells it in Italy and Europe.
Pros
Very stable Harness
Many litres
Cons
Price
VAUDE Trailsaddle
Here is the other German giant, to offer us a very valid product, as well as being green, made using materials with a PVC free finish. Available in two colors (the greenish one of the image and a more sober black one). As for Revelate Designs, creator of this system, Vaude also proposes a sort of cradle to be fixed in three points to the tube and saddle frame to accommodate the 12-liter waterproof tarpaulin bag with roll closure.
Pros
Eco-friendly product
Stabilization
Cons
Too little
ACEPAC Saddle Bag
As with handlebar bags, dry bags and smaller trinkets, this Czech baby company is making itself known for its bikepacking products with an excellent quality/price ratio. Acepac realizes this interesting pocket in ripstop cordura capable of containing the 16-liter waterproof bag, which remains blocked and fixed with straps that pass through the slots of the pocket itself. With its low weight, it is an excellent product. On the Bikejamming website the bag and harness are sold separately.
Pros
Quality/price ratio
Many colours available
Cons
None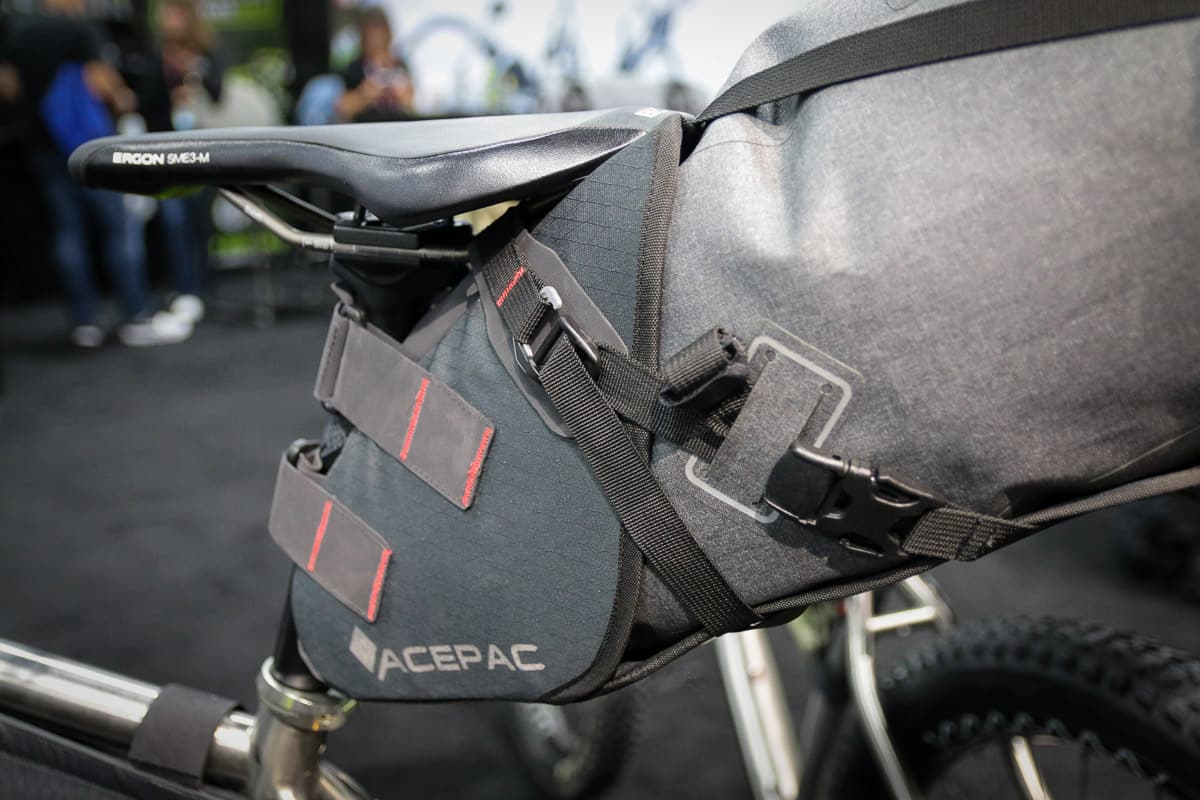 SPECIALIZED Burra Burra Stabilized Seatpack
I have included Specialized in the category of saddlebags with harness structure, even if this is different, since it is not a structure in which a watertight bag is inserted, but it is the bag itself that has a sort of frame with a ring available in two versions, 27.2 and 30.9 mm, to be fixed to the seat post. Basically it is a common waterproof nylon bag, with an aluminum spine at the top that is firmly fixed to the seat post in addition to the classic velcro tape. Heavy as a support, however, it has a capacity of 20 liters and the bag is completely waterproof.
Pros
Guaranteed stabilization
Capacity
Cons
Aluminium is risky
Weight
BLACKBURN OUTPOST Universal Seat Pack
Their cargo cage system is very widespread... a little less this sober saddle bag suitable for minimalist bikepacking (maximum capacity 10.5 liters) but which still requires harness support. I'm not too convinced, unless you want to carry bricks or 10 kg of meat for the evening grill... You will think "it might be cheap"... but no!
Pros
Compression valve
Cons
Price
Limited capacity
VAP CYCLING Kangaroo
We can close this second section of the bikepacking saddle bags with a latest Italian manufacturer, VAP Cycling. We have already mentioned it for its excellent ability to stabilize the handlebar area. The VAP Cycling Kangaroo system with ring fixing (in three sizes, 27.2, 30.9 and 31.6 mm) is a comfortable rigid frame in steel (aluminum abandoned following breakage) with bag and tie-rods that embrace a bag of medium capacity, 15 liters. In addition, a second 2-liter bag can be attached to be inserted in the upper area. Promoted, but expensive.
Pros
Rigid and stable
Supplementary 2-litres bag
Cons
Price
Weight
These are "only" 18 bikepacking saddle bags that you can find on the market in Italy and Europe, but the ocean is vast and navigable. So let's explore this universe, bikepacker... and let us know your final choice below in the comments! And if these models are not enough, ONLY for our subscribers we have created the complete catalog of bike bags, with exclusive technical features and insights.
ITA - Ho 32 anni e sono piemontese, anche se da qualche anno vivo e lavoro in Lombardia. Dopo un inizio da totale inesperto in questo campo, mi sono avvicinato al mondo dei cicloviaggi e della bicicletta sempre più. Oggi posso definirmi "cicloviaggiatore", e assieme all'altra mia passione - il videomaking - non mi fermerei mai! Cyclo ergo sum, pedalo quindi sono, per cercare di capire perché andare in bici sia così bello, terapeutico, ricco... E ogni volta che provo a capirlo, non ce la faccio, e sono costretto a ripartire sui pedali!
ENG - I'm from Piedmont and I'm 32 years old, I have been living and working in Lombardy for a few years. After a start without any competence in this field, I then approached the bicycle world more and more. Today I can call myself a bicycle traveller and videomaker who would never ever stop. Cyclo ergo sum, I cycle therefore I am. I ride my bike trying to understand why it is so beautiful, rich, therapeutic. And every time I try, I do not understand it. So I must leave again...
Latest from Francesco - Life in Travel