Riverside Touring 920: Decathlon's brand new touring bike
At Decathlon Headquarters it's bicycle touring time: the French brand renovates its line by redesigning its Riverside models and getting into the bikepacking market. Today, the brand new Riverside Touring 920 came to light, very interesting from features to pricing. Let's take a look at it in detail.
Not only bikes
For Decathlon it's bikepacking time of the year: the Riverside models by the French brand has been completely redesigned to focus on adventure, a trending topic nowadays, in multiple aspects. Not only new bikes (Riverside 500, Riverside 520 and Riverside 920) are coming to light, but also new accessories and a brand new bikepacking and touring bags line. Lately, they upgraded the MTB line, then the gravel line, with Triban. Today we're taking a quick look at the new top-line bicycle touring bike, the Riverside Touring 920.
Riverside Touring 920: bicycle touring 101
We're getting closer and closer to the letter to Santa: now that this bike is out, it's very plausible that many of us will put the new Riverside Touring 920 in the list, with its gravel soul and adventure geometries. Its price? As competitive as Decathlon can be!
After having pushed for years on their "trekking bikes" line, with models 100, 500, 520, 920, Decathlon abruptly turns towards adventure and journey. The new Riverside Touring 920 has the right features to impress on the road, shock on technical terrains and amuse us like children on its beloved terrain, gravel roads. Aluminium frame, a 24° flare dropbar handlebar, 29"x2.25" tubeless wheels, 33 frame and fork eyelets to guarantee perfect modularity for bikepacking setups (or to mount racks or Gorilla Cages ), dynamo hub with a USB port to charge your technologic devices, Brooks saddle for a comfortable seat, internal cables, responsive hydraulic brakes, 11-speed crown to ride almost everywhere (if in a good shape)... everything in an attractive colour and a definitely interesting price to win the game in gravel and adventure bikes market.
Here are the main features of the brand new Riverside Touring 920 (for some details we list the features of the M size):
Type: Adventure bike
Frame: 6061 triple-butted Aluminum 
Forcella: Riverside Carbon
Fork: Sun Ringle Duroc 30, 32c, 32 spokes, Tubeless Ready, 100/142 x 12mm thru-axle
Rims: Schwalbe Thunder Burt, 29"x2.25", tubeless
Saddle: Brooks Cambium C15 Carved All Weather
Seatpost: aluminum, diameter 31,6mm
Brakes: Sram Rival hydraulic disk, 160mm rotors
Transmission: Sram Rival Dub 1x11 32T 11-42T
Chain: Sram PC1130 11-speed
Handlebar: Riverside Touring Adventure Dropbar, 52,6mm, flare 24°
Stem: 70mm
Accessories: Riverside compatible pedals, 33 eyelets on frame and fork, Dynamo Hub Shimano Deore XT 100x12mm thru-axle (6V - 0,5A, 3W), USB port Cycle2Charge
Max. Load: 170 kg
Weight size M: 11,9 kg
Price: 1499 € / 1399 £ / 1869 $
Waiting for the news and from the response or to try it, we leave you some more pictures and the launch video of the brand new Riverside Touring 920 by Decathlon.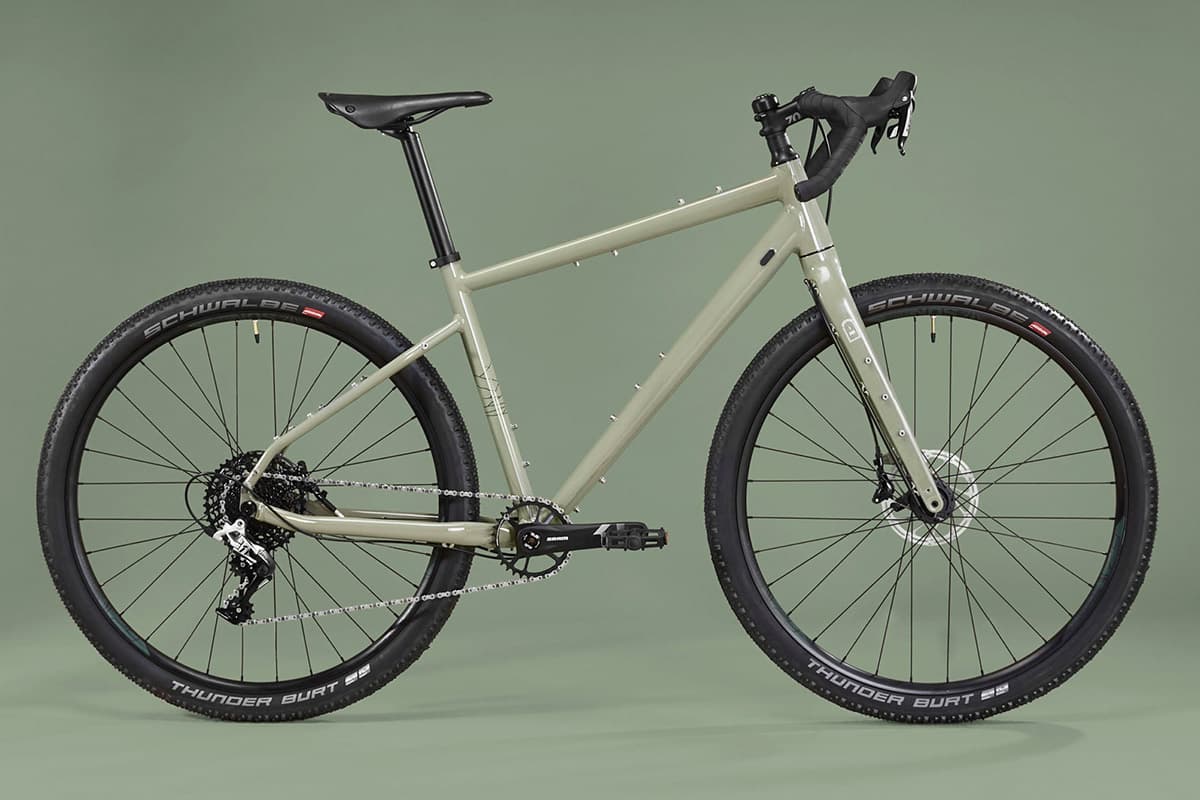 Riverside Touring
Decathlon
ITA - Ho 33 anni e sono piemontese, anche se da qualche anno vivo e lavoro in Lombardia. Dopo un inizio da totale inesperto in questo campo, mi sono avvicinato al mondo dei cicloviaggi e della bicicletta sempre più. Oggi posso definirmi "cicloviaggiatore", e assieme all'altra mia passione - il videomaking - non mi fermerei mai! Cyclo ergo sum, pedalo quindi sono, per cercare di capire perché andare in bici sia così bello, terapeutico, ricco... E ogni volta che provo a capirlo, non ce la faccio, e sono costretto a ripartire sui pedali!
ENG - I'm from Piedmont and I'm 33 years old, I have been living and working in Lombardy for a few years. After a start without any competence in this field, I then approached the bicycle world more and more. Today I can call myself a bicycle traveller and videomaker who would never ever stop. Cyclo ergo sum, I cycle therefore I am. I ride my bike trying to understand why it is so beautiful, rich, therapeutic. And every time I try, I do not understand it. So I must leave again...