Naturehike Cloud Up 2: my review of this bikepacking tent
It's been years since I've bought it. Years of cycling, hiking, mistreatment and atmospheric agents. Now it's finally time to talk - here's my honest review of the Naturehike Cloud Up 2 bikepacking tent.
Evaluation
General:

Cost:

Comfort:

Encumbrance:

Weight:

Fabric:

Temperature:

Finish:

Size:

Mounting:
Type of test:
The Naturehike Cloud Up 2 bikepacking tent has been tested for numerous trips, both trekking and in classic cycle touring and bikepacking mode, mounted in wind and rain conditions, tested in wind and driving rain. The final judgment, however, does not take into account extreme conditions of cold or exaggerated wind.
Test duration:
Three years of travelling
Bikepacking tent by Naturehike Cloud Up 2: a great medium level!
It was the "distant" 2018, and for a little trip to get closer to the BAM in Mantua together with my faithful partner of adventures and misadventures Metteo, I launched into a forward-looking purchase. At the time I was looking for a tent to travel (I still didn't know what bikepacking was), possibly comfortable, possibly resistant to many columns of water, possibly cheap. I admit to having entered the word "ultralight" on search engines and Amazon, ending up on pages and products well beyond my economic possibilities. But then I chose this product, Naturehike Cloud Up 2, a brand that I honestly did not know but which I later discovered to be very well known for its excellent quality / price ratio (obviously excluding the big names in the sector, Ferrino, MSR, Big Agnes ...).
And then the long test began which then led me to today, the day in which I put together the reflections collected in these three years of intense use and I can finally talk to you with a very clear opinion on this outdoor bikepacking tent. This product has traveled with me in Lunigiana, in Latvia, on trekking in the mountains, in my tour of the castles of the Duchy of Parma and Piacenza, to the subsequent BAMs of 2019 and 2021, in Sicily, as well as numerous weekend excursions in various places and with various weather conditions. As a first observation, let me tell you that this bikepacking tent is an excellent medium level for those who, however, have very specific needs (otherwise, if you really want an entry level you know that Decathlon always produces very good tents, perhaps with fewer precautions than this Naturehike Cloud Up 2). We will see them all by continuing in this review in detail, with lots of pros and cons.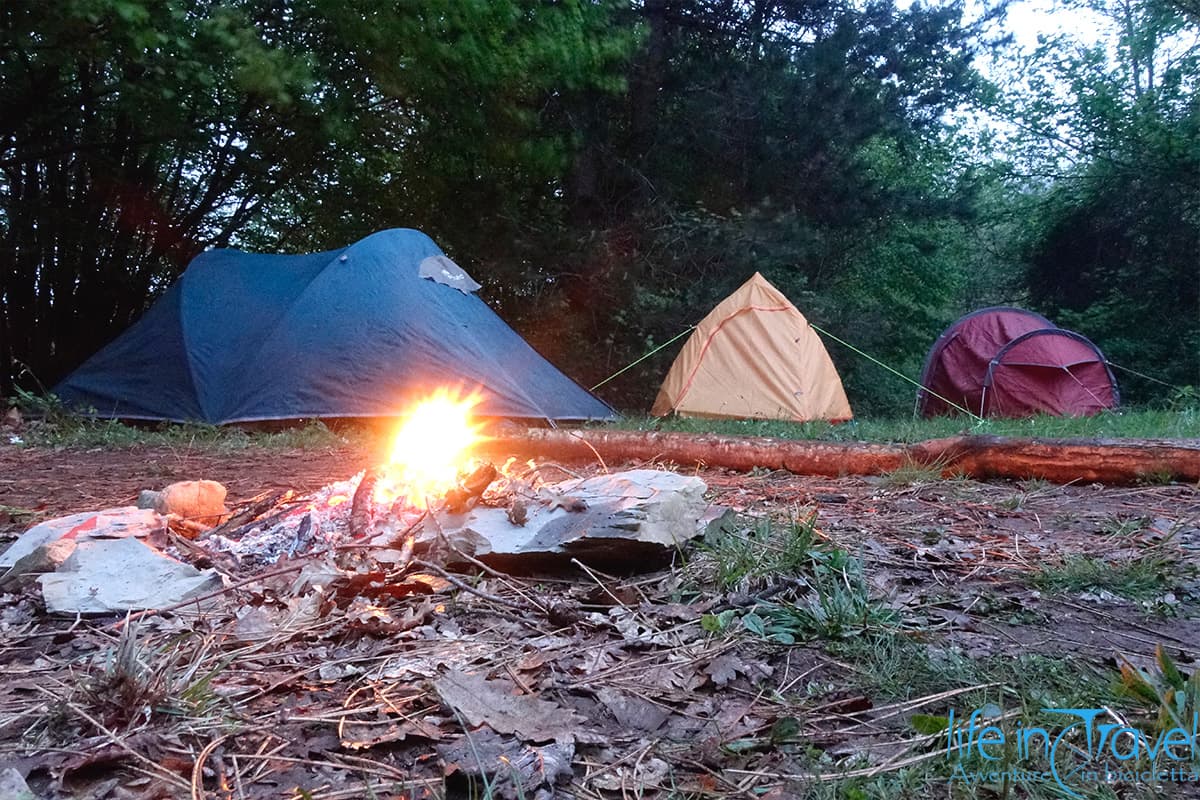 Naturehike Cloud Up 2: features
Here you can read about the main features of naturehike Cloud Up 2 tent:
External sheet: 210T polyester and PU coating 3000 mm
Internal sheet: 210T polyester and PU coating 3000 mm, B3 + 150D Oxford net- pocket and hook
Supplementary base sheet: 210T polyester and PU coating 3000 mm
Size: 210 x 125 cm
Height: 100 cm
Weight: 1,7 kg (with pegs and poles 1,9 kg)
Size (closed): 40 cm x 13 cm ∅
Package:external and internal sheets, base, 10 aluminium pegs, pole, 2 ropes, 1 bag, 1 band.
Naturehike Cloud Up 2: mounting instructions
The product looks very good: easy to find, a self-supporting two-seater three-season tent in polyester, with single opening on the short side (perhaps the only big flaw, especially if it is actually used by two people), single folding aluminum poles, double zips, sealed seams, complete with water-repellent base and additional additional base, aluminum pegs, low weight, rather limited size when closed, quite spacious, economical (the price ranges between $109 and $239 on Amazon)...
Mounting
The first assembly dates back to 2018, when with the good Matte we approached the BAM Bicycle Adventure Meeting in Mantua: I remember that for my limited experience I asked him to help me for the first official assembly and it turned out to be quite simple. Now it turns out to be a rather quick operation, having become the travel routine that I love most (assembly and disassembly), almost a zen relaxation technique upon arrival after a long day and one of the first operations the next day, before resuming the control of the steel steed.
Here is a quick assembly summary of the Naturehike Cloud Up 2 tent:
extract all the material from the bag (or from the bags, if like me you transport it to different areas of the bike);
(optional) spread and stake the additional base sheet, if you want to better isolate the tent from the ground;
join the folding arms of the poles and insert it into the three loops of the inner sheet, two at the front (opening side) and one at the back;
hook the internal sheet to the structure created with the poles using the hooks present on the outside of the internal fabric;
unfold and pick the inner sheet in the four points in correspondence with the four straps present at the corners;
if you need the external sheet, place it on the assembled structure;
fix the outer sheet by hooking the straps with clips in the four external points;
pick and stretch the outer sheet.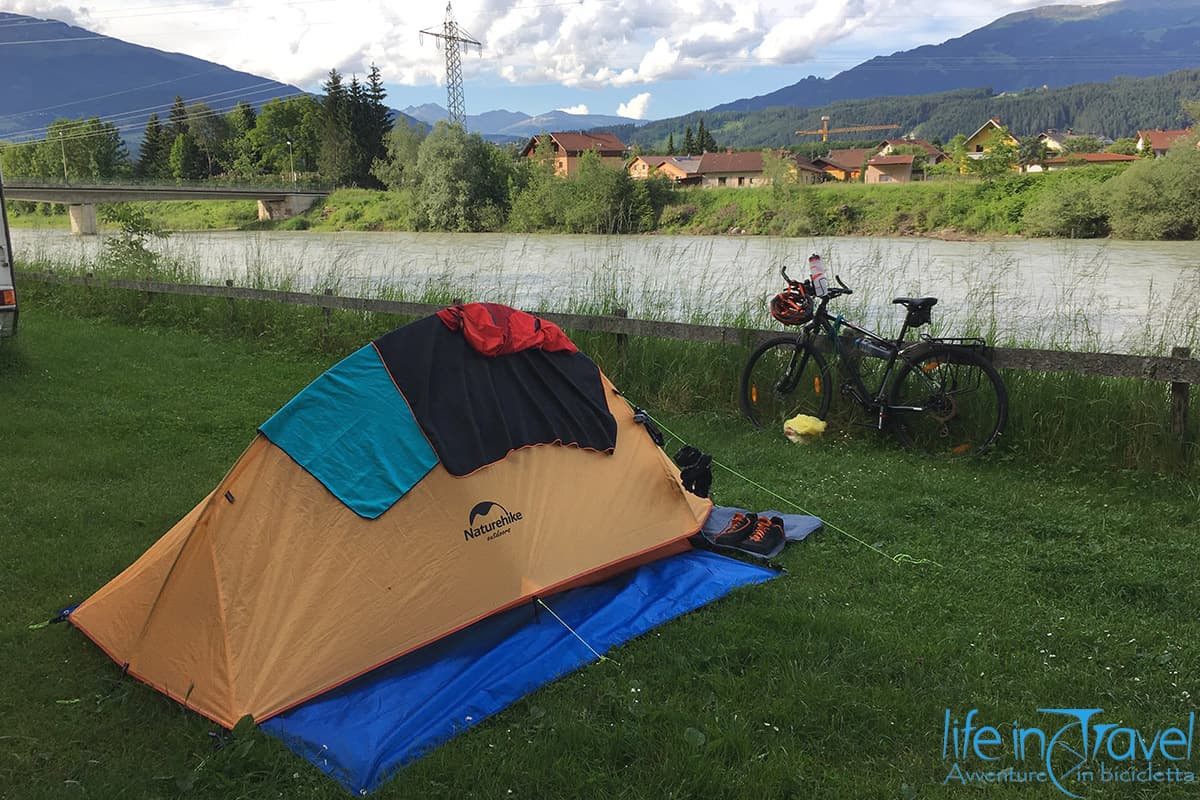 In the backpack, on the bike, on land
When new, when it was still packaged and brand new, the Naturehike Cloud Up 2 Bikepacking Tent was very easy to carry on the roof rack, inside its carrying case. Folding and inserting the tent in your bag the first few times is a feat, then (I think) you acquire a certain dexterity. For the following bikepacking outings I would have liked to transport it compactly on the fork, using one of my two Anything cages. However, I noticed that the bag (40 cm in length, which if placed vertically on the fork becomes 40 cm in height) takes up too much space, touching and hindering the handlebar bag. I therefore had to opt for the already proven technique of breaking the tent into three elements: the two sheets, together with the pegs, the mat, the ropes and little other camping material are transported in the Anything cages, while the poles are easily inserted into the frame bag, lacking that initial compactness so longed for. But never mind.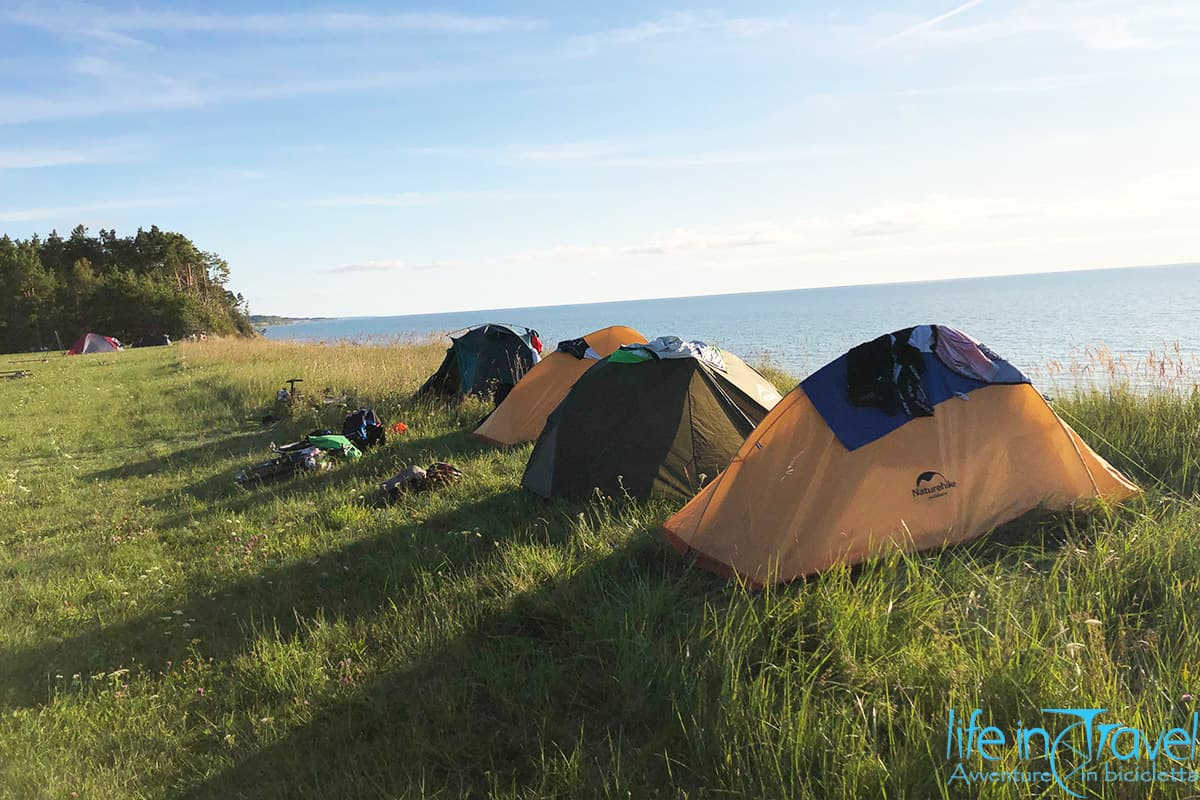 On the ground it is on average bulky and very practical. The outer cover, available in green, orange and white versions, unfortunately prevents you from being hardly visible if you are camping in ambiguous areas and do not want to attract attention.
Internal space
The interior is quite large, also confirm quite tall friends who shared it with me while traveling. As for me, I'm a little dwarf, so for me there would be no major contraindications anyway. Don't expect a palace, of course! The entrance is a little sacrificed, being on the short side, therefore from the highest but narrowest area. There are two 60 cm wide mats comfortably, the arms can be extended to the maximum, there is also a backpack (or bikepacking bags) at the bottom of the feet or in the area of ​​the external apse but still protected by the cloth.
I would like to point out that very often it is used as a single-seater tent, and there is really a palace: ample space for a mattress, all the bikepacking bags removed from the bike, technological devices to load, food and water... it shouldn't, but it could there is also room for cooking (NEVER do it inside the tent, please!).
After the test: is Naturehike Cloud Up 2 ok?
The tent test was long and thorough, so I can let you have my final opinion, which sees it definitely promoted, for a number of reasons that I will now list for you.
The first advantage of this single-seater awning is the price, which oscillates between $ 109 and $ 239 on Amazon, certainly very competitive for this type of products, which can even reach hundreds of euros, depending on the characteristics sought (and the brand), as well as the quality and resistance of the materials. The quality / price ratio makes it one of the best tents I have had the opportunity to test (as specified at the beginning of this review, MSR, Ferrino, Big Agnes and others are missing from the test, so consider this aspect too).
We then move on to the structural advantages: the fact that the tent is made up of two sheets - which allows us to mount only the internal one with mosquito net - and that it is self-supporting and equipped with everything you need, without having to go looking for sticks or poles, or having to tie rods to the trees around our pitch. The poles are quite classic for this type of tents, with a single pole that forks at the point of maximum height, becoming double in the front area from single in the rear area. The presence of the two sheets allows excellent air exchange and limits the possibility of condensation.
They dry out pretty quickly when you have to pack everything up again in the morning. There are no cases of flooding or transpiration of water from the ground or from the sides of the tent, so a great solution for the three seasons. Previously I mentioned the additional waterproof base that comes in the package: here, it has been used a few times - alternating it with other waterproof bases as you can see in the photos in this article - but I can confirm that the tent base alone does its duty without letting pass any humidity.
The last big advantage lies in the speed of assembly: once you have learned the process, assembling this Naturehike Cloud Up 2 tent is very fast and simple. First the structure is created and the inner sheet is staked, then the outer sheet is added (if desired)... let's say it takes about ten minutes maximum.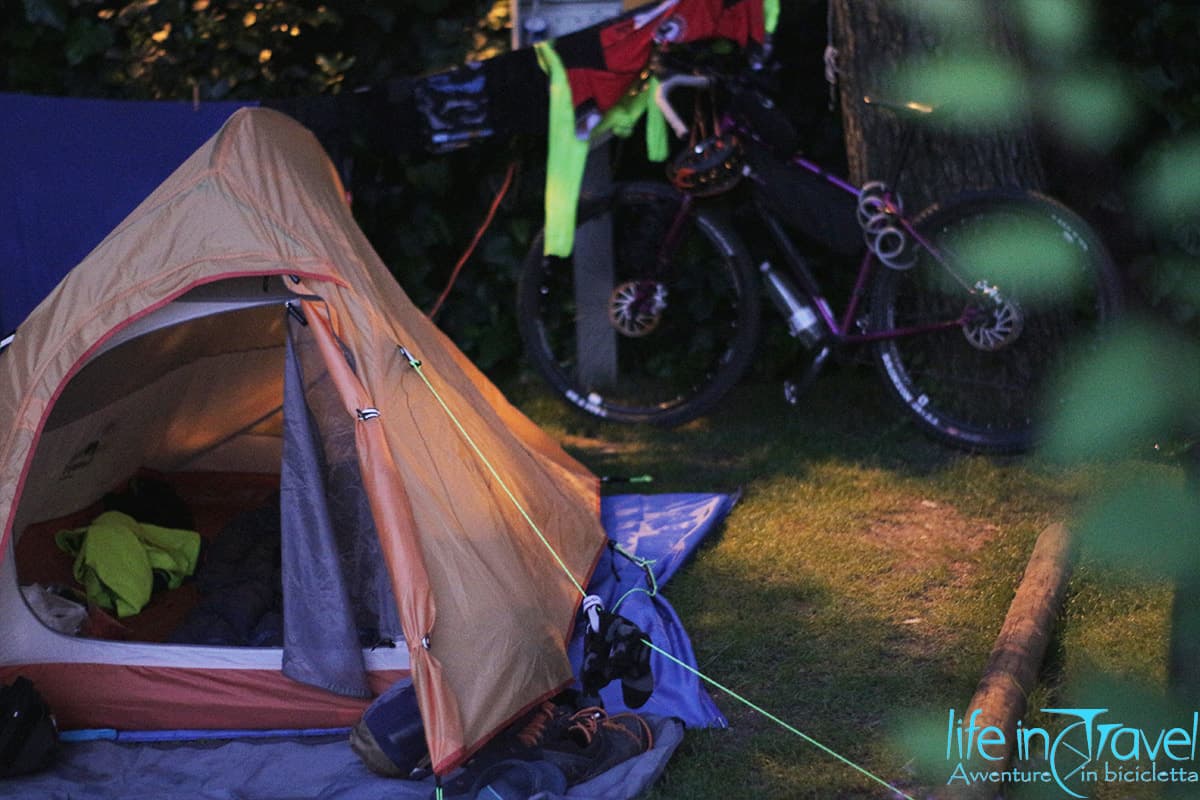 Let's move on to the negative points: the first is the opening, which is positioned on the short side, making it a bit difficult to enter and exit the tent - but we are still talking about a tent and not a three-room apartment in Forte dei Marmi. The solution was found on parallel models, which see it positioned on the long side, even double, for air recirculation. Subsequently, the weight is low, but 1.9 kg for a two-seater is still too much. Obviously for the price of this Naturehike Cloud Up 2 tent, the cost is quite low. But for the fetishists of lightness: forget this purchase and focus on other brands, but taking into account a triple-digit expense well above $ 109!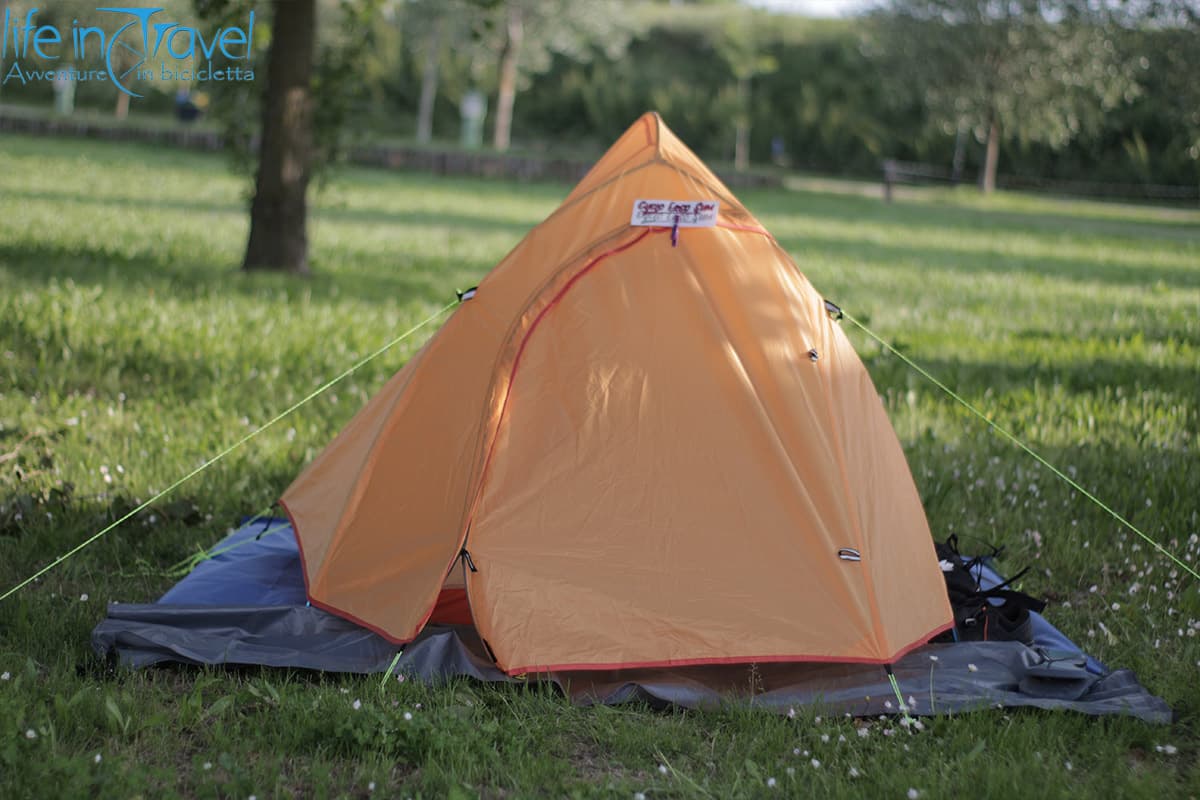 Let me know what you think, if you own a lightweight bikepacking tent like this Naturehike Cloud Up 2 or if you have products to recommend for a review.
Pros:
Price
Double sheet
Self-standing
Fast mounting
Cons:
Only opening on the shorter side
Weight
Recensione Tenda Monoposot Geertop
Cyclo Ergo Sum
ITA - Ho 32 anni e sono piemontese, anche se da qualche anno vivo e lavoro in Lombardia. Dopo un inizio da totale inesperto in questo campo, mi sono avvicinato al mondo dei cicloviaggi e della bicicletta sempre più. Oggi posso definirmi "cicloviaggiatore", e assieme all'altra mia passione - il videomaking - non mi fermerei mai! Cyclo ergo sum, pedalo quindi sono, per cercare di capire perché andare in bici sia così bello, terapeutico, ricco... E ogni volta che provo a capirlo, non ce la faccio, e sono costretto a ripartire sui pedali!
ENG - I'm from Piedmont and I'm 32 years old, I have been living and working in Lombardy for a few years. After a start without any competence in this field, I then approached the bicycle world more and more. Today I can call myself a bicycle traveller and videomaker who would never ever stop. Cyclo ergo sum, I cycle therefore I am. I ride my bike trying to understand why it is so beautiful, rich, therapeutic. And every time I try, I do not understand it. So I must leave again...
Latest from Francesco - Life in Travel