MTB flat pedal shoes: how to choose the best ones?
MTB flat pedal shoes are certainly the most used among bikers who use the bicycle for recreational purposes. Those who are experiencing a new youth and, above all, among those who practice mountain biking with an electric bike. Regardless of the user, it is essential to purchase products chosen with care and attention. In particular, you will need to pay attention to the type of route and MTB outing you intend to tackle in order to decide which types of shoes are suitable for that practice.
Below you will find some suggestions to help you choose and understand how to choose the best flat MTB shoes.
What shoes with flat pedals?
If you are reading this article about MTB flat pedal shoes, means that you have already made your choice in terms of pedals, setting aside the quick release. Flat pedals are synonymous with psychological tranquility for many because they leave freedom of movement of the foot. Furthermore, on rather rough paths it may happen that you have to put your foot on the ground often and walk for long stretches. Certainly in these situations, MTB flat shoes are better in terms of performance than shoes combined with SPD pedals. 
Well, you've decided to use flat pedals for a number of reasons. Even if your choice fell on more "simple" and free pedals, avoid going on a mountain bike with trainers or moccasins unless you are commuting from home to work or is going to the supermarket to do the shopping. For safety and comfort, when you go mountain biking on mountain roads or trails, opt for specific shoes designed specifically for the practice of this discipline. Your foot will thank you and you will be calmer and safer.
With this brief but due premise, let's analyze the most important elements for you when choosing an MTB shoe for flat pedals. What characteristics should it have? How is it chosen? What are the main elements to evaluate? We try to answer the most common questions.
MTB flat shoes: what features
To choose the best flat MTB shoes, know that you have to consider certain characteristics that guarantee you safety, stability, comfort and durability. Let's try to understand what are the characteristics to analyze in a flat mountain bike shoe:
Adherence
On downhill stretches and in wet conditions, it is essential to have good grip on the pedal and also on the ground when you are forced to dismount. All the more reason when pedaling with the free foot it is important that the sole of your shoes engages well with the pins of the flat pedals and guarantees excellent grip to increase safety on rough sections and avoid losing contact with the pedal itself. Having studded soles and with a compound that is not too stiff helps cycloalpinists above all.
Stiffness
It is the main feature for improving pedaling efficiency. A rigid sole allows you to transmit the greatest possible power to the pedal and helps to have a stable foot. The downside is the loss of comfort,  especially if you go on excursions for many hours but it is difficult to find too stiff soles in shoes without SPDs (such as the carbon ones of racing bike or competitive MTB shoes).
However, findingthe right compromise between stiffness and comfort is essential, and in this case you can't ignore the rubber sole which will then have all the technologies to optimize the absorption of vibrations ( vibram, stealth...). The upper (the housing of the foot) is another fundamental element that will have to guide you when you have to choose the best MTB shoes: the care in its realization can vary greatly the judgment of a shoe. When you need to buy a pair of cycling shoes, make sure the upper is as linear as possible, without unnecessary or superfluous seams: continuous rubbing during use can cause annoying irritation when you sweat. Furthermore, the toe and heel must be reinforced to withstand the inevitable shocks they will be subjected to during your excursions.
Comfort
This is certainly one of the strong points of flat MTB shoes compared to shoes with quick release. In fact, comfort is usually the winning feature if you are not bound to hook up to the pedal and for this reason the type of flat MTB shoes is very popular among non-competitors. To improve this feature, the sole of some shoes is made of E.V.A. orb the shocks.
Firmness
If on the one hand comfort is sought, on the other hand an MTB shoe must remain well anchored to the foot and for this purpose the closure is crucial: there are numerous alternatives in this field too. The best solution for agonists is the one represented by the micrometric levers or by the BOA system with circular ratchet but often this closure is neglected in flat shoes precisely because the segment they are aimed at it's not the most racing one.
The velcro is, in my opinion, the most practical and suitable solution for non-competitors.
Waterproofing and breathability
Are waterproofing and breathability incompatible elements? It certainly isn't easy to find materials that let air through but not water. The foot needs to breathe but to remain dry and in this case too a compromise must be sought. GORETEX is a material that quite combines these two qualities but shoes made with this material are especially ideal for the winter season, when waterproofing must be in the foreground.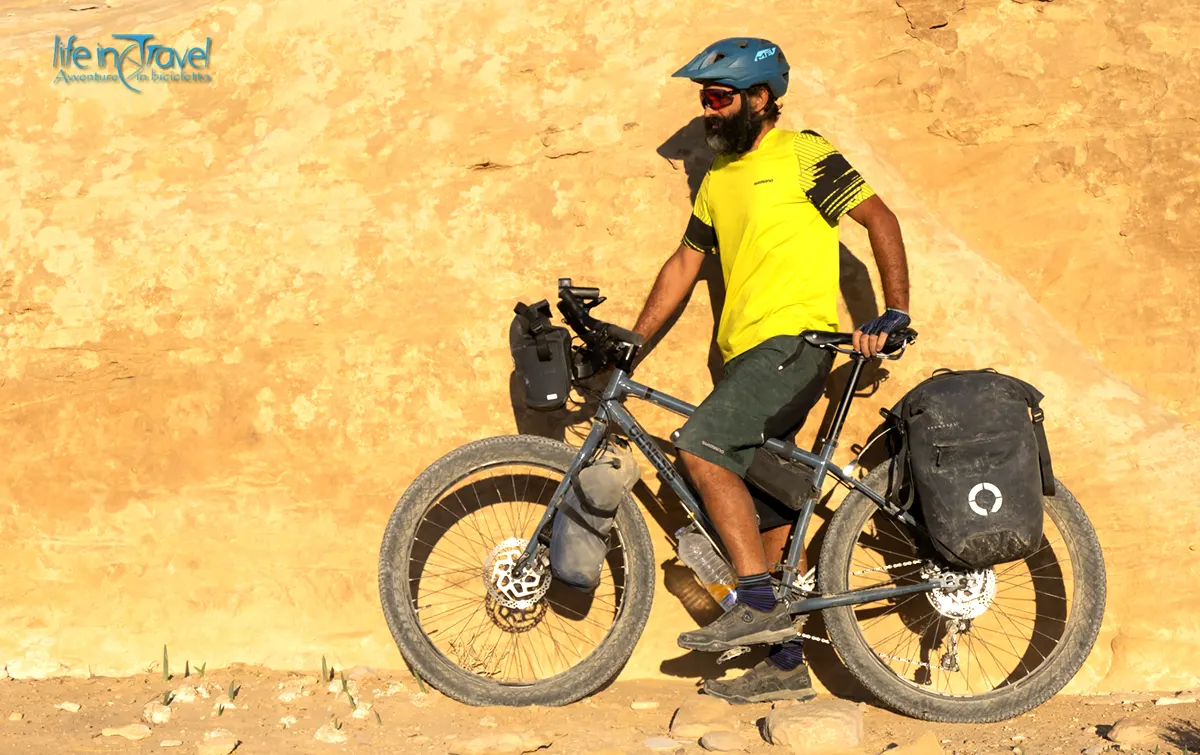 The breathability of the upper in most cases today is guaranteed by mesh mesh fabrics 3D.
Malleolus protection
An element that is little considered but which, in my opinion, is also and above all important in flat pedal shoes is the height of the upper to protect the malleolus from possible impacts against the pedal or the bike in the event of falls or slipping of the foot. 
How and which flat MTB shoes to choose?
Talking about mountain biking in general is increasingly difficult: if we had to consider the different disciplines, including Cross Country, All Mountain, Enduro, Freeride, Downhill, we run the risk of getting lost. However, a distinction must be made on the basis of the type of terrain pedaled and the pedaling level. If you are a biker from extreme routes, you will have different needs from the more relaxed cyclists who allow themselves a few excursions every now and then on not too demanding routes.
If you have chosen flat MTB shoes, however, you are not one for marathon or cross country! Otherwise you did something wrong 😁. 
In the cauldron of bikers who can use flat MTB shoes, personally I would make a summary distinction into two categories that I have already summarized above:
the extremist
the Sunday biker
Those belonging to both categories will excuse me for the names but, in addition to lacking imagination, I believe that the names, although they represent an exaggeration, can well exemplify the meaning of my words.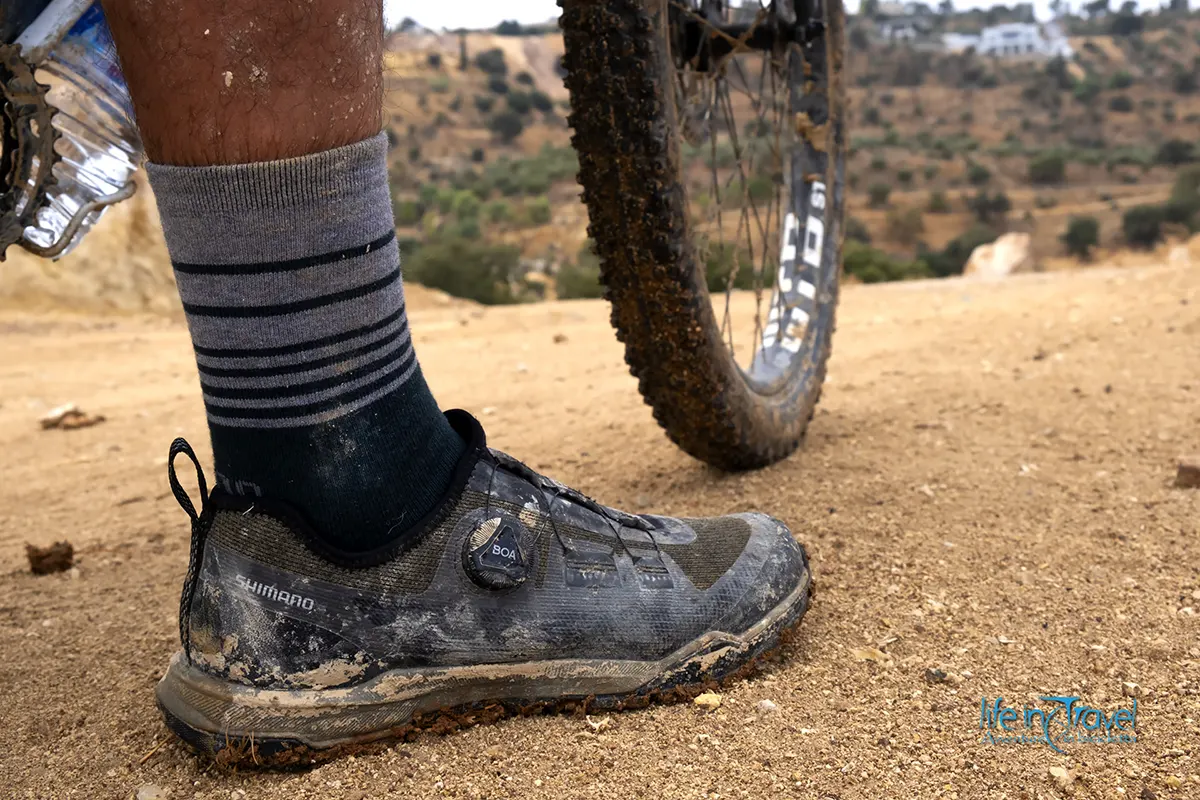 The extremist is actually a biker who loves to tackle technical trails, isn't afraid of getting muddy in the woods and prefers gravity disciplines without disdaining stress-free fatigue. 
The Sunday biker is not necessarily the one who rarely rides a bike, but when he does he prefers to go relaxed, stopping for a coffee or lunch in a refuge. He goes up and down paths that are never too demanding and doesn't disdain the ebike. </ P>
For the extremist, MTB shoes, even flat ones, should have good stiffness and firmness, possibly at the expense of comfort. Better a boa closure or at least with a tear to protect the classic laces. The ideal is for the shoe to be a little higher to also protect the malleolus and ankle.
For the Sunday biker instead  MTB shoes for flat pedals must favor comfort. Shoes with a lace closure and a sole with medium stiffness are perfect. 
The best models of flat mountain bike shoes
The models you find below are some of the hundreds of MTB shoes available on the market so if among them you do not find the right mix for you, do not hesitate to do a more in-depth search.</ p>
But no more talk and let's see some of thebest models of flat MTB shoes that I recommend.
Adidas Five Ten Trailcross LT
Among the most popular MTB shoes for flat pedals, the Adidas Five Ten have made their way into this particular niche mainly thanks to their comfort and versatility. These Trailcross are suitable for any terrain: with the rubber sole, the EVA midsole to absorb vibrations and the breathable and resistant mesh upper, they are certainly a great choice for any biker who likes not to be hooked. In addition to the LT model shown in the photo, there is the Mid Pro with high fit to protect the malleolus and ankle and the GORE-TEX model suitable for all seasons.
The price ranges from €140 (LT) to €170 (Mid-Pro) and €180 (GORE-TEX).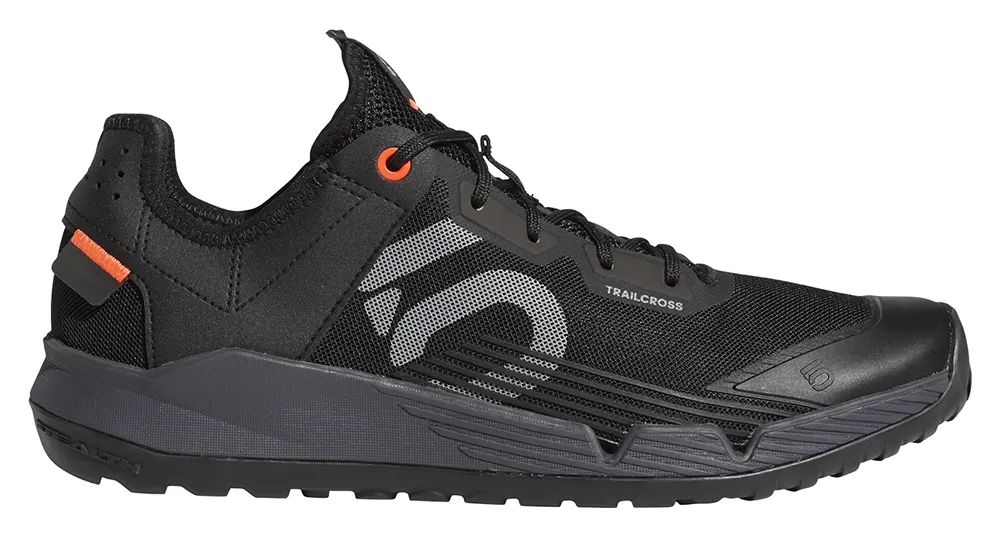 Bontrager Flatline Mountain
The mountain bike shoes of Bontrager (a brand of the Trek group) which has also used Vero with satisfaction, are characterized by a Vibram rubber sole, a resistant perforated upper to improve breathability, an EVA midsole for greater convenience and comfort and a simple but effective lace-up closure.
The list price is €145.
Endura MT5 Burner
Another model of really good flat shoes. The Endura MT5 Burner are made of resistant fabric perforated in the upper part and reinforced on the toe and heel. The sole is divided between the central area in StickyFoot for good grip on the pedal and the toe and heel in Sticky Foot Dura for maximum grip uphill and downhill. The closure combines the convenience and simplicity of the laces with the safety of the Velcro that protects them. Excellent choice for extremists and gravity lovers
The list price is €145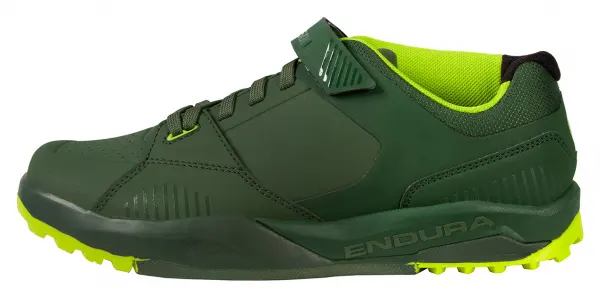 Shimano ET-700
Designed for those who love electric pedalling, they are versatile shoes suitable for bikers who love quiet excursions. The buoy closure is precise but risks being delicate in extreme situations. Equipped with a SPLASH SHIELD membrane in the forefoot to protect the toe even from water and a semi-rigid midsole for optimal power transfer to the pedal, perhaps losing a little bit in comfort.
List price of €125
Ride Concepts Wildcat
One of the most famous companies in the production of MTB shoes for flat pedals. This wildcat model features a raised upper to protect the ankle, with a velcro strap that increases the security of the lace closure and perforations to improve breathability. There is a TPU protection at the toe while the MAX GRIP rubber sole and the EVA midsole guarantee grip and shock absorption.
The list price is €140.
ITA - Cicloviaggiatore lento con il pallino per la scrittura e la fotografia. Se non è in viaggio ama perdersi lungo i mille sentieri che solcano le splendide montagne del suo Trentino e dei dintorni del lago d'Iseo dove abita. Sia a piedi che in mountain bike. Eterno Peter Pan che ama realizzare i propri sogni senza lasciarli per troppo tempo nel cassetto, ha dedicato e dedica gran parte della vita al cicloturismo viaggiando in Europa, Asia, Sud America e Africa con Vero, compagna di viaggio e di vita e Nala.
EN - Slow cycle traveler with a passion for writing and photography. If he is not traveling, he loves to get lost along the thousands of paths that cross the splendid mountains of his Trentino and the surroundings of Lake Iseo where he lives. Both on foot and by mountain bike. Eternal Peter Pan who loves realizing his dreams without leaving them in the drawer for too long, has dedicated and dedicates a large part of his life to bicycle touring in Europe, Asia, South America and Africa with Vero, travel and life partner and Nala.