Machu Picchu: how to reach it | All the options
The archaeological site of Machu Picchu is without any doubt the most famous and visited place in Peru. There are many ways to get to Machu Picchu: some require days and are cheaper, others are faster but definitely more expensive. One thing is sure: go and visit Machu Picchu is never inexpensive unless you are traveling by bicycle and have some days to travel...
Cusco is the favorite starting point for travelers in order to organize an excursion to Machu Picchu: in the city, there are many travel agencies to which you can ask for the organization. Moreover, it is crossed by the Perurail, the railway reaching Aguas Calientes, the village just below Machu Picchu. Although Cusco deserves a visit, for people who dislike big cities, you can start discovering Machu Picchu from the smaller Ollantaytambo, easily reachable either by bike or collective taxi or bus.
Buying the ticket to Machu Picchu
The accesses to the archaeological site of Machu Picchu are daily limited to 2500.
In high season (May - September) they are sold out in large advance, while during the low touristic season (October – April) you will hardly face this problem.
If you travel during the high season
you can buy the entrance ticket (
128 soles
– circa 36€) directly on the website
www.machupicchu.gob.pe
or
at the selling point in Cusco
before going to the archaeological site. If you decide to buy the complete tour with one of the agencies in Cusco, make sure the entrance ticket to Machu Picchu is included!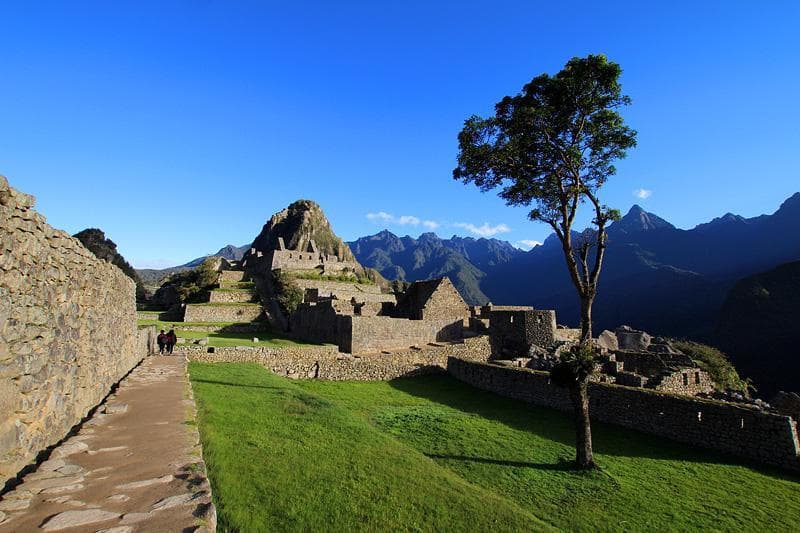 Besides the entance, you can choose to face the
Wayna Picchu trekking
, the mountain just above the ruins. It costs only
24 soles
more (circa 7€) and the total cost of your ticket will be
152 soles
. The Wayna Picchu trekking can be done in two waves only: from 7 to 8 A.M. or from 10 to 11 A.M.
The excursion is tiring and rquires a good training
. Its duration is 2 hours and a half for the round trip and counts high steps, with some exposed sections, a real challenge for people suffering from vertigo.
In low season you can choose to buy the ticket online if you know the exact day you will be in Machu Picchu. You can buy it at the Cusco office before arriving or at the Aguas Calientes visitor center (in the central square, open until 7 P.M.) up to the day prior to the visit.
Remember to carry your passport in order to buy the ticket!
For leisure and high-spending travelers
By train.
Leaving from Cusco or Ollantaytambo, for high spending travelers I suggest using the train, which crosses the Sagrado Valley with very inspiring views, reaches Aguas Calientes. The official website is www.perurail.com.
To reach the entrance of Machu Picchu you can catch a bus from Aguas Calientes going up on the windy gravel road towards the old Inca city. The first bus leaves at 5 A.M. arriving at 6 A.M. In order to visit Machu Picchu at dawn you'll have to spend at least one night in Aguas Calientes.
Estimated cost (updated in March 2018):
Round trip train 120-150$
Night in Aguas Calientes 50-150 soles (15-25€) depending on the services
Bus one way to Machu Picchu from Aguas Calientes 15$
Ticket to Machu Picchu 70 USD$
By minibus.

If you have a good budget the alternative is to organize the road trip to Machu Picchu, asking one of the many agencies in Cusco or Ollantaytambo. The cost for a complete package with a round trip to Hidroelectrica (from Cusco it takes 7 hours, while from Ollantaytambo 5), overnight in Aguas Calientes, dinner, breakfast, and ticket to Machu Picchu is around 100-120$.
Take into consideration that you will have to walk for about 2 hours on the rails (fast pace) until Aguas Calientes, where you'll have to trek to the site entrance (circa 1 hour and a half of steps), climb down to Aguas Calientes and reach Hidroelectrica. Some packages include the train from Hidroelectrica to Aguas Calientes and the bus to climb to the site early in the morning but the cost will be higher.
Before purchasing a package, do verify what is included and what not.
For frugal and in-a-rush travelers
The most comfortable solution to reach Machu Picchu for people with just a few days and who don't want to spend too much is one of the buses leaving daily from Cusco, passing through Ollantaytambo and going to Hidroeletrica, where it's possible to walk to Aguas Calientes.
The cost for the round trip is circa

30-35€
.
If you leave from Ollantaytambo (as we did) you can purchase the ticket directly in the shop on the East side of the main square or, just outside the main square, towards the city archaeologic park, at Luisa's, which you can reach only in the late afternoon or in the early morning. The cost is
40 soles
per section, but you can try asking for a discount in low season. We paid
35 soles per section, so 10€
. Minibusses cross Ollantaytambo square at 9:30 A.M., leaving from Cusco at 7 - 7:15 A.M., reaching Hidroeletrica after an incredible trip at
2:30 P.M.
(climbing to 4000 m, going down to the rain forest on an incredible dirt road, on a cliff over Rio Urubamba, between Santa Maria and Santa Teresa).
From Hidroelectrica you will have to walk for a couple of hours on the train rails: the track is easy, however, it's 12 km long. If you want to save money on food, bring it - and most importantly - water from Cusco or Ollantaytambo: in Aguas Calientes, everything is more expensive. In order to find cheap accommodation you will have to struggle, but you will eventually and luckily find a double room for 40-50 soles.
Set the alarm at 4:30 A.M. and start the trekking around 5. Usually, there is light and the trail is well signed so it's impossible to get lost. Before starting the excursion you will have to show your ticket and passport to the personnel on the bridge: remember to purchase the ticket to Machu Picchu the day prior in Aguas Calientes or before leaving Cusco if you didn't already buy it online.
The site opens at 6: you will be shocked looking at the Inca ruins at dawn. If you decide to come back to Cusco or Ollantaytambo the same day of the visit of Machu Picchu you will have to leave the site around 11 A.M., face the climb down and the rails back to Hidroelectrica. The buses leave around 2:30 - 3 P.M.
If you decide to stay another night in Aguas Calientes and come back to Hidroelectrica, enjoy your visit to the most famous site in Peru.
Estimated cost:
Round trip minibus Cusco to Hidroelectrica: 30 €
Night in Aguas Calientes 50-150 soles (15-25€) depending on the services
Bus one way to Machu Picchu from Aguas Calientes 12$
Ticket to Machu Picchi 128 soles (36€ circa)
For bicycle travelers with a lot of time
The road from Ollantaytambo climbing the hairpin turns to Abra Malaga is very demanding, but offers some beautiful views. Bike travelers who don't want to let their bikes to rest can reach Santa Teresa by bicycle but will have to face the Abra Malaga climb (4300 meters circa), the long descent to Santa Maria and the second climb to Santa Teresa. In Santa Teresa, I suggest leaving the luggage if you want to continue the trip by bicycle (even if some bike travelers didn't pass the checkpoint at Hidroelectrica, where it's forbidden to continue by bicycle).
From the village you can climb to Hidroelectrica on a heavy gravel and then follow the train rails until Aguas Calientes. Next to the rails there is some space where you can pedal until below Machu Picchu. From Machu Picchu Pueblo (Aguas Calientes) in one hour walk, you can reach the Inca site. You can choose to continue from Santa Teresa with all your luggage, then leave Aguas Calientes towards Ollantaytambo along the railway, but consider you could be stopped at Hidroelectrica.
This track, with your luggage, can be really tiring and challenging, so be psychologically prepared for the effort and organized to eventually push the bike. If you want to try this adventure, don't cycle in the dirt roads from Santa Maria to Santa Teresa and from Santa Teresa to Hidroelectrica between 12 A.M. and 4 P.M.: in these hours loads of buses travel on the road and you will be breathing dirt for the entire trip. Once in Santa Teresa, if you don't want to pedal anymore or don't want to be stopped at Hidroelectrica, catch a collective bus and then walk towards Machu Picchu.
In order to come back to the Sagrado Valley, you can choose to cycle back on the Abra Malaga or continue over Santa Maria towards Quellouno, Colca and climb to Calca. In either case, to face these routes by bicycle, count at least 10-12 days.
Another possibility coming from South (Abancay) is to pedal the dirt road which
climbs before Limatambo towards Mollepata
. The road is winding and you'll have to push the bike for some km to the
snowfield of Salcantay
(6271m).
ITA - Ho 32 anni e sono piemontese, anche se da qualche anno vivo e lavoro in Lombardia. Dopo un inizio da totale inesperto in questo campo, mi sono avvicinato al mondo dei cicloviaggi e della bicicletta sempre più. Oggi posso definirmi "cicloviaggiatore", e assieme all'altra mia passione - il videomaking - non mi fermerei mai! Cyclo ergo sum, pedalo quindi sono, per cercare di capire perché andare in bici sia così bello, terapeutico, ricco... E ogni volta che provo a capirlo, non ce la faccio, e sono costretto a ripartire sui pedali!
ENG - I'm from Piedmont and I'm 32 years old, I have been living and working in Lombardy for a few years. After a start without any competence in this field, I then approached the bicycle world more and more. Today I can call myself a bicycle traveller and videomaker who would never ever stop. Cyclo ergo sum, I cycle therefore I am. I ride my bike trying to understand why it is so beautiful, rich, therapeutic. And every time I try, I do not understand it. So I must leave again...
Latest from Francesco - Life in Travel