Gorilla Cages: 10 (+1) best fork cargo cages
Gorilla Cages, Anything Cages, Cargo Cages, Fork Cages... you can call them as you want, but none of them can give a clue about what these things are... It's some sort of cages, made of different materials, bigger than a usual bottle cage but smaller than a rack, to be mounted on the bicycle fork. They are used mainly to carry (on the fork) smaller bags (from 1 to 5 litres) in a bikepacking setup, but we're allowed to mount them on an MTB or a gravel bike... In this article, we're going to analyze the main features and functions of these Gorilla Cages, then I'm listing the 11 best in my opinion.
Gorilla Cages: what are they and what are they used for?
Gorilla Cages, Anything Cages, Cargo Cages... keep it simple! In this article, we're going to talk about some (not all) bicycle fork supports. At first, me too I didn't know what these things were and how to call them because online it's not so clear and you can find them indistinctly... these three names correspond to three products by three different bikepacking products companies, the main ones, and here we will analyze these three, and more!
But first I'd like to pay attention to their purpose and then try to understand the main features to consider before purchasing a Gorilla Cage, in order to pick the right model for your bikepacking setup and your bike load.
Gorilla Cages are small racks (in plastic, nylon, aluminium or titanium), mainly with an L shape, where the vertical part is fastened to the fork side through some threaded screws (one, two or three, depending on the fork model and so the number of eyelets). Their main function is to carry cylindrical bags, variable in weight and size. They can basically cover for a front rack. The advantages for us, bicycle travellers, are a lot: we can keep a low centre of gravity and guarantee a better driveability of the bicycle, thanks to better visibility...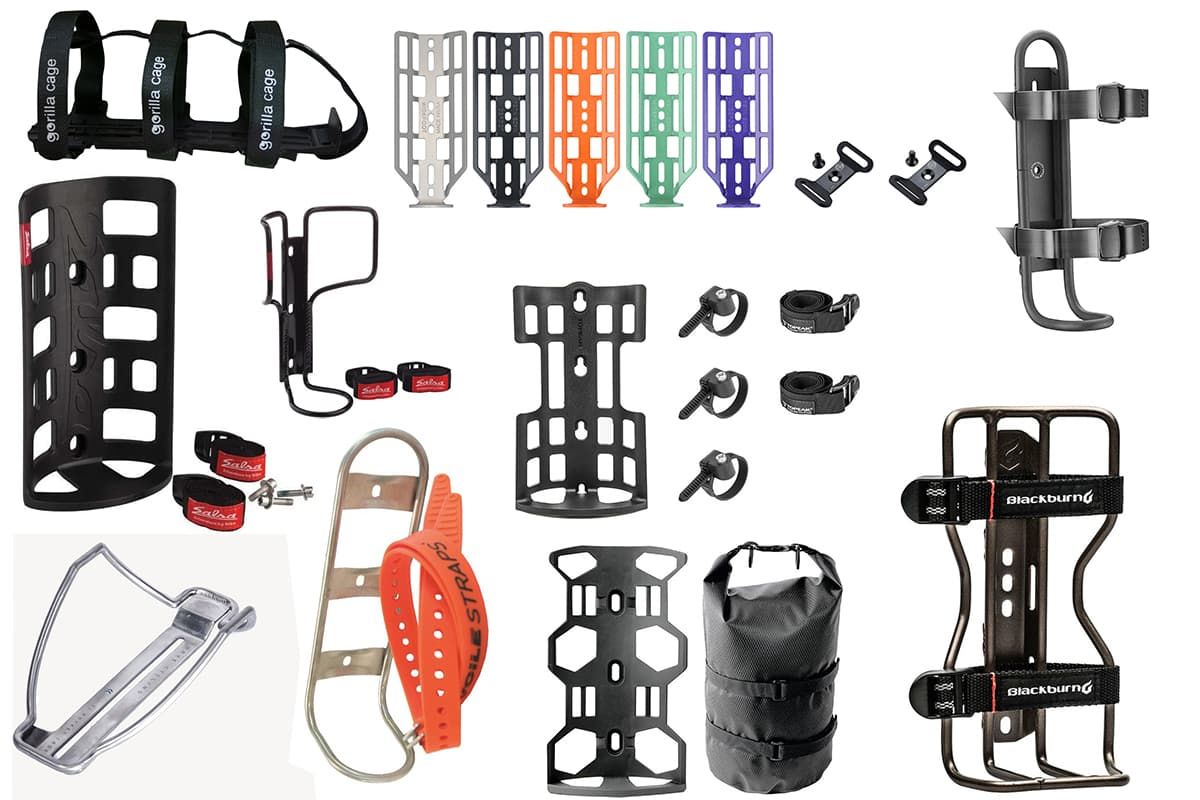 These supports were born for bikepacking, but I've got nothing against using them in mixed setups with rear rack and frame bag. Nevertheless, the many slots on the high side of this "L" allow these Gorilla Cages to be mounted on touring bikes (like Salsa Fargo, Surly ECR, Locomotive Westlander...), with two or more eyelets on the fork. Alternatively, Gorilla Cages can be mounted on a gravel bike or MTB thanks to some special supports which we'll see, but we must be careful (especially if we have a double suspension bike or a carbon fork). The danger could lie in a superficial work when mounting the plastic ties on the fork, load the cages too much, which could lead to some severe damages to the fork itself, or maybe worse risking the fall of the bag(s) directly into the spokes. So, always, be careful!
Before listing all the main features to consider before choosing or buying the best Gorilla Cage for your bikepacking trip, you can think about the load. being a "front" element, in a bikepacking setup these supports usually are not the first purchase, and maybe you start considering them after a frame bag, a saddlebag and a handlebar bag, but they might be very helpful to carry a mat, a tent (if ultralight), sleeping bag (if its volume allows it), a burner (jetboil or multifuel), one or more bottle, or clothes...
Starting from the most important rule "there's a bikepacking for every one of us", it's good to keep in mind some features, which I think are very important to consider when buying your first Gorilla Cage. Just like when you decide to travel with a bikepacking setup or a fully loaded one. These features are:
weight - there are many choices here, from 30 grams to the hundreds;
size - we know size doesn't matter... well not for everyone, here you can host from a simple bottle to a "big" bag (so from 1 to 5 litres);
material - from the most common hard plastic to the most high-standards aluminium or titanium;
max load - this is a fundamental aspect because we don't want to end up with a broken fork or a flying bag during the trip;
price - last but not least, we have supports for every pocket.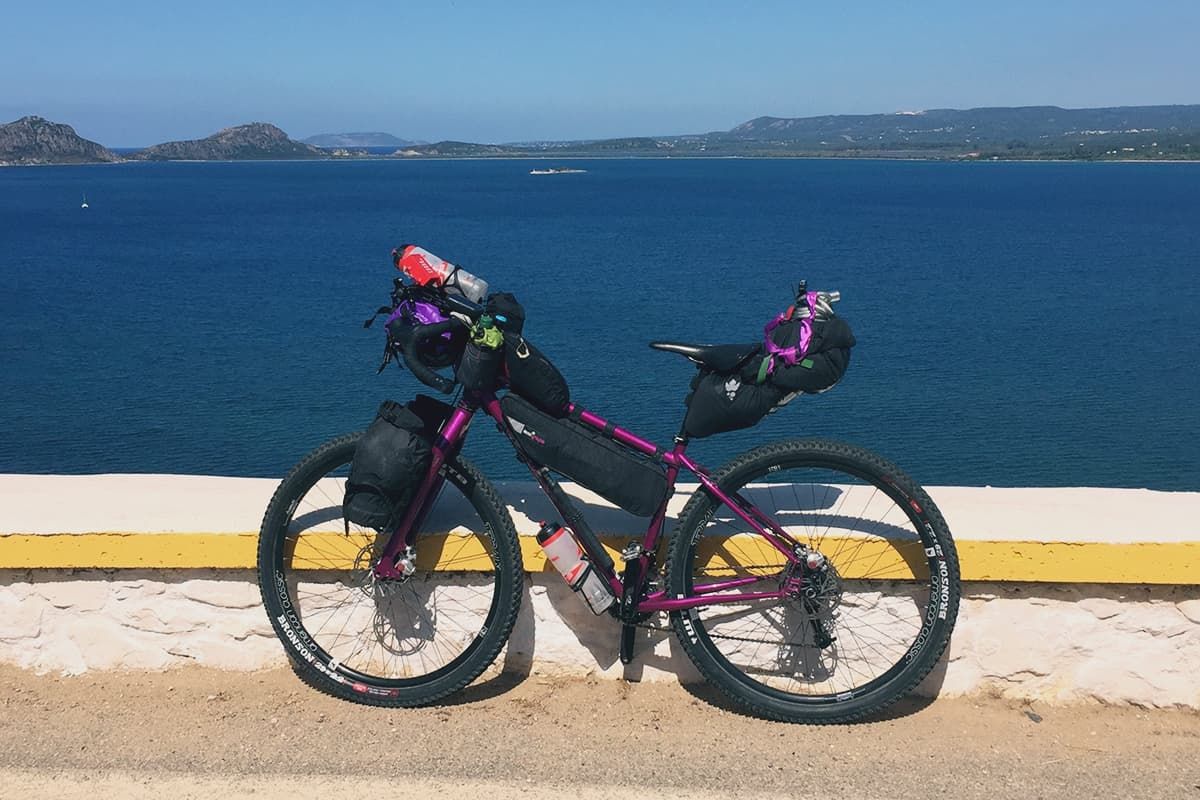 The best Gorilla Cages on the market
After this long but due introduction, important in order to understand the parameters to use to choose the Gorilla Cages for your bicycle trip, we can finally analyze some models, looking at their price, features, advantages and disadvantages. Sometimes it's impossible to specify if the weight you'll read is inclusive or not of the screws, bolts and straps (even by looking at the companies websites), so you'll have to dig deeper on the web. I could compare European and American markets, which offer very different products, and sometimes you'll find a price in U.S. dollars, some others in Euros or British Pounds, and you can analyze the product from your actual market.
Product Name
Weight
Size
Material
Max Load
Price
DOM Gorilla Cage
70 g
24,5x8x3 cm
plastic/velcro
1,5 kg
SALSA Anything Cage v1/v2
191 g
20,5x14x10 cm
aluminium
3 kg
From 30$ online
SALSA Anything Cage HD
196 g
22x11,7x8 cm
nylon
3 kg
BLACKBURN OUTPOST Cargo Cage
164 g
20,3x10x7 cm
aluminium - silicone
4 kg
MERIDA Gravel Cage
300 g (bag included)
21,7x12,5x7,4 cm
plastic
3 kg
From 25,58€ online
TOPEAK Versacage
128 g
22x12x7 cm
plastic
3 kg
KING CAGE Many Things Cage
37 g
20x7x5 cm
titanium
NA
From 55$ online
SPECIALIZED Burra Burra Stuffcage
150 g
NA
aluminium - nylon
NA
From 27,65€ online
PROBLEM SOLVERS Bow Tie Strap Anchors
31 g
NA (but very small)
aluminium
1,35 kg
CURVE CYCLING Rocket Titanium Cage
83 g
12,5x6,2 cm
titanium
NA
From 149,00$ online
WIDEFOOT Cargo Mount
71 g
NA
aluminium
NA
From 48,00€ online
DOM Gorilla Cage
These guys from Freeparable created a jewel in their line DOM (stands for Dirty Old Monkey), and together with the mates at Salsa (Anything Cage) and Blackburn Outpost (Cargo Cage) they gave the name to the entire category of Gorilla Cages, small fork racks or big water cages. This product is simple and intuitive: it is sold in two colours and you can fasten it to the fork by screws or by a particular click-mount system called Gorilla Clip (21,95$ on Amazon). The main structure is plastic, while the cage itself is a velcro net, "hugging" the bag (not included in this accessory): this can be a normal drybag up to 5 litres, or its Gorilla Bag (from 21.59$ on Amazon).
Personally, I didn't try it and I'm particularly curious about this product, but judging from the very many positive reviews online it seems a valid purchase. The main plus is this click-to-go system, allowing not to "undress" the fork (leaving only the Gorilla Clip), and being able to carry the bag and the velcro net around it. An issue, comparing it to the other products listed below, could be the maximum load, limited to 1,5 kg per cage, which could limit the choice to extremely lightweight pieces of materials.
Advantages
Price
Easy and fast hooking system
Disadvantages
Not so much weight tolerated
SALSA Anything Cage v1/v2
From 2010 this aluminium accessory by Salsa allows fastening a 3kg load (better if cylindrical) to the fork. They were not the first to think about it, but their idea has been more successful, and now Anything Cage together with Gorilla Cage give the name to the entire category of items. The problem spotted by many bikepackers (not only by owners of Salsa Fargo or Surly ECR) was the fragility of this support, especially around the weld joint. This brought the brains at Salsa to conceive the new model, which you can find down below.
Advantages
Max load capacity
Disadvantages
Fragility
SALSA Anything Cage HD
After a second version of the previous item, presented as an oversized bottle cage, in 2014 Salsa realized one of the most sold, known and copied items in bikepacking gear: a very resistant and thick nylon cage, called Anything Cage HD, where HD stands for heavy-duty, the right attribute for an item like this modern Gorilla Cage. For sure it's not cheap at all "for some thick plastic", but I can guarantee that the declared max load of 3kg is a big deal!
It's not hard at all to mount it on the three eyelets of a Fargo or another touring bike, and you also have a 7mm to 7cm play, depending on how many screws you use. Then there's the classy touch: the very resistant Salsa Straps (two straps for each cage), allowing to fasten every dry bag (or their very stylish Salsa Bag) to the fork, hugging it tightly.
Advantages
Resistance
Design
Disadvantages
Price
BLACKBURN OUTPOST Cargo Cage
The third brand giving the name to the entire category of Gorilla Cages for bikepacking. Their cages are presented as "big water cages" and at the same time "fork racks". With a high load capacity (I personally wouldn't trust this data and load this much on three screws on my fork), these aluminium cages are very resistant (according to the enthusiastic online reviews), and the silicone covered straps have a strong grip on the bags. Good price on the market and happy users... what else? Only for bikepackers with an eyeletted fork (we wouldn't want 4kg falling on the spokes, would we?)
Advantages
Max load capacity
Price
Disadvantages
Only for forks with bottle mounts
MERIDA Gravel Cage
Of all the products presented in this article about Gorilla Cages, this is the only one you cannot find separated from its bag. "Great!", you'll say. Well, for this price, Gorilla Cage plus bag seems really too advantageous to be true... however... Three holes for ties or screws, a pretty solid structure (apparently) and a competitive price, to be tested in low temperatures. Hard to find online.
Advantages
Price
Gorilla Cage + bag included
Disadvantages
Nothing in particular
TOPEAK Versacage
Could the Taiwanese colossus exempt from producing the cheapest fork bag support on the market? This is a rhetoric question since we're analyzing their product. This Versacage (which has the evocative beginning of versatility so much loved by bikepackers) is very (too much) similar to the older brother Salsa Anything Cage HD. Sold together with three Versamount ties, allowing to fasten this Gorilla Cage on every type of bicycle fork or on every tube from 20 to 60 mm of diameter. A second advantage could be the presence of four holes, allowing to adjust this support to every height. I personally don't believe in "cheap" products, and I fear that the max load of 3kg declared might be too many, but I don't have proofs of that, so I shut up and continue with other products analysis.
Advantages
Price
Sold with Versamount plastic ties
Disadvantages
Nothing in particular
KING CAGE Many Things Cage
Simple but efficient. A solution in titanium with three holes to fasten it to the water mounts, with a special surprise: the King Cage USB (Universal Support Bolt) or, to speak freely, a sort of pipe tightening ring with a threaded screw, to adapt to every type of fork. Titanium, which helps on the design and weight aspects, weights on our pockets...It is sold with a 2 years warranty, so we know Mr Ron Andrews from Durango, Colorado has faith in its product and its resistance.
Advantages
Essential Design
Possibility to buy the King Cage USB universal adaptor
Weightless
Disadvantages
Price
SPECIALIZED Burra Burra Stuffcage
Very similar to the above presented King Cage Many Things Cage, and despite its aluminium tubular structure looks like a rock (in terms of weight), this product is lighter than the inspiring model (Salsa Anything Cage HD). Thre holes for fastening it to the fork, two nylon straps to have a grip on the bags... everything's fine, except the limited load capacity, limited indeed to the Specialized Burra Burra Stuffpack, accessory conceived for this 1 litre Gorilla Cage. The European market hasn't got any info about the capacity or the size of this product by Specialized, so we could try and guess: just a bit bigger than a usual water cage.
Advantages
Great Design
Disadvantages
Little information available online
Limited max load
PROBLEM SOLVERS Bow Tie Strap Anchors
If you suffer from weight fetishism, if before a bike excursion you shave or take off your wedding ring because you notice the difference (I speak for a reason: I know someone who does), and reading this list about 70, 196, 150 or even 37 grams accessories you still feel unsatisfied, here you have! This accessory weighs 31 grams (if we don't count the straps!).
Even if it looks a minimalist and innovative system, this particular type of Gorilla Cage "without the cage" by Problem Solvers has a limited load capacity, up to 1,35 kg, and hasn't got any base, making it a bit risky to carry too much stuff. This system is also a bit difficult to find in Europe, where maybe you can find more easily the elastic straps not included in the product, and which must be 12 to 26 mm height. It's a bit risky, is all...
Advantages
The smallest on Earth
Weight
Disadvantages
There's no horizontal stand for the bag
No straps included
CURVE CYCLING Titanium Cage
Ah, titanium! Expensive as hell, but so light! Of all the solutions above, this by
Curve Cycling
is
without a doubt the most expensive
. This particular type of Gorilla Cage is mounted directly to the fork using the three adjustable holes and
costs "only" 149$ (per cage!)
, including the 4 litres bag, which is the only one suggested for this support (clever company). Count your money before purchasing...
Advantages
Catchy Design
Lightweight
Disadvantages
Price
Did I already mention the "price"?
WIDEFOOT Cargo Mount
Another design-friendly accessory, available in
5 colours
(purple, light green, black, silver and orange) and realized in aluminium with 7 (seven!) holes in order to adjust the height as you wish on the bicycle fork. Other than the narrow but comfortable base where to place your bag, this product by
Widefoot
presents wide holes for the straps, but here you can use whatever type you want. Shame that we cannot access two important details: the max load and the size, which could help in the choice...
Advantages
Many colours available
Adjustable height
Disadvantages
Little information available online
DIY Gorilla Cages and solutions for no-eyelets forks
In this tiny and modest research about these products called Gorilla Cage, which you already got to know, I stumbled upon many (too many!) DIY tips and tricks. I personally advise against any creative perspective, even if at the same time I am fascinated by some solutions I saw on the internet, emulating cheaply the brands' solutions. After going against any of these solutions (even when being very jealous), I underline the importance of paying attention when building DIY solutions, especially if you own a fork without eyelets (a carbon or a suspension fork especially): plastic ties, metal supports, tape, threaded screws might cause damage to the fork, or worse causing the fall of your DIY support directly into the spokes, with bad consequences which we can easily imagine. So, guys, be careful with DIY!
At the same time, for forks without the eyelets, there are many supports already available on the market, to adapt your fork to the Gorilla cages system. For example, we can quote the Wolf Tooth B-RAD Mounting Base (from 19,95$ on Amazon), the Mount Skidmore's Bottle Cage Adapter, or the very expensive Baryak Mule Mounting Kit (from 97$ online). Like I said before, let's pay attention to the features of the products, let's verify the max load capacity, let's be careful not to transform our fork without any eyelets into a 4-5kg heavy loaded mule: the consequences are bad and I hope in front of our eyes. Other than the support/adaptor for the fork, we must take into consideration the straps: English market has this solution, while in Italy we can use a Miss Grape strap (called Fix) or a generic velcro straps kit.
Gorilla Cages in Italy
Like I said before, the European market (not to mention the Italian one) is poor in this field. The only name in Italy (thanks to Michele "Nure" Boschetti, CEO of Miss Grape bikepacking products) is Zorloni from Zeta Bike Components, realizing tailor-made solutions to adapt Gorilla Cages or Anything Cages on suspended forks.
But speaking of Gorilla Cages, other than what you can find on Amazon, in Italy, we don't have a brand producing a new type of Gorilla Cage or Anything Cage or Cargo Cage. We don't have, or better... we didn't have, until now. The quoted friend Nure from Miss Grape has recently announced the production project of his version of a model of Gorilla Cage (they don't have a name yet, for now, they are only #ilcoso, literally "the thing"), completely produced and distributed in Italy, made of carbon, similar to a bottle cage and weighing 84 grams (screws and straps not included), so half the Anything Cage HD by Salsa... To this exclusive news, we'll bring more updates, as soon as we get noticed. For now, we leave you with these pictures of Miss Grape "Gorilla Cages".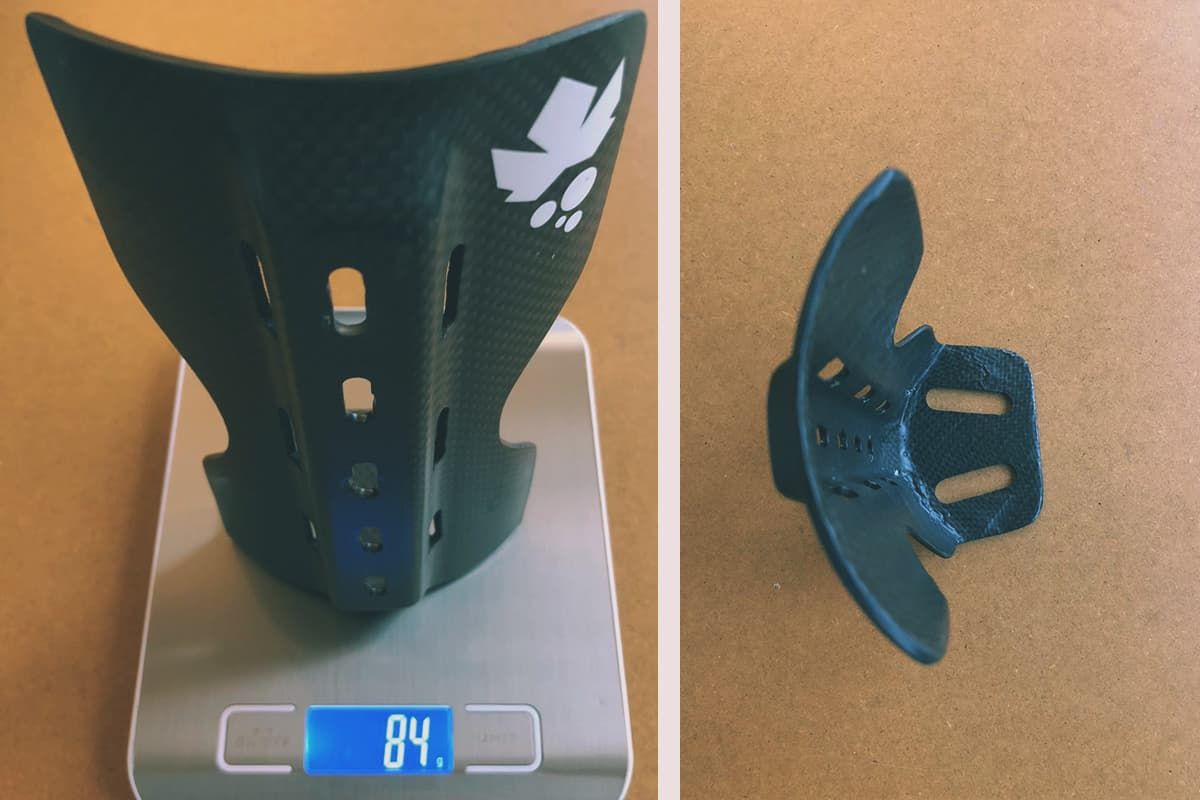 My personal experience
I must admit that by writing down this article I learned new information, I got to know new brands and imagined new settings different from the one I've always used since I discovered the bikepacking technique, and I hope you can use this information to your advantage. Before purchasing my Salsa Fargo, but also during the first excursions, I wasn't aware of the bikepacking accessories world, so I trusted the brand of my bike and I bought the Salsa Anything Cage HD, which I've already tried during some short trips but also on longer travels, like my Latvia Bikepacking Tour, the Peloponnese adventure or on the Fuerteventura Bike Trail, always bikepacking. On my Anything Cage HD by Salsa, I carry two 4,5 Alpkit dry bags to carry my Naturehike tent (lightweight), a sleeping mat, or water bottles, jetboil and food.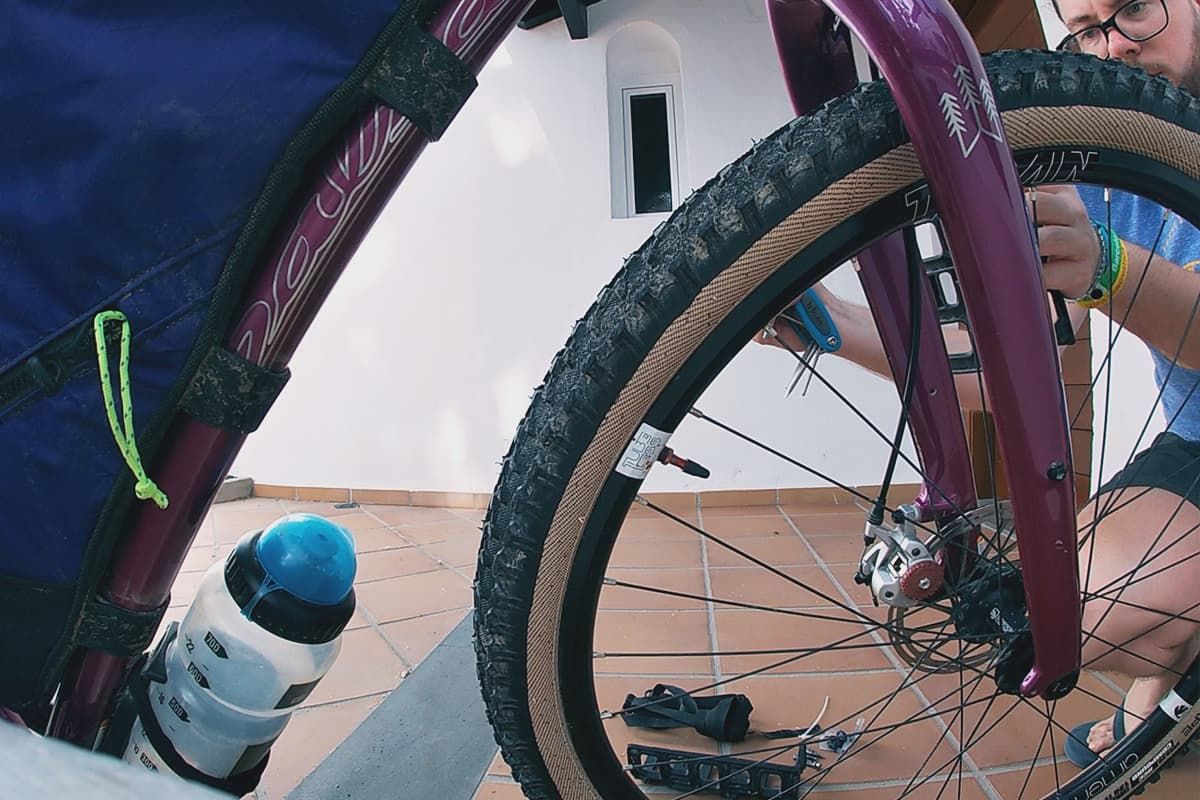 My opinion about this product is extremely positive, even if I'm still really curious to try, as soon as they are released, Miss Grape's supports. I'd like to run some tests, in order to try new setups and share my ideas about the different Gorilla Cages.
ITA - Ho 32 anni e sono piemontese, anche se da qualche anno vivo e lavoro in Lombardia. Dopo un inizio da totale inesperto in questo campo, mi sono avvicinato al mondo dei cicloviaggi e della bicicletta sempre più. Oggi posso definirmi "cicloviaggiatore", e assieme all'altra mia passione - il videomaking - non mi fermerei mai! Cyclo ergo sum, pedalo quindi sono, per cercare di capire perché andare in bici sia così bello, terapeutico, ricco... E ogni volta che provo a capirlo, non ce la faccio, e sono costretto a ripartire sui pedali!
ENG - I'm from Piedmont and I'm 32 years old, I have been living and working in Lombardy for a few years. After a start without any competence in this field, I then approached the bicycle world more and more. Today I can call myself a bicycle traveller and videomaker who would never ever stop. Cyclo ergo sum, I cycle therefore I am. I ride my bike trying to understand why it is so beautiful, rich, therapeutic. And every time I try, I do not understand it. So I must leave again...
Latest from Francesco - Life in Travel