Front rack for bike: different types and how to choose the best one
There are many types of front rack for bike, different in the hold they can carry, the bicycle they can be mounted on and mostly in the use you are going to do with them. In this article, we'll analyze some types and then we are focusing on some bicycle touring front racks.
Speaking about front racks might look a bit anachronistic in this new era of
bikepacking
and minimalism but, despite traveling carrying your bags attached directly to the frame and bike components, the
majority of bicycle tourists travel
the world with
side panniers
, front and back. In this second setup, a fundamental accessory is a rack. We already wrote an article about how to choose a bicycle touring rack, so in this article, I'll be focusing on the bicycle front rack, maybe less used and for this reason less known than the back ones.
Front rack for bike: which types?
Lowrider Front Rack
There is only once a basic concept for this type of
front rack for bicycle
: the more the weight is low, the more the center of gravity of the system
bicycle+cyclist+panniers
is close to the ground and consequently higher will be its stability. Like for children on skis: once they learn how to ski, they have better stability than a tall man, because their center of gravity is closer to the ground. To lower the weight, these racks generally present a hooking system lower than the highest point of the wheel from the ground, so they need a special joint to the hub or to be fixed to the fork, the majority of which has got some extra mounts for the front rack (gravel, touring bicycles or also some MTB and road bicycles) In the picture below you'll see my 
Genesis Tour de Fer 20.
Porteur Front Rack
Porteur front racks for bike offer a bigger surface for the weight, above the front wheel and allow a pretty heavy weight.
These racks are easily installed
on city bikes and are hooked on the wheel hub or to the pipe or the fork. You can mount side panniers, but also baskets, bags or more capable containers. It is rarely used for bicycle touring.
Shock-absorbing front rack
Until now we saw only front racks for bicycles with a fixed fork, but the problem is when we want to mount a rack on a shock-absorbing fork, like the MTB ones. There is a special shock-absorbing front rack which I didn't know before. The company producing this accessory is the German 
Faiv
 (a classic, due to the number of German bicycle tourists). Anyway, Faiv offers this front rack hooked to the fork with a little piston which follows the movement of the shock-absorbing system. There are some hooking points (hub and pipe) to give stability to the system. 
I'm very curious about this accessory, but I have to confess it does not convince me because of some factors: its cost, really astronomical, introducing another technologic element on a touring bicycle, that should be simple to maintain, and its utility, since nowadays there are so many solutions (bikepacking is one of them) for MTB or shock-absorbing forks owners.
Front Rack for bicycles without mounts
If your fork is shock-absorbing and you don't have any mounts,
there is a solution for hooking a front rack
: it's a kind of U hook or some plastic ties.
Every company producing front racks offers some accessories in order to hook the rack directly to the fork. Thule produces a rack with this kind of hooking system. Down below some examples: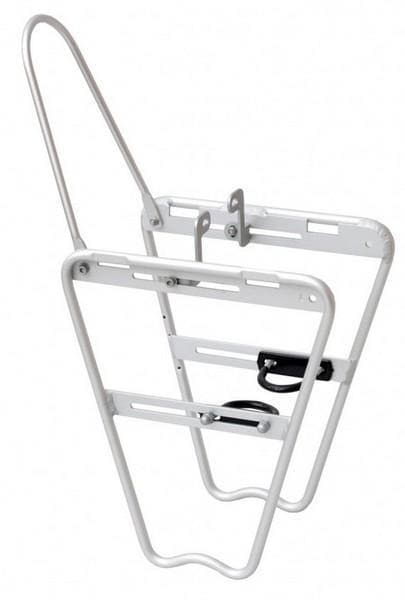 Personally, if possible, I'd avoid this solution, because I wouldn't be sure with heavy loads. If the hook is a secondary stability system, other than the main hooking system fixed on the fork, the hub or elsewhere, this could be valid, but otherwise, this should be only the very last option: the last thing you want to happen on a journey is your rack to break down!
Materials and front racks
In order to evaluate which front rack you should buy, one of the most important things to do is the load capacity, which normally is due to the material of the rack. The two main materials are steel and aluminum, but you can find also titanium or carbon racks. If titanium is a great alternative but very expensive, I'd avoid carbon from my choice.
A titanium front rack is very light and can carry a lot of weight. For who's interested, the Chinese company 
Ti-bikes
 produces titanium accessories. A rack costs 150$ plus shipping for the S front rack and 215-330$ for the others. They are tailor-made and take 20 days to be ready and shipped.
Steel and aluminum: personally we had some issues with aluminum accessories, even if sometimes it's discount products. Now I ride with a steel front rack and I haven't had a problem in years, while Veronica during our last trip to Spain broke her aluminum rack (getting blocked by one of those small poles on a cycleway)... I think you know what she's going to mount on her next trip!
Accessories and useful details
A front rack for touring bicycles can provide some useful objects for a bicycle adventure: for example some
elastics or belts
to ensure the luggage (we usually use the depot ones, available everywhere and really cheap).
An important detail would be a front hole in order to fix a
front light
, mostly useful for who owns a dynamo hub. Some companies offer a
stand
to be hooked to the rack in order to ensure better stability to the bike when it's standing, in order to avoid the front wheel to turn on itself.
The same idea is the basis of this
steering wheel stabilizer
by Hebie, which avoids that the front wheel turn, risking to damage the lights or other things fixed on it.
Guide to the purchase: the best companies producing Lowrider Front Racks
We analyzed the features to take into consideration for the purchase of a bicycle front rack: let's jump into the market and take a look at the best available companies and products. The following are personal opinions, so they are subjective!
Tubus
Among the best companies in this field, we cannot start elsewhere. This German company has been producing steel front racks for the last 20 years and their models 
Tara
e
Duo
 are a signature for bicycle travelers around the world. There are many adaptations and accessories available in their catalog.
Axiom
At the moment I'm writing, this American company offers 2 front racks: the first is a classic and the second is for
shock-absorbing fork end disk brakes
. Both are made of aluminum and both can be fixed to the quick release system of the bike with U hooks on the fork.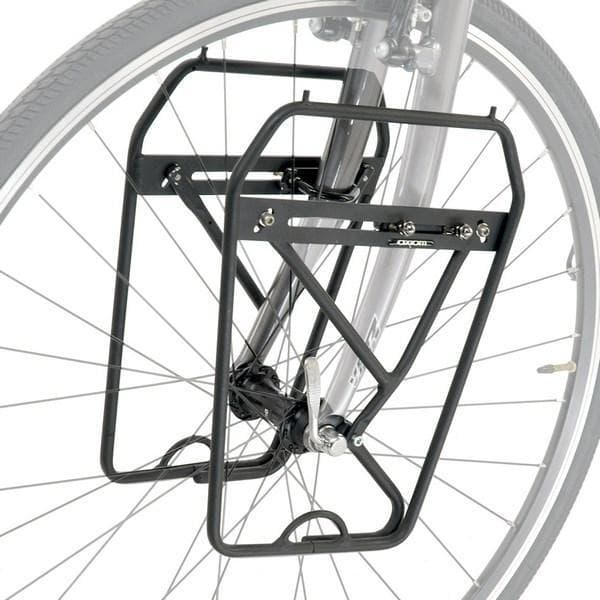 Old Man Mountain
This small but very well known American company produces what looks unbreakable front racks. Of course, in order to purchase them, you have to access your secret funds, but the owners are all satisfied. At the moment OMM produces only the Sherpa model as a front rack. It's not a lowrider, because it's higher than the wheel, and not every pannier is compatible with it (like our Crosso bags). 
Blackburn
Another American company offering some accessories for bicycle touring and travelers. In this case, the racks are aluminum made and their model Outpost has a removable upper part if not used.
Surly
Surly
already makes beautiful bikes... but the accessories are a great deal too! their front rack isn't usual, it weights a lot but it gives a great sense of stability, load and flexibility.
Salsa
Another great bicycle company, producing great quality front racks for bicycle touring. Their product Down Under is made in aluminum or steel (for the most demanding in terms of weight).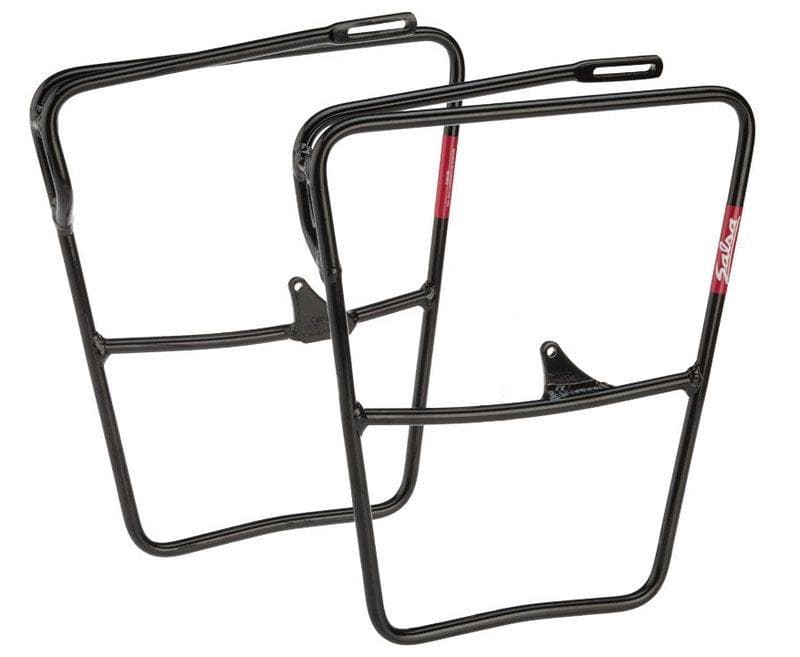 Crosso
I definitely must mention the Polish company which bags I'm traveling through Europe and the world with. I haven't mounted this rack yet, and I have to figure out whether I can fix it on the fork mounts to give more stability.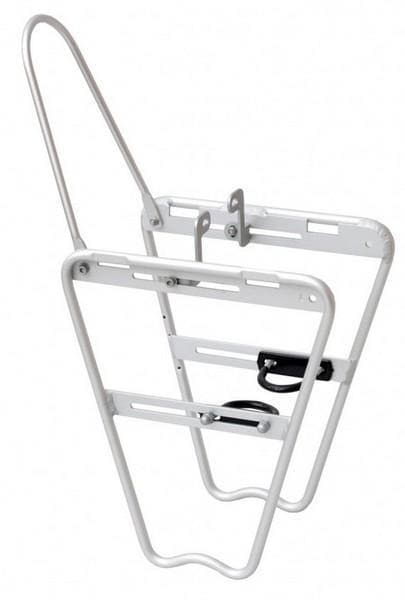 Jandd
Despite their website is garbage, 
Jandd
' s products seem high-quality ones.
Do you know other types of front rack for bike? what's your favourite one?
ITA - Ho 33 anni e sono piemontese, anche se da qualche anno vivo e lavoro in Lombardia. Dopo un inizio da totale inesperto in questo campo, mi sono avvicinato al mondo dei cicloviaggi e della bicicletta sempre più. Oggi posso definirmi "cicloviaggiatore", e assieme all'altra mia passione - il videomaking - non mi fermerei mai! Cyclo ergo sum, pedalo quindi sono, per cercare di capire perché andare in bici sia così bello, terapeutico, ricco... E ogni volta che provo a capirlo, non ce la faccio, e sono costretto a ripartire sui pedali!
ENG - I'm from Piedmont and I'm 33 years old, I have been living and working in Lombardy for a few years. After a start without any competence in this field, I then approached the bicycle world more and more. Today I can call myself a bicycle traveller and videomaker who would never ever stop. Cyclo ergo sum, I cycle therefore I am. I ride my bike trying to understand why it is so beautiful, rich, therapeutic. And every time I try, I do not understand it. So I must leave again...