Cycling in Morocco: 13 tips and charming bicycle routes
Cycling in Morocco is an experience for all adventurous cicle travelers. Morocco is a wonderful and ample country, with cycling itineraries for every level. Its roads, outside the main routes and far from the bigger cities, are not busy at all and very suggestive. The breathtaking landscapes vary from the coast to the backcountry: you can reach some villages 3000 meters high or cycle in the plain next to the sea. People are friendly and hospitable in the majority of cases and in our opinion, it is one of the most beautiful countries for bicycle travelers.
If you're looking for some adventure and you like traveling by bicycle in culturally different countries than Italy, Morocco by bicycle could be the ideal destination for your next tour. We have been cycling in Morocco for our bike tour on the High Atlas for about 15 days, but this country is so big that you could even spend some months there without passing twice by the same spot!
During our Morocco bicycle trip, we learned so much about this country, and in this article, we'd like to answer the most common questions we received about cycling in Morocco. In particular, the questions we're going to answer are:
How can I reach Morocco carrying my bicycle?
There are many airlines, even lowcost, allowing you to reach Morocco with your bicycle. From Europe I can suggest Easyjet (flying from Milan Malpensa and many others cities) or Ryanair (flying from Orio al Serio and many others airports), connecting the continent and different airports in Morocco (such as Marrakech, Casablanca, Fez...) low-cost. Consider that the supplement for the bicycle is around 60€ per fly. If you want to fly from U.S.A. or Canada you can check the flights of Royal Air Maroc, Iberia and Swiss Air.
A valid alternative is a boat, allowing to reach the Moroccan coast in a couple of days leaving from Italy or Spain (in less time!): the trip is for sure longer, but it could be comfortable and less stressful than the plane. It depends on how many days you can withdraw from the bicycle trip in Morocco.
Which documents will I need in order to cycle in Morocco?
In order to travel to Morocco without taking part in an organized trip, you will need a valid Passport (it must be valid for six months following date of entry). You can enter the country for touristic purposes for three months if you are a citizen of Europe or Noth America.
Is it safe cycling in Morocco?
In this time, when safety is the heart of our attention, when the terror slithers among us like a travel companion, to define Morocco safe might seem absurd, due to its geographic position. Although, we haven't felt in danger once on its road, in its squares, in its villages roads. Morocco is still a happy oasis in northern-Africans countries, overwhelmed by the "Arab spring". The king, with some reforms and innovations liked by the Muslim parties in the country, saved Morocco from deeper protests and instable situations like the nearest countries. At the moment Morocco is a safe country, where you can cycle safely.
The population is hospitable and affable. The micro-criminality never reaches excessive levels, excluding the bigger cities hinterlands: nothing different than what happens in our country or in other countries in the world.
Berbers and nomad shepherds met on the High Atlas, like the children in the most remote villages are always asking for something to us, bicycle travelers: one dirham, a pen, a cigarette. They are never intrusive, and after a firm "no", nobody insists. Sometimes, the adults yell at the children in order to educate them to behave in the presence of bicycle travelers.
Which is the best period for a Morocco bike tour?
Weather in Morocco varies from area to area. Spring and autumn are the best periods to visit the imperial cities, the coast and the High Atlas, where during winter you risk finding snow in the mountains.
If your destination is the desert, my advice is to visit it during the
winter
, when the rest of the country is perfect during the year except
summer
, which is torrid and I advise against.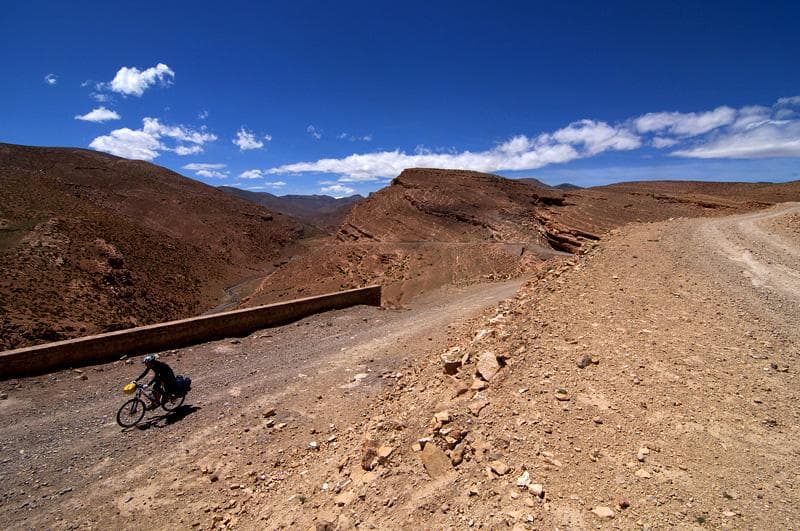 How are the roads in Morocco?
We personally traveled on the High Atlas, a pretty uninhabited area, and consequently not so busy. We looked for not asphalted roads because we love offroad tracks and mountain biking. Moroccan roads are mainly asphalted and well-kept, mostly the main connecting ones. Moreover, the national net of roads is being developed, to allow a faster connection for goods and people inside the country. If you travel out of these main sections, where you usually find a large emergency lane, great for cycling, the conditions may vary with corrugated asphalt and many holes in it. For these reasons our suggestion is not to use a road bike if you want to go biking in Morocco and visit some areas out of the main connections: a solid bicycle, steel or aluminum would be ideal.
The
thick net of tracks and offroad itineraries
, mostly on the Atlas, is ideal for offroad and
bikepacking
lovers: in this case, the snow and the strong seasonal rain might cut an itinerary, so it would be a good thing to be informed about the actual conditions of the roads on the established route.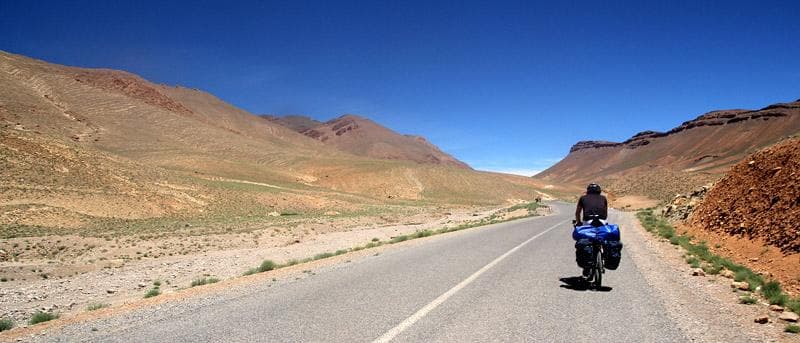 Which maps should I use to cycle in Morocco?
Depending on the itinerary planned for your
bicycle trip to Morocco
, you will be needing a more (or less) detailed map. If you only want to cycle on the main asphalted roads, we can suggest getting a
1:1000000
detail map (
like the Michelin one
lend by our friend Raffaele), if you want to travel in Morocco by MTB I suggest getting a very specific map for the area you're interested in, a 1:50000 or 1:25000 map. For asphalt and offroad itineraries, you can couple a paper map with medium detail with the
free maps by OpenStreetMap
, to be downloaded on your GPS device before the trip. But be careful: the maps are not always 100% precise and do not always cover all the areas!
Which are the most beautiful areas in Morocco by bicycle?
The most classic itineraries for cycling in Morocco include the imperial cities, but Morocco is way more than this! As stated before, it is a large country: on one bicycle trip, you won't be able to appreciate all its beauties unless it's a 3-months trip. Picking an area isn't an easy job, and it depends on the personal taste and on your training. The variety of panoramas and points of interest make it suitable for everyone.
For sea and relax lovers
you can plan a trip along the Mediterranean coast, from Tangeri to Melilla, maybe with a turn towards the beautiful blue roads in Chefchaouen. Or maybe towards the West, along the Atlantic Ocean between Rabat, Casablanca, Essaouira, and Agadi, with some pauses for the surf.
If you do prefer the mountains don't fear! In Morocco you will find something for you: the chain of the Atlas cuts the whole country West to East. Reaching the passes on the High and medium Atlas will be so satisfying... and if you get tired by the asphalt, you can always take one of the thousand tracks leading to the heart of these high peaks. Not to be missed the canyons of Dades, of Todra or rocky peaks like the Cathedral des Roches.
Towards the South, other than the Atlas, you will find the
Sahara Desert
. If you want to try a new experience and pedal in the desert, make sure the period is the right one, avoiding summer at all costs and being prudent not to cycle in the hottest moments of the day!
From Ouarzazate to Zagora you will find the valley of the Draa, for beautiful excursions off the main road. More East, reaching Merzouga could be a pretty epic adventure!
Finally, if the aim of your
bicycle trip in Morocco
is living a cultural experience, you won't have to miss a visit to the imperial cities of Fez, Meknes, Marrakech.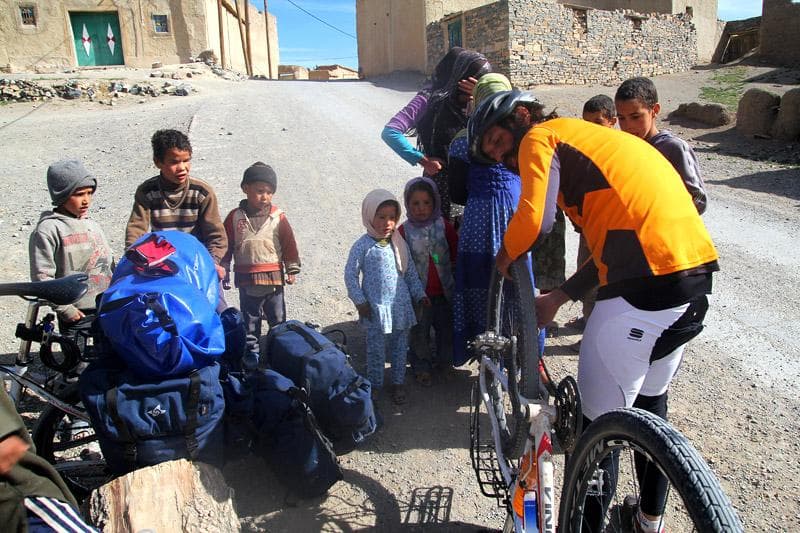 Is it hard to find water and food in Morocco?
We personally visited the High Atlas during springtime and based on our experience collecting water in those areas in that time of the year is not difficult at all. Generally, on the main roads, there are sometimes (every 10-20 km) little shops or cafes. In the most remote areas, the mountains and the desert, it might get complicated to find water and food and it's advisable to get info based on your actual routes and bring along more food than you would need, just in case, and a lot of water, especially if the temperatures are high.
Is it possible and safe to wild camp in Morocco for the night?
The same advice could be spent on the night camps: Morocco is pretty touristic and it will not be difficult to find Gite d'Etape or Riad where to spend the night at a good price. Once more it depends on the type of trip you are facing and the places you want to visit: if you stay on the main roads you will not find any difficulties, but if you go for secondary or remote tracks, a tent is highly suggested. Free camping is allowed and beautiful places to place your tend aren't missing... be careful and camp only in remoted places (beaches and isolated mountains...) or in places far from unwanted looks.
The most typical dishes of the area of the Atlas are
tajine
, a mix of vegetables, meat and spices cooked in the traditional plate and
couscous
, already known dish, but very tasty if tried in its original area.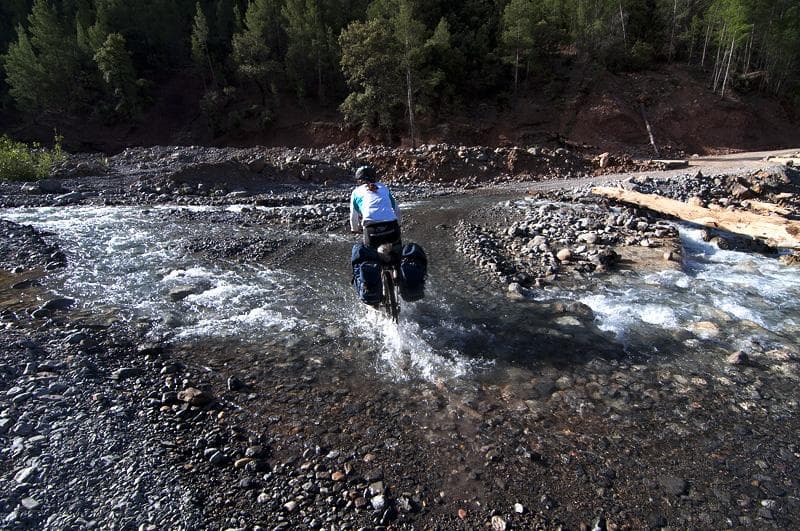 How much does it cost biking in Morocco?
Morocco is a cheap country
! Moroccan
dirham
, the local money, is actually changed 1$ = 9.63MAD (you can check it at
this link
). If you can handle a spartan place to stay in a family Gite d'Etape, the half board is usually 150-200 dirham per person per night. Logically, in the most touristic areas, these prices swell a bit.
In the cities where tourism represents the main income, it could be annoying facing continuous offers or bargains on everything. At the first moment, it is fun, but then it becomes tiring, especially after many hours on your bike and many trades. This though happens only in some areas, which bicycle travelers usually avoid.
How developed is telephone infrastructure technology in Morocco?
The
mobile telephony
is present and it is standard on the coast, while in the High Atlas we hardly had any signal, even with a local SIM card. The same thing is for the
internet
: in the cities and in touristic areas the quality is good, while it is absent or pretty slow in more remote areas. In any case, you don't have to worry: you are on holiday, you travel slowly by bicycle... if you don't check your Instagram feed and you are not "connected with the world" for a few days, it won't be damaging, on the contrary! If you cannot live without the internet, when you reach a medium city, go and ask for help in a mobile shop: people are usually very friendly and tend to help
What should I bring to cycle in Morocco?
To this question too it's impossible to give a univocal answer: it depends on the type of trip, the time of the year and the area you are cycling in. Moreover, we always carry more than we should, technologically speaking, which we advise against having with you if you don't need them.
Don't forget a repairing kit, due to the lack of finding bicycle shops during the trip, even in Marrakech.
In order to have a broader view, you can check our
equipment
checklist for bicycle touring
: there's everything, even too much, but you can find some inspiration!
Some suggested itineraries for cycling in Morocco
ENG - I'm from Piedmont and I'm 31 years old, I have been living and working in Lombardy for a few years. After a start without any competence in this field, I then approached the bicycle world more and more. Today I can call myself a bicycle traveller and videomaker who would never ever stop. Cyclo ergo sum, I cycle therefore I am. I ride my bike trying to understand why it is so beautiful, rich, therapeutic. And every time I try, I do not understand it. So I must leave again...
ITA - Ho 31 anni e sono piemontese, anche se da qualche anno vivo e lavoro in Lombardia. Dopo un inizio da totale inesperto in questo campo, mi sono avvicinato al mondo dei cicloviaggi e della bicicletta sempre più. Oggi posso definirmi "cicloviaggiatore", e assieme all'altra mia passione - il videomaking - non mi fermerei mai! Cyclo ergo sum, pedalo quindi sono, per cercare di capire perché andare in bici sia così bello, terapeutico, ricco... E ogni volta che provo a capirlo, non ce la faccio, e sono costretto a ripartire sui pedali!