Salar de Uyuni by bicycle: the world's widest salty expanse
It's waiting for you, while you nervously swallow. It's the widest salty expanse in the world, you're just a bicycle traveller like many others reaching the whitest and shiny surface of Salar de Uyuni by bicycle. You can stop, while thinking you're unable to control your excitement... a dream is becoming true and it just doesn't seem true. You check around you, pick a white chip, you taste it: it's real salt... you didn't imagine it: Uyuni is just in front of your wheels: just keep riding!
Being in front of the world's widest salty desert is quite impressive, but what if I told you that it's not the only one we crossed by bicycle?
Salar de Coipasa by bicycle
Sabaya, almost 10000 souls on this Andean upland 3800 m high, is already up when we decide to start riding to continue our journey. Sabaya is also one of the entrances to the Salar de Coipasa, a wide salty expanse (almost 800 square km!!!) peopled by pink flamingos.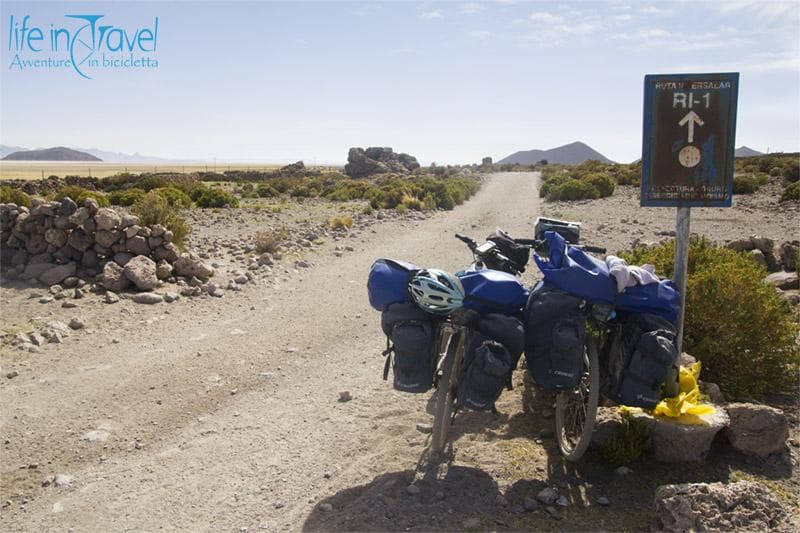 It's quite impressive, we can feel it from the end of ou hair to the toes: this show is surreal and stunning. The so-called 
RI-1
, the 
Ruta Intersalar
 reaches an outpost, to then lose its way into the salt, while we, confused and excited, are leaving towards the horizon, which we'll have to follow for dozens of km, like a mirage, before reaching it for real.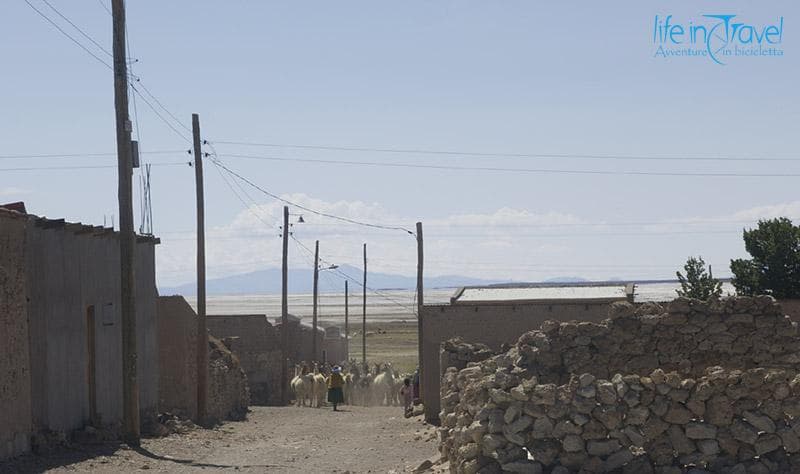 On the Salar de Coipasa, there aren't any signs, just many
"Camino"
 left by the cars who passed on this white desert. During this season it should be covered in water, but due to the drought, it is completely dry. We follow one of these tracks, but after some kilometres, we end up in ana area covered in water, and in order to avoid all mechanical risks, we come back (there's little water to drink, imagine using some to clean the bikes and their delicate parts)... In Bolivia, they call natural asphalt this kind of salty terrain. Here we meet a small truck, and we decide to follow its track. Broken, dusty and rusty, this truck is carrying many men and women to the salt mine to pick this precious resource.
We stop for a few pictures and Leo asks in Spanish which is the right path to get closer to the 
Salinas de Garci-Mendoza
, the village surrounded by the two
salares
. A couple of workers smiles showing us the right path. The end of the desert seems far away: the
wind
which some minutes ago was helping us towards the destination, now changes direction, becoming our worst enemy.
Our speed passes from 25 km/h to 8 and the effort becomes extreme. After two long hours od war (already lost) against Aeolus, we touch base and decide to stop behind a providential rock. Placing the tent is very hard, but once mounted it becomes our little home every evening, where we feel safe and where we can finally relax before having something to eat. The wind keeps blowing angrily for a long time until it relaxes under the shiny light of the moon.
Sand and rocks
The sun shines above Bolivia
and our small tent. Here we usually wear a heavy sweater in the morning, but we know that during the day we'll put it in the panniers. The gravel road before Salinas de Garci-Mendoza, at the very beginning of the Salar de Uyuni, is terrible: sand, rocks, holes and tracks of many vehicles are playing against us in an unfair match, deciding our speed. It takes us some hours to give a sign of pleasure and say
"Yes, we made it!"
, but this is part of a bicycle trip too...
what you cannot foresee but happens anyway!
Before reaching the city, in the middle of nowhere, we have a special encounter: an old man walks towards the line of the horizon, wearing old sandals, a typical hat from this area, a burgundy sweater and a waistcoat. When he sees us, he gives us the best smile of the trip on the Andes. Leo stops immediately and I watch 15 minutes of discussion, a real debate. During this time which I feel endless, I can catch some words, but the rest is a mystery for me. After these long 15 minutes, Leo raises his hand to greet the old man, who does the same, and everyone gets on the road again. I wait for Leo to explain to me the subject of the discussion, but he's silent, and with a smile on his face. So I ask:
"What were you two talking about?"
. Leo turns towards me and answers:
"Well, basically I didn't catch anything, he was speaking in Quechua, but still he gave me a lot of positive vibes!"
.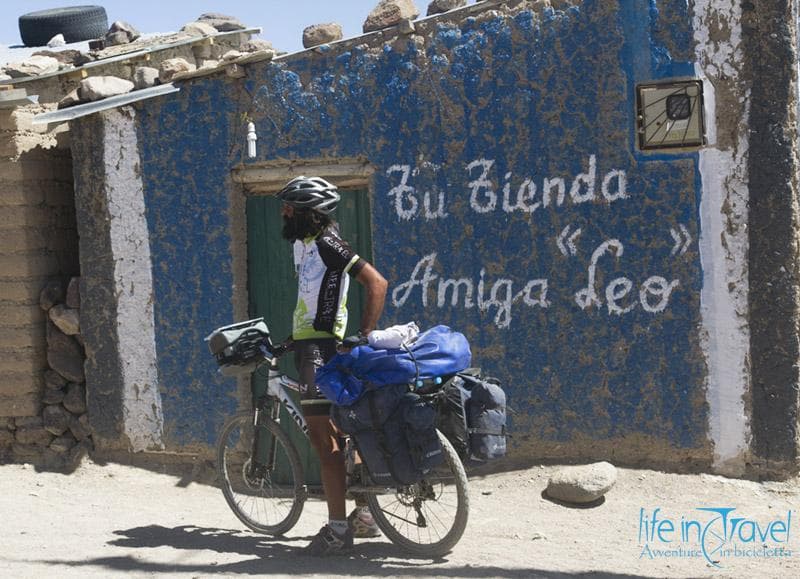 Salinas de Garci-Mendoza, just 15 km from the world's widest salt desert, welcomes us in the warm afternoon, with colourful houses and quiet roads. The
capital of Quinoa
is a quiet village, where we feel at home from the very first moment. We're eating in one of the many restaurants, and we're going to dream about the rides in the Salar de Uyuni by bicycle.
Salar de Uyuni by bicycle
In the main square of the village, Dona Esmeralda, with her mastery and experience, is frying something familiar, while with the other hand is pouring some sort of good smelling claret liquid in a plastic cup. Every customer, even the busiest and latest one, cannot resist the smell and view of the lady's stand, and the chairs for the clients at Dona Esmeralda are almost all taken. We get closer opening wide our eyes, seeing a smoky fritter served to a young businessman: we have to have breakfast here! We take a seat and wait for a while our turn: we devour our fritter still hot and down our red drink. The proud and serious lady explains something in Quechua and, looking at our terrified eyes, understands and translates in Spanish that we just had a Quinoa drink. We finish our fritter while thinking about the beauty of learning new things by travelling, and ask ourselves whether we want another one of them... We pay and leave very full and satisfied.
Salinas de Garci-Mendoza
 is only 15 km from the beginning of the Salar de Uyuni... and what a 15 km! the road is like a rock concert: ups, downs, continuous changes of rhythm... we dance, mosh with the rocks, we swerve on the sandiest parts... A hard ramp is a perfect exam for our heavy loaded bikes but once on the top, joy enlightens our tired expressions: the
 Salar de Uyuni
, the world's biggest salty desert, appears shiny as it can be under the sun. We're not there yet, but we're very close.
A slow descent anticipates our Chimera, the desert is even more beautiful than expected. During this time of the year, it's January, the salt from Uyuni, like the one from Coipasa, should be covered in water, at least by a little stripe, but it's not. The drought of this time kept it dry: it's a long white expanse, where we're going to ride soon, towards 
Isla Incahuasi
 and the city of 
Uyuni
, on the opposite side of the Salar.
Salty feelings
Crossing the 
Salar de Uyuni by bicycle
 is an incredible experience, deep and enchanting, difficult to describe in words. My personal opinion: after the first strong fascination and wide curiosity, after dozens of kilometres on the saddle, intense but boring, with the feeling that the horizon will never get closer, I felt a certain intolerance and the mental need for the view to change.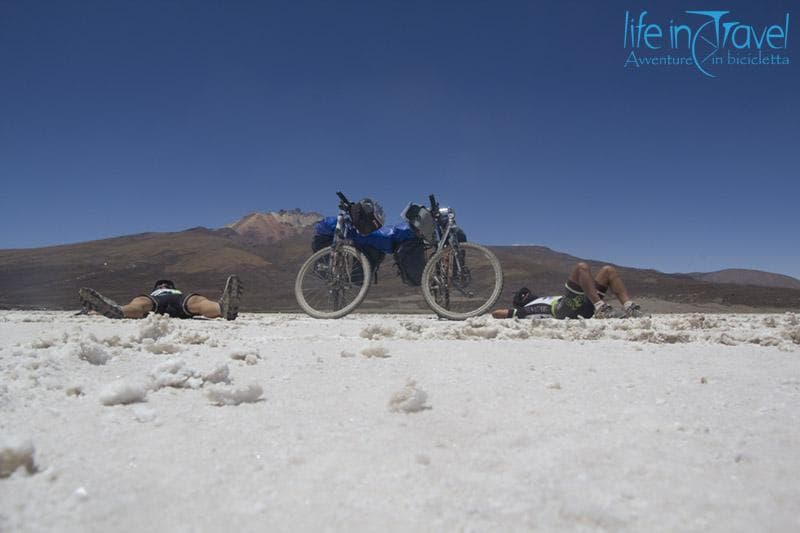 Every kilometre is longer than expected and seemed not to end, and that first enchantment and mysticism became wait, hope. I never felt those emotions so opposed, and when Isla Incahuasi appeared, it was fundamental to recharge my tired being with positive vibes.
Salar de Uyuni by bicycle: Isla Incahuasi's giant cacti
The main reference point in this area of the world, the Salar de Uyuni by bicycle, is the suggestive Isla Incahuasi. This rocky land,
the top of an old volcano dating back to 40000 years ago
, was born in the salt some metres above the desert. The most interesting feature of this place is the many
giant cacti
 growing almost everywhere. Among the many spines, if you're lucky, you can sight some species of birds trying to get some fresh sprouts.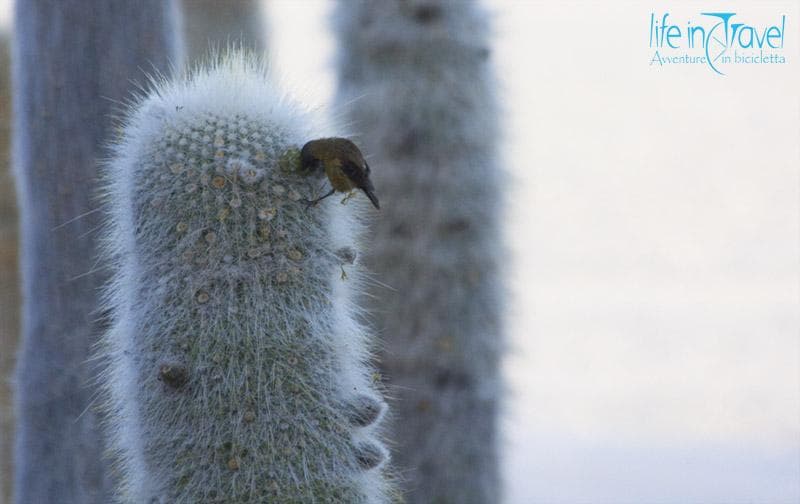 Our arrival at Isla is welcomed by the look of some curious tourists visiting this place in jeep. Every day dozens of cars carry tourists to take pictures and spend some hours in the quiet and surreal desert, but at the sunset everything changes: the jeep full of tourists get back on the road, giving back to the locals the surreal silence.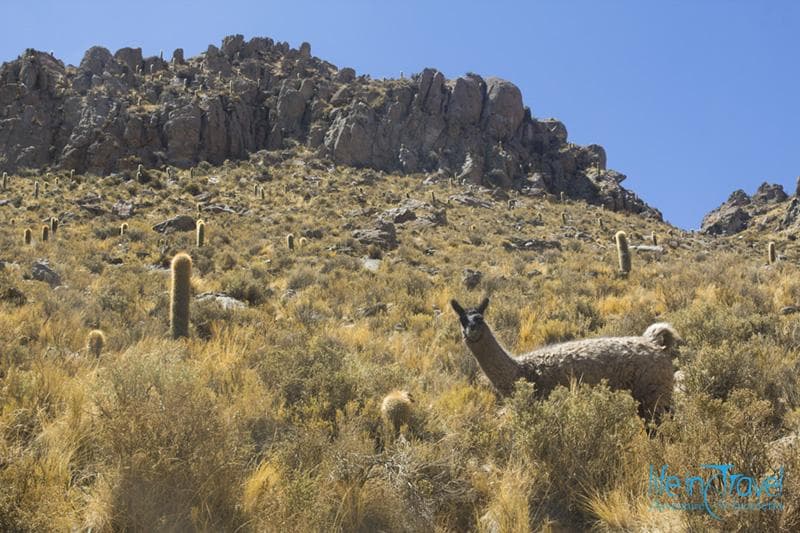 No hotels, a couple of restaurants and a souvenirs shop closing in the evening... in Isla Incahuasi you can spend the night only in a tent because when the dark comes, the upland cold air comes back.
But let's get back to the dinner: one of the two restaurants is managed by an old couple and, in their absence, their daughter and nephew.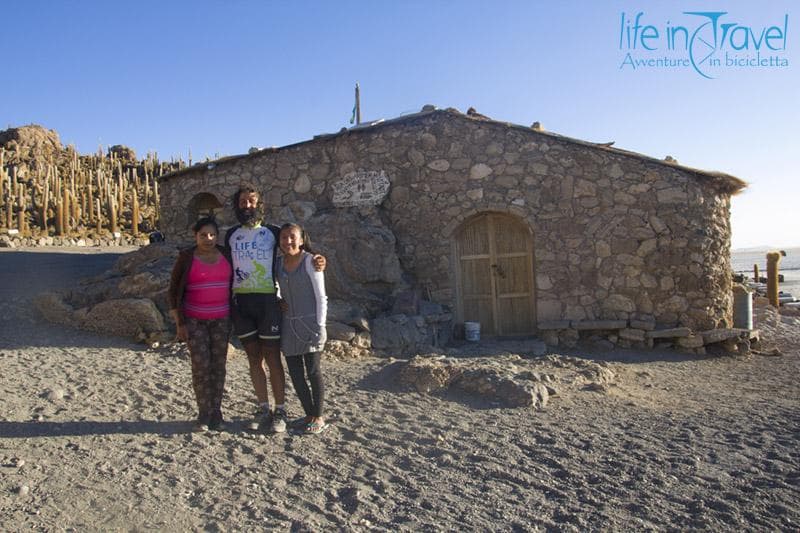 During the last years prior to our Andes bicycle trip, Paola and Silvano, two bicycle traveller friends from Piedmont, have been in these places and met the two owners of the restaurant. Before our trip to the Andes and the Salar the Uyuni by bicycle, we were given a mission: bring a letter to this couple, but the destiny played against us. During our bicycle trip, the owners were in Dakar (famous for the rally race) to buy some food for the restaurant. Their daughter, however, took the mission and offered us some tea and dinner.
The night in the desert is black as black can be, but millions of stars show us the path, and the
Southern Cross
becomes for a moment our compass, while in my head I play 
Southern Cross
 by Crosby, Still and Nash.
This cold can be tolerated... until the sunrise when we're woken up by the horde of tourists. We follow this flow towards the top of Isla Incahuasi while the sun rises at the horizon colouring the painting that we're living.
Cycling towards Uyuni
The sun shines bright above us when we leave towards the city of Uyuni.
It's not a long ride, today, and we can take some time for some pictures of Isla Incahuasi. The total perdition of cycling on this white land lays into me, having a precise destination but without seeing it. Uyuni and its surroundings are packed with tourists and Dakar fans and
the salar is a mix of silence and growling motors
.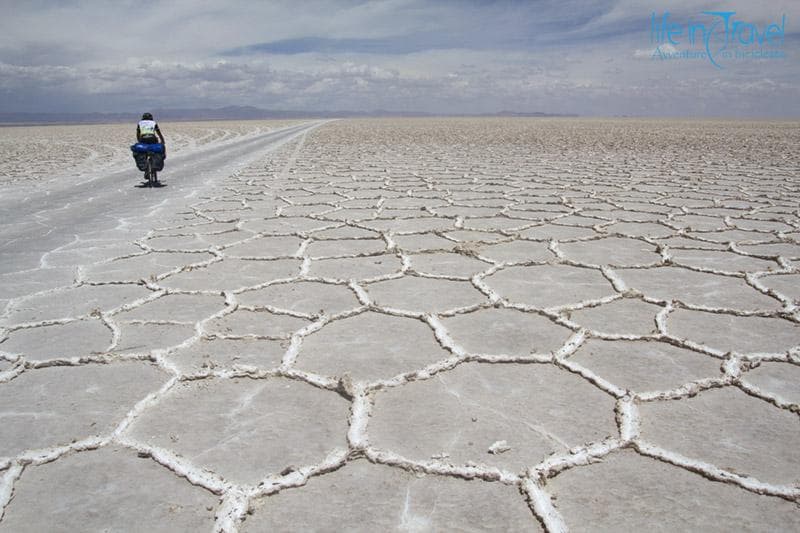 It takes us the whole day to reach the city at the door of the desert, a
Babel of colours, sounds and people
. Finding a cheap place to stay is quite impossible: all the structures, taking advantage of this event, almost increased by ten their prices, and only two beds in a mixed dormitory can be acceptable...
We share this big and sad room with some Bolivian tourists who came to Uyuni to watch the competition: dad, mum and son. Uyuni is not only chaos! In some side roads, you can still breathe the upland air and the tasty tropical fruit smoothies...
Our first idea, before reaching Uyuni, was to stop in the city for some days, but you know, when travelling ideas and roads to take may change quickly, and something made us leave before, leading towards Chile.
The salt workers in the Salar de Coipasa: men and women picking the salt under the hottest of suns;
One night under the stars in the Salar de Uyuni;
A stop in the stunning Isla Incahuasi for a warm dish and a walk to the highest point.
On the way, especially in the villages between the Salares, there are some structures where you can stop for a shower and the night;
Mounting the tent in the salt can be challenging; try to sleep in the desert instead;
In Bolivia, you can camp freely, but before mounting the tent make sure you know the Andean wind direction;
After the night, take with you everything and leave the Nature clean, better than you've found the place!
On this itinerary, you'll find many small shops to get refreshments and something to eat, especially in the biggest cities (Sabaya, Salinas de Garci-Mendoza and Uyuni). In Isla Incahuasi there is a shop-restaurant;
Don't miss the exotic fruits smoothies in Uyuni and the street food delicacies!
ITA - Ho 33 anni e sono piemontese, anche se da qualche anno vivo e lavoro in Lombardia. Dopo un inizio da totale inesperto in questo campo, mi sono avvicinato al mondo dei cicloviaggi e della bicicletta sempre più. Oggi posso definirmi "cicloviaggiatore", e assieme all'altra mia passione - il videomaking - non mi fermerei mai! Cyclo ergo sum, pedalo quindi sono, per cercare di capire perché andare in bici sia così bello, terapeutico, ricco... E ogni volta che provo a capirlo, non ce la faccio, e sono costretto a ripartire sui pedali!
ENG - I'm from Piedmont and I'm 33 years old, I have been living and working in Lombardy for a few years. After a start without any competence in this field, I then approached the bicycle world more and more. Today I can call myself a bicycle traveller and videomaker who would never ever stop. Cyclo ergo sum, I cycle therefore I am. I ride my bike trying to understand why it is so beautiful, rich, therapeutic. And every time I try, I do not understand it. So I must leave again...