Bikepacking or Bike Touring: the "perfect" method to travel
Bikepacking or bike touring? More and more often we read or hear fellow cyclists who debate animatedly, taking the parts of one setting over another, trying to convince the interlocutor that one is better than the other. We know that when it comes to these diatribes, it never ends well. It becomes all black or white, a dialectical battle between factions. As for the differences between trailer or racks and panniers, we believe there is no perfect setup, but only the one that best suits each of us pedal travellers, and that's it. But we like to go into details and analyze the evolution of bicycle travel methods, and here we offer you an objective comparison between a classic bike touring setup with luggage racks and panniers and a more modern one, known as bikepacking (not necessarily better, let me repeat it another time). We will see in detail at least 10 advantages and 10 disadvantages for the two setups, and we will let you choose what you prefer.
Classic bike touring setup
The classic bike touring setup is widely used by cycle travellers all over the world and involves mounting a front rack and/or a rear rack made of steel, titanium or aluminium, to the frame and/or fork of the bicycle. For the transport of clothing and materials, panniers are used, which can carry 10 to 35 litres each, which are hooked and fixed to the racks. Let's see in detail the advantages and disadvantages of this common solution.
Pros of the classic bike touring setup
Litres, litres and litres! The greatest advantage of panniers: you can carry a lot of things, like 15 or 30 litres each on average produce a total volume of 70 litres, expandable up to 120. If you travel during the winter and therefore with bulky materials, you will have no problem travelling with racks and bags.
Hermit? Extreme traveller? If you feel like a hermit, or more simply out of necessity you have to cross areas far from civilization, such as deserts, salt flats or uninhabited countries, with a good supply of water and food carried in your bags you will have no problem.
Easy to prepare. The two or four large parallelepipeds, in addition to being extremely capacious, have two large upper openings, which make them very easy to fill, even in a messy way.
Quick to prepare. Having to redo the bags in the morning is very simple: even when you don't feel like it, throw everything in and attach them to the racks.
Quick and easy. One-click and go! Bicycle touring panniers, each different in terms of size or manufacturer, have one thing in common: they are very easy to unhook and hang up, simply by lifting them or placing them on the rack. This allows you to get away from the bike with all the material with you, without having to worry about what to detach and what to leave attached to the bike.
No backpack! You have plenty of space for any material, food, gear, piece of clothing, so you won't have to think about the weight of the backpack. Neck, shoulders, back, wrists and arms will be thanking you!
Yes to the PC (and to the camera, and to the drone…). A 13-15 inch fits comfortably in one of the 20 or 30 litre rear panniers. Very useful for those who face long journeys and need to work on videos, photos, books, or simply to have entertainment at hand.
Widespread. Touring panniers have been in use for decades, making them easy to find around the world.
Economic. A pair of racks and 4 bags can be purchased for € 200-300 and can last a lot if well maintained. The price is similar to a good set of bikepacking bags, but beware! The savings come from the equipment: while with bikepacking we are in a certain way forced to turn to light and not very voluminous materials, therefore technical and therefore expensive, with classic panniers we do not get intimidated by a heavy shirt, a bulky sleeping bag, a wide cape, double shoes...
Tradition. Luggage racks and bags represent tradition, a travel classic, an image already seen and revised. And there is no need to explain why so many have chosen and continue to choose racks and bicycle touring bags to travel the world by bicycle.
Cons of the classic bike touring setup
So much weight! Since classic bike touring panniers require the presence of an aluminium or steel rack, the setup is inevitably heavier than bikepacking. Obviously, you can get around the heavy rack by choosing one in titanium, ultralight, but expensive. Furthermore, since the volume is not contained, the material transported is greater and consequently, the weight constitutes a big disadvantage in this type of setup.
Incompatibility. Not all bags are compatible with all racks, and not all racks are compatible with all bikes.
Weight distribution in the bags. The bags must be filled in order to distribute the weights equally, so as not to risk fatiguing the bike and your body with incorrect or disordered movements.
The bike is bulky. Although the weights are distributed equally on the two or four bags, the weights are far from the centre of gravity of the vehicle, and therefore the bicycle will tend to "tail" downhill and will be difficult to manoeuvre in general.
Less aerodynamics, less efficiency, less speed. The three are closely related to the weight of bags and racks. The weight makes the vehicle slower, wider and therefore less aerodynamic. Consequently, I can grind fewer kilometres, both for the time taken and for the effort I have to do.
Wear of components. The bike carries more weight than a bikepacking setup: wheels, chain, derailleurs, brakes and other components will have to work harder, wearing out more easily and quickly.
Checks, maintenance, breakages. For the above reason, more frequent maintenance is therefore required. You will need to tighten screws and bolts often as they tend to let go over time. In addition, some replacement elements will need to be transported. Despite these precautions, the racks, subject to constant bouncing, will inevitably break. Steel racks can be welded easily anywhere in the world, while aluminium, titanium or carbon will be very difficult (if not impossible) to repair.
Push hard. When you get to the toughest climbs or the most inaccessible fords, and you have to push the bike, the rear panniers will annoy you and not a little, constantly touching your calf. Also, if you go through woods or narrow paths, be careful not to get stuck between two trees or a rock (due to the lateral bulk of the panniers, especially the rear ones).
Noises, rebounds, losses. The bags are attached to the racks. However, it can happen that on particularly aggressive roads, off-road, rocky gravels or the like, the bags bounce causing annoying noises, or they come off and jump out of the rails of the rack. Obviously, not all brands are the same, and some bags are more resistant than others, but the risk of losing them around or breaking them due to having travelled a too rough terrain is just around the corner.
Unfashionable. Some travellers consider this aspect (personally I don't care). Bikepacking is in fashion, classic cycle touring bags no longer.
Bikepacking
Bikepacking is certainly younger than the classic cycle touring setup and responds to the overseas need for lightness and speed, especially linked to long trails and ultra trails on gravel terrain. Bikepacking consists of distributing numerous bags of limited capacity on the frame, handlebar and saddle of the bicycle, without using a rack. If you've never heard of it, you can first get an idea by reading this introductory article to bikepacking, and come back here to analyze the advantages and disadvantages that you find below.
Pros of bikepacking
How light! Since you don't install any steel or aluminium roof racks for mounting the bags, you can save weight. In addition, the bikepacking bags are lighter.
Enough of too much stuff! Many travellers (including myself up to the switch to bikepacking) carry too much material. Since bikepacking bags have less volume, there is less space to risk carrying something useless. This makes the whole setup lighter.
Does it fit on this old one? Many bikes are not designed to mount a rack, especially carbon fibre and road/racing bikes. Each bike can instead be equipped with bikepacking bags, thanks to the velcro, without screwing anything to the frame of the vehicle.
Weights distributed to perfection. With bikepacking, all weight is stabilized and is close to the bike's centre of gravity. You don't have to worry about distributing the weights like in bags.
Manoeuvrability. Because the weight is better distributed, the bike is manoeuvred more easily when loaded. This makes it stable even on rough terrain.
Aerodynamics + efficiency = greater distances. Not having the large parallelepipeds of the saddlebags to slow you down, you will be able to pedal longer and faster, spending less energy. Bikepacking was born to cover long distances such as the Tour Divide or other ultra-cycling trails. Because they are lighter, more aerodynamic and well distributed, bikepacking bags allow you to ride long distances in short times.
Don't worry! The rack will not break. Because you haven't mounted it!
On any terrain. Bikepacking bags are made to stay stable and not bounce when riding on trails, gravel, bumpy roads, or even bigger obstacles. While luggage bags may bounce and/or fall off, in bikepacking this is much more difficult, if not impossible. Furthermore, since it does not have the same footprint as the panniers, you can easily pass even through very close trees or rocks.
Cycling is nice, but you don't mind pushing either! Sometimes you can't be exempt, you have to push the bike. With bikepacking this will be easier, as there are no obstacles to touching the legs.
Fashion. Bikepacking is fashion, let's not hide it. As I said earlier about bike touring bags, I don't care about this aspect, but it could be a decisive factor, for some.
Cons of bikepacking
Less volume. This in my opinion is the major disadvantage of bikepacking bags, which can carry less volume than a classic touring setup of 80 or more litres. With bikepacking we carry 35-60: 10-20 on the handlebar, 15-20 in the saddlebag, 10-15 in the frame bag, plus various smaller bags of variable capacity, which slightly changes the final count.
Where do I put food and water? When crossing remote or desert areas, there is often the need to transport resources (water and food) for several days. Due to the limited space, with bikepacking it will be necessary to be very careful and look for food that takes up as little space as possible, and it becomes more difficult (if not impossible) to transport many litres of water without resorting to curious methods with velcro, ties, ropes, elastic bands, bottle cages tied to the surface of the frame or fork...
Difficult and slow preparation. Bikepacking bags have a particular shape: cylinders of various sizes, pyramids, cones, truncated cones… They are therefore very difficult to prepare: everything must be in its place. Forget that good feeling of cramming (even haphazardly, don't tell me it never happened) in panniers. Since you are dealing with less space, you have to take your time to prepare the bags. To be taken into account if the company you are travelling with is mixed.
And where will I put that jacket? You have to be very careful in building the layers of material inside the bags, making sure to sort everything by priority of use. First use materials (such as neck warmers, leg warmers, windproof jacket, k-way, tools for repairing punctures...) must be accessible without having to disassemble all the equipment attached to the bikes, and therefore must be inserted in the bags as the last thing. Otherwise, we will risk further expanding the times.
The threat of the backpack. There are those who already wear it by MTB or those who opt for a Camelback for water transport. On my last bikepacking trip to Latvia, I was forced, due to my inability to limit myself to the essentials and to carry the video equipment, to prepare a 10-litre backpack. Strongly not recommended if you are travelling in hot climatic areas as you sweat more and consequently drink more.
Never detach them! Most bikepacking bags are attached to the bike with velcro and straps. For this reason, they are quite difficult to assemble and remove from the vehicle. For example, my MissGrape Internode frame (6 litres), has 6 velcro and 2 straps, which surely keep it firm and sealed to the frame, but at the same time make it very annoying to remove from the bike.
And the PC (drone, camera ...)? This is true for digital nomads who, like us, travel long distances and need a computer to work. Obviously, again for reasons of space, the 13 or 15 inch PC / MAC will struggle to be included among our travel materials. In the frame bag, there are those who have managed to fit a 10-12 inch tablet or minimalist computer.
Limited availability on the market. Bikepacking is quite recent. Despite being rapidly developing in many countries, bags are niche items that are not readily available, while racks and panniers are readily available everywhere. This means that if by any chance any component of your bikepacking bags gets damaged or broken while travelling, you may have to do it yourself to patch them up.
The prices! This is the aspect that most of all stops (or slows down) in the development of this luggage transport system. A full set of bikepacking bags can cost 250-300 €, which is similar to a good set of racks and panniers. The additional cost, however, comes from the materials, which in order to enter the bags and not weigh too much, must be technical and ultralight, and therefore much more expensive.
How many do I have to buy?!? For the basic bikepacking set, we suggest this article. Most complete sets of bikepacking bags include a saddlebag, a frame bag, a handlebar bag, two fork bags (with relative supports and straps) and other additional bags, of reduced capacity, to be tied to the handlebar or pipe or to the headset of the handlebar. As the number of purchases increases, obviously, so does the expense to adopt this transport system.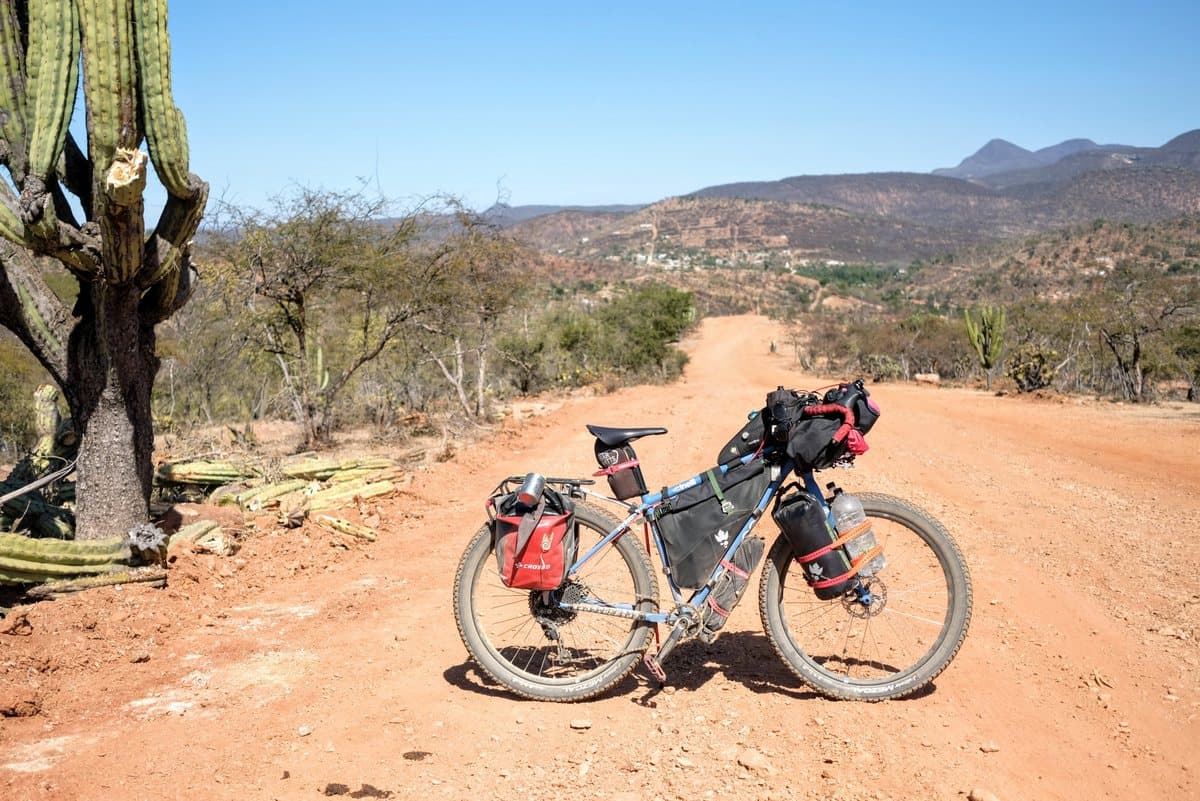 Bikepacking or bike touring?
Once we have seen in detail the advantages and disadvantages of both a classic cycle touring setup and a bikepacking setup, we offer you a comparative and summary table. You will notice that the merits of one setup are the disadvantages of the other, and vice versa. As you will see below, the decision to make regarding the setup that best suits your needs is difficult, but it must be made following the factors that you consider the most important among those proposed. You will then be the one to decide which is the best setting for YOUR travel mode.
Advantages
Bike Touring
More litres
More space for food and water
Easy to prepare
Quick to prepare
No backpack
Easy to hook and unhook
PC and cameras welcome
Widespread
Cheap
Traditional
Bikepacking
Light
Minimalism
Compatibility
Manoeuvrability
Aerodynamic / efficiency / longer distances
Less wear/breaks
On every terrain
Fashion
Easy to push the bike
Better weight distribution
Disadvantages
Bike Touring
Weight
Incompatibility
Weight distribution
The bike is bulky
Less aerodynamic / efficiency / shorter distances
More wear/breaks
Less manoeuvrability
Frequent checks
Difficult to push
Noises, rebounds, losses
Outdated
Bikepacking
Fewer litres
Difficult to carry food and water
Slower preparation
Difficult space organization
Might add a backpack
Difficult to remove from the bike
No PC
Not always / everywhere available
Price
Too many bags to buy
The solution? A hybrid!
Given the advantages and disadvantages of both setups, the classic bike touring one with front and rear racks and the bikepacking one with various bags distributed on the frame, solutions simplistically think that there are only these two methods, black and white, two "factions", only two travel philosophies... What if I told you that grey could be, in my opinion, a solution that combines two ways of travelling far from each other? And what if using a bikepacking set-up added to a rack (only one, front or rear) was the right way to give us lightness, stability and space at the same time? It's on my wish list, and as soon as I try it, I'll let you know!
How to choose?
So what? If you have to start from scratch what do we recommend? Should you switch from one method to another? We advise you to choose based on the factors that YOU consider most important, be they minimalism, space, weight, volume, aerodynamics, cost... As already mentioned, we are not the ones wanting to convince you to switch from one method to another, or to prefer one over the other. Both have advantages and disadvantages that can be adapted to the many destinations and types of travel we know. However, it is your needs that must make you reach out for one or the other system, or as I suggested earlier, even a hybrid... let your imagination run wild, and listen to your needs! If you have the possibility, ask a fellow cyclist to borrow the bicycle with the rack and bags and from a bikepacker his bike with the complete setup of bikepacking bags, take a trip, even a short one (in the dedicated section you will find hundreds of suggested routes with GPS track and information) and try to think about how you could face a trip and what could be for you the advantages and disadvantages of one setting over the other.
If you've got questions, suggestions or more pros and cons of bike touring or bikepacking, please leave a comment below!