Bikepacking handlebar bags: a comparison
The front region is definitely one of the most important areas to carry objects when cycling. This is valid also when bikepacking: you can find so many handlebar bags. Depending on the type of bicycle traveller you are, you'll need more or less space, a different hooking system, different materials... In this article I'll be analyzing all the features to be considered before purchasing a bikepacking handlebar bag, then I'll list and compare 17 of them.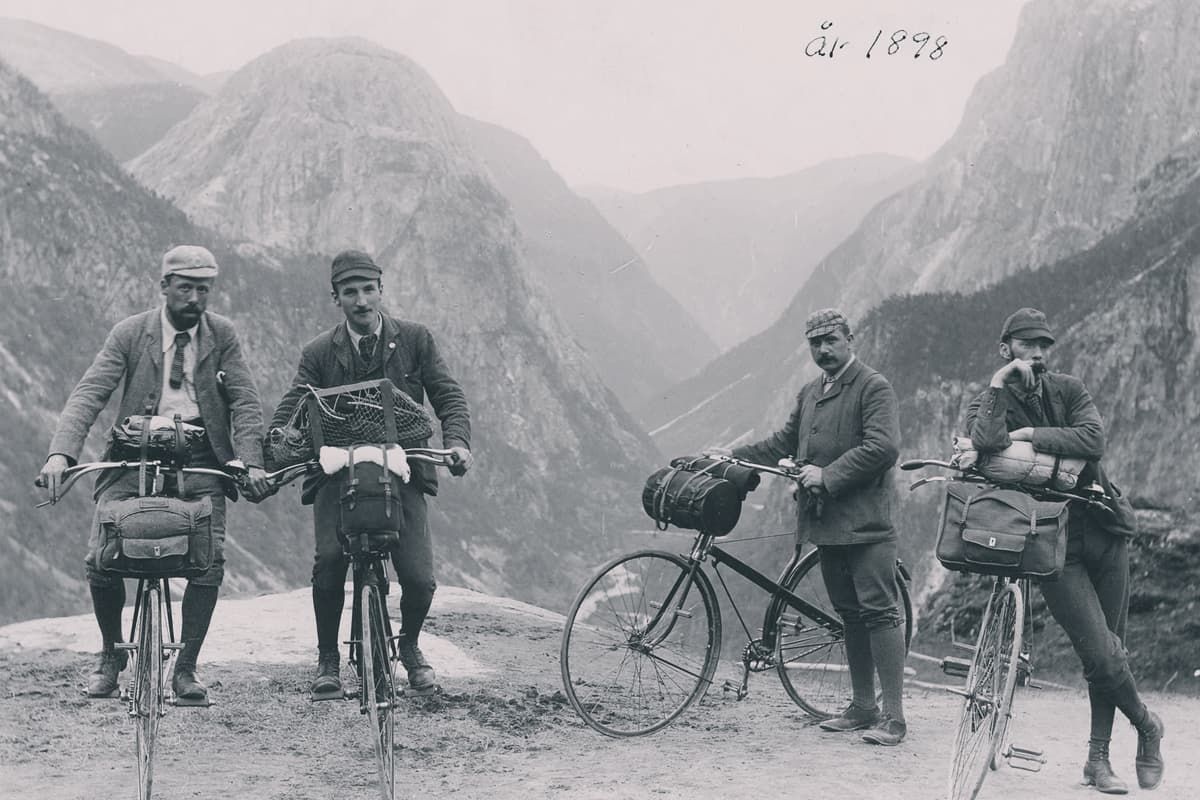 Bikepacking handlebar bags since 1898
It was 1898 when these four elegant but unknown bikepackers were shot standing proudly next to their wheeled horses. If it wasn't for their vintage look or the bicycles, we could mention them in our bikepacking section.
What strikes me the most is the weight these four bikers carry: all piled in the front area, without a rack, all in the - what we can call - bikepacking handlebar bags. Why is this a thing since black and white photos? Because this is the most accessible area when cycling, the load is well distributed (it would be better to carry it even lower, in order to lower the centre of gravity) and you can use a lot of space!
Moreover, not only this area includes the handlebar, but also the fork, which can host a front rack, or a smaller rack, better known as Gorilla Cage or Anything Cage or Cargo Cage. On a classic front rack, you carry bicycle touring bags, but here we will be listing some of the best bikepacking handlebar bags.
What can you carry in your bikepacking handlebar bag?
There is no rule and as we like to stress, it depends on what kind of bicycle traveller you are, for how long you're travelling, what habits you have, your priorities and gear...
If you use only the handlebar bag it's most probably a short excursion and you carry a snack, a windshield, a book, an action cam or camera, documents, money, a multi-tool, home keys and nothing more.
If you're planning a multi-day excursion sleeping in some structures, you will pair your handlebar bag with a frame bag and you'll probably be carrying - other than what mentioned above - a clothes change, a pair of shoes or flip-flops, a little camping stove and kitchen tools.
Finally, if you plan to cycle a long adventure, you'll carry your complete bikepacking kit, where the front area suits perfectly for a tent, a mat and a sleeping bag.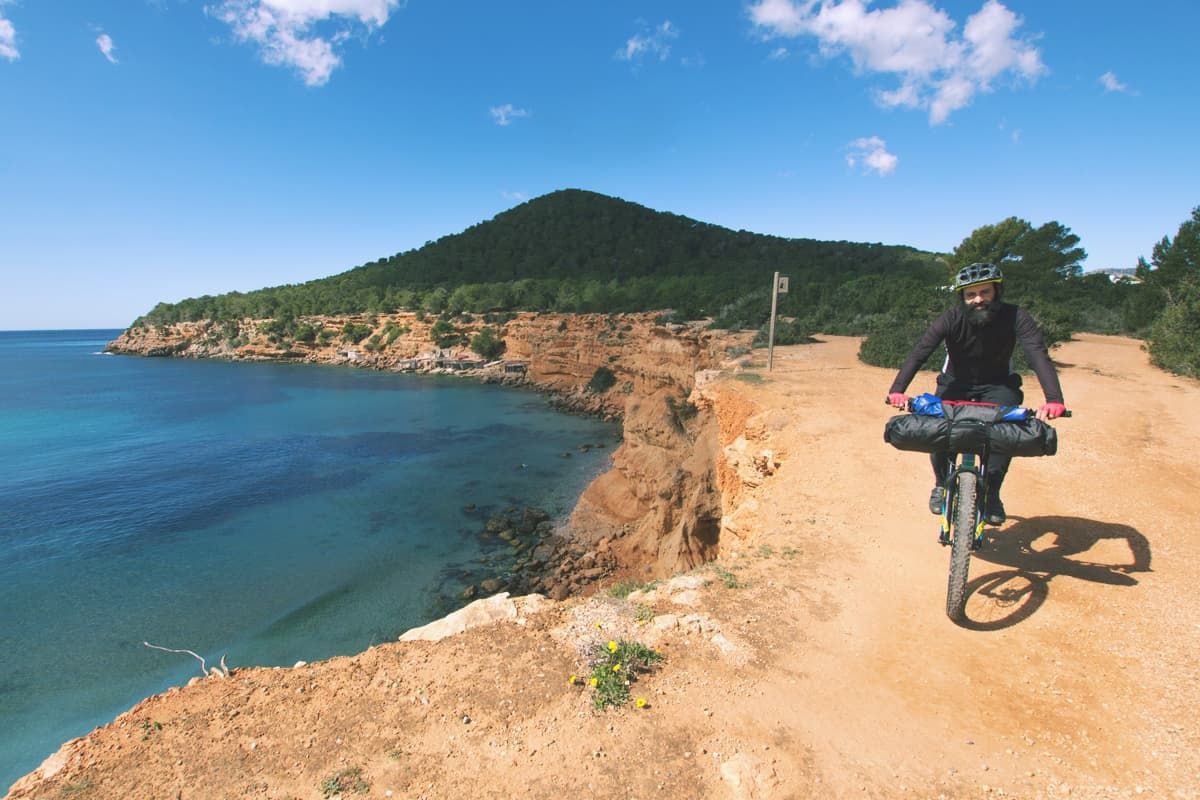 The front area is - together with the frame one - the most accessible area, so the handlebar bags usually host the most used items on-the-go, like your camera, some money and documents, your wallet, your food, accessories and clothes to be worn during the ride or for the night (bivy bag or tent) or heavy items, which can help in the distribution of the weight on the bike.
Bikepacking handlebar bags: features and choice parameters
There are many features to consider when purchasing a bikepacking handlebar bag, and as you've seen above, the choice must be done depending on the type of cyclist we are: are we city commuters, weekend riders or multi-days adventurers? Secondarily, are we travelling on paved roads, cycling paths or Soffroad mountain trails? Last but not least, what handlebar are we using? A road bike drop bar? A Jones, a butterfly handlebar or a Woodchipper by Salsa? Will the handlebar bag be in the way of the transmission?
Homo faber bikepacking suum, they said. Kinda. Once we know what type of cyclist we are and the trip we're going to face, the handlebar we use and how much gear we're carrying, here you find the main features to consider when purchasing a bikepacking handlebar bag:
Size and capacity
Don't think wrongly: in bikepacking size matters! Bags and gadgets for your handlebar allow carrying a few litres to 20 or more. Obviously, ça va sans dire, this affects the weight you're carrying.
Waterproof materials
These bags can be made of different materials, from nylon to TPU, from polyester to Cordura… the majority of which is waterproof, keeping your gear dry. Because this area is the first to get exposed to water and rain, so it would be useless to have it only water-resistant. Anyway, if your handlebar bag is water-resistant, pack your gear or clothes into plastic little bags, to be completely waterproof.
Type of closure
Here too you have many options, but the main two are the classic one side roll or double roll. Some bags close with zips, some others use clips or magnets, but they're rarer to find.
Hooking to the handlebar
We must deepen a bit more this aspect because here lays the true value of a bikepacking handlebar bag: we can divide these bags into two groups, using the hooking system as a parameter.
The first includes cheaper and more accessible accessories, used mainly by the bikepacking newbies: we're talking about bikepacking handlebar bags hooking directly to the handlebar through velcro straps or clips (usually two on the handlebar itself and one to the pipe or fork or stem). The main advantagse are the rapidity of the hooking or the price of these bags, but this first group has a heavy disadvantage: the bags might push against the derailleur or brake cables, jeopardizing the transmission. The second annoying moment is when you need to stop and you have to detach the bag from the handlebar or open it and take out the gear leaving the bag hooked to the handlebar.
To solve the first problem, some other handlebar bags have some spacer blocks (semi-rigid), to allow movements and hand positions, keeping the bag stable and avoiding weighing on the cables.
To solve the second problem, we introduce the second group of bikepacking handlebar bags: it's not only bags but harness systems (the term comes from the Harness by Revelate Design, which gave the name to the entire category), hooking to the handlebar with spacers (some of them being rigid, aluminium or steel ones), with velcro straps and clips to the fork, but differently than the first group, they "hug" the bag. This way, these harness systems allow hooking and detaching the bag fastly and securely: some could weight on the cable, some others - the rigid ones - allow carrying more stuff and rapid hooking to the structure.
Price
Last but not least: the price. Some handlebar bags are cheap, some other cost more than hundreds of euros, so you can suit pretty much all budgets. Our mission at Life in Travel is to debunk the "you get what you pay for" myth, even if sometimes some cheap bikepacking bags are very ugly and live a short life...
Pay attention! It's not a universal truth, but be careful with "free - or almost free - objects".
The best bikepacking handlebar bags
Once considered all the main features of bikepacking handlebar bags, here is a list of 17 models among the best available on the market. You'll find a comparative table with all the features, together with the advantages and disadvantages of the bags. About prices: you'll find dollars, pounds and euros, depending on the market the products are available in.
Product Name
Weight
Materials
Capacity
Size
Price
LOMO 3L Bikepacking Handlebar Dry Bag
195 g
TPU
3 L
32 x 15 x 10 cm
ROCK BROS Waterproof Handlebar Bikepacking Bags
538 g + 180 g
TPU, Nylon
15 + 6 L
85 x 29,5 x 20 cm / pouch 30 x 6,5 x 3 cm
ORTLIEB Handlebar Pack S/M
375 g
PS21R
9 L (size S)
45 x 16 cm Ø
KICKING DONKEY Gravel Handle Bag
220 g
VX21
3,3 L
25,5 x 13 Ø
59-65 € on Kicking Donkey's web page
ACEPAC Bar Roll Handlebar Bag
450 g
Nylon 6.6
16 L
60 x 18,5 Ø
APIDURA Expedition Handlebar Pack
275 g
Laminated PU, Nylon, TPU
14 L
16 x 36 cm (min) - 56 cm (max)
117,50 € on Apidura's web page
MISSGRAPE Tendril 10.7
396 g
Nylon, PVC
10-17 L
34-70 x 18 Ø
115€ on Missgrape's web page
REVELATE DESIGN Harness + Saltyroll
416 g + 176 g
Fibreglass, Nylon, Foam, TPU
15 L
61 x 17 cm Ø
TOPEAK Frontloader
386 g
Polyester
8 L
50 x 15 Ø
BLACKBURN OUTPOST Elite Handlebar Roll Bag
795 g
TPU + Aluminium
14 L
10 x 30 x 24 cm
CRIVIT (LIDL) Handlebar Bag
256 g
Polyester
9 L declared
49 x 15 Ø
12,99€ at LIDL shops
ROSWHEEL 7L Handlebar Bag
299 g
Polyester
7 L
40 x 15 Ø
VAUDE Trail Front
700 g
Tarpaulin PVC free
19 L
65 x 18 x 20 cm
RESTRAP Bar Bag + Food Pouch
499 g
1000d Cordura
14 L
38 x 18 cm Ø / 21 x 15 (Small)
125,99€ on Restrap's web page
ALPKIT Kanga
230 g (bag excluded)
XPac
20 L (max, with Alpkit bag)
26 x 32 cm
60£ on Alpkit's web page
SALSA Cradle
420 g
Nylon and Aluminium + bag TPU
15 L (with Salsa Bag)
85 x 20 Ø (with Salsa Bag)
75$ (Cradle only), 99$ (with Salsa Bag) on Salsa's web page
VAP CYCLING Butterfly 2
600 g (bag excluded)
Steel (bars), Aluminium (Long) or Carbon (Short), TPU (cradle)
3-15 L
Bars 22 cm, Pipe 20 cm
170€ (bag excluded) on VAP Cycling's web page
LOMO 3L Bikepacking Handlebar Dry Bag
We don't need any more experiments: LOMO produces 100% waterproof bags, I could confirm that under a terrible storm when I was testing their frame bag for my review. Little capacity (which is not negative, since it can be adapted pretty much to every handlebar type), essential design, a front rubber band to lock in more items, front space for a light... the only doubt is about clips instead of velcro straps, that can cause some checking on the go. We'll have a review soon!
Advantages
Price
Front rubber band
Disadvantages
Very limited capacity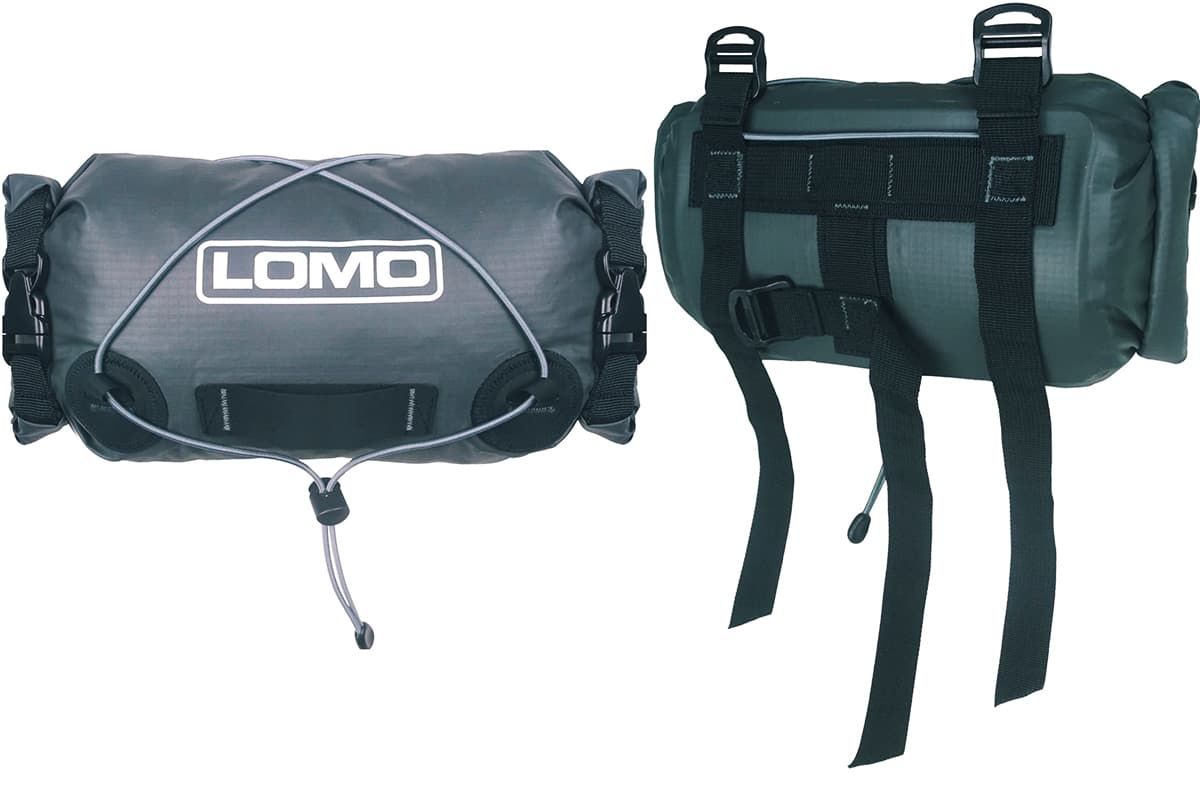 ROCK BROS Waterproof Handlebar Bikepacking Bags
Not one but two bikepacking handlebar bags included in this product by Rock Bros, for a total of 19-21 litres capacity (which is a lot for the front area, maybe too much?). The pros are without a doubt the reflective system and the duality of the bags, allowing to differentiate the load. What doesn't convince me is the average review on Amazon about the so-called "quick-release", not so quick apparently, forcing us to unhook the whole bag from the handlebar every time...
Advantages
Front reflective system
Two bags
Disadvantages
Not so quick Quick-release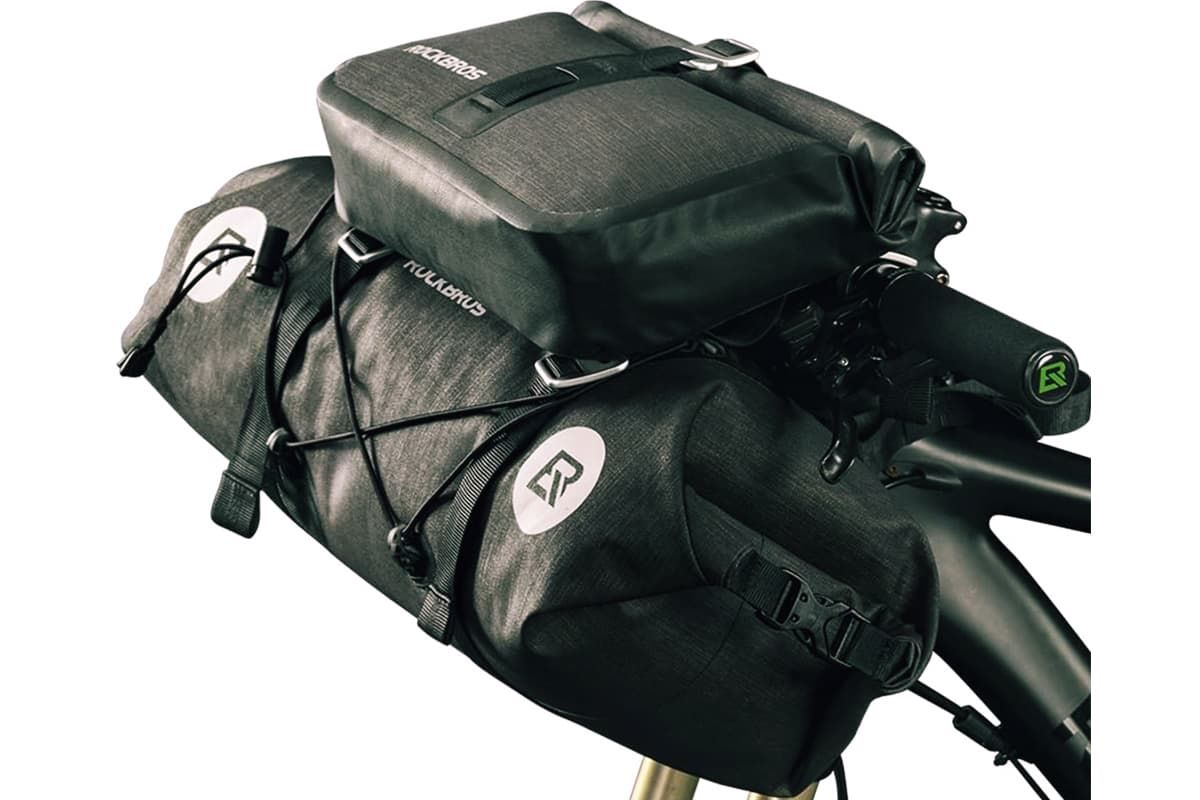 ORTLIEB Handlebar Pack S/M
This legend in classic bicycle touring bags has been producing bikepacking accessories for a while now, like this Handlebar Pack, available in two versions (S or M, 9 or 15 litres), hooked to the handlebar by some straps and spaced 3-4 centimetres from it. Elegant the usual orange line on black: the design is approved, but will it last when stressed on the field?
Advantages
Two different versions
Spacers
Disadvantages
Price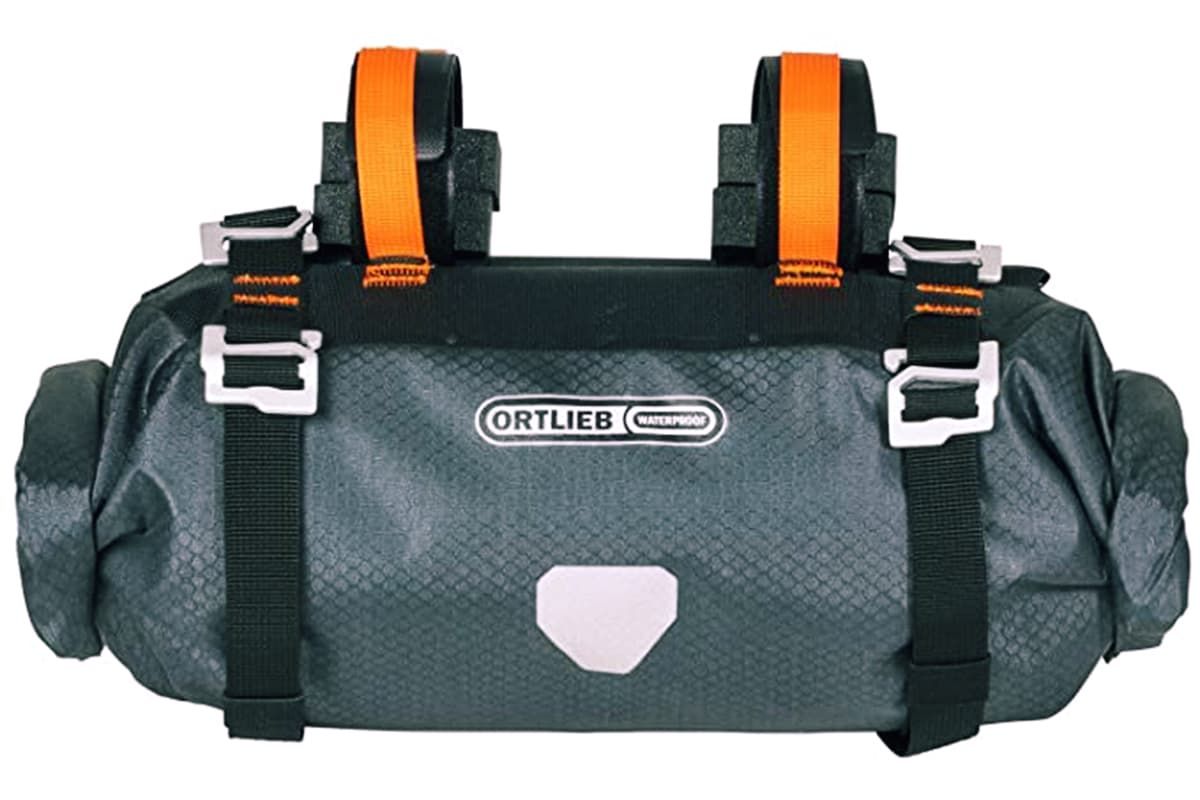 KICKING DONKEY Gravel Handle Bag
Colourful and practical, like all the line by Kicking Donkey. Fully customizable, homemade realized like my customized purple frame bag, water-resistant and not waterproof (apply the mini plastic bags technique), with internal filling to protect your delicate gear like a smartphone or compact camera. Limited capacity, derisory weight, and if they behave like my frame bag, very resistant to usage. Extra: closing and opening with a zip, fast and very practical.
Advantages
Many colourful models
Front rubber band
Zip
Disadvantages
Water-resistant
Limited capacity
ACEPAC Bar Roll Handlebar Bag
This company from the Czech Republic is serious about bikepacking handlebar bags, offering its Bar Roll (16 L), being very innovative with an extractable internal bag, allowing us to forget about the main structure and carry the bag with us... Genius!
Advantages
Bag + extractable bag
Price
Disadvantages
Not for all the handlebars (only for flat ones)
APIDURA Expedition Handlebar Pack
One of the most blazoned and elegant in this universe of handlebar bags. The Apidura Expedition Pack, available in two versions (the one presented in the table is the biggest one), tries to catch road bikers being so simple yet so practical. Double roll closure, extremely beautiful and clean line, it features a front area to fix the second bag, the Expedition Accessory Pocket with 4,5 litres capacity (add 56 quids to the cart) or for items and clothes. Recurring question: do the cable suffer from all this weight on them? I think so!
Advantages
Elegant design
Road bikers welcome!
Disadvantages
Cables pressed firmly
MISSGRAPE Tendril 10.7
Let's close this first section of bags with a second Italian company, Miss Grape. The friend Nure creates two models, Tendril 4.10 (smaller and for drop or Salsa Woodchipper handlebars) and the bigger Tendril 10.7, other than the newborn Moon for road bikers and minimalist bikepackers. This bag hooks directly to the handlebar with two adjustable bands, then a third for the fork or stem, with simple 3 cm spacers, to help the hands positioning and movements on the handlebar. Elegant, practical, pretty voluminous in the 10.7 version, to use all the width of a flat handlebar. I'd be curious to try it, using already the other two bags by this company from Rovigo and being totally satisfied with them.
Advantages
Gigantic (version 10.7)
Spacers
Disadvantages
None in particular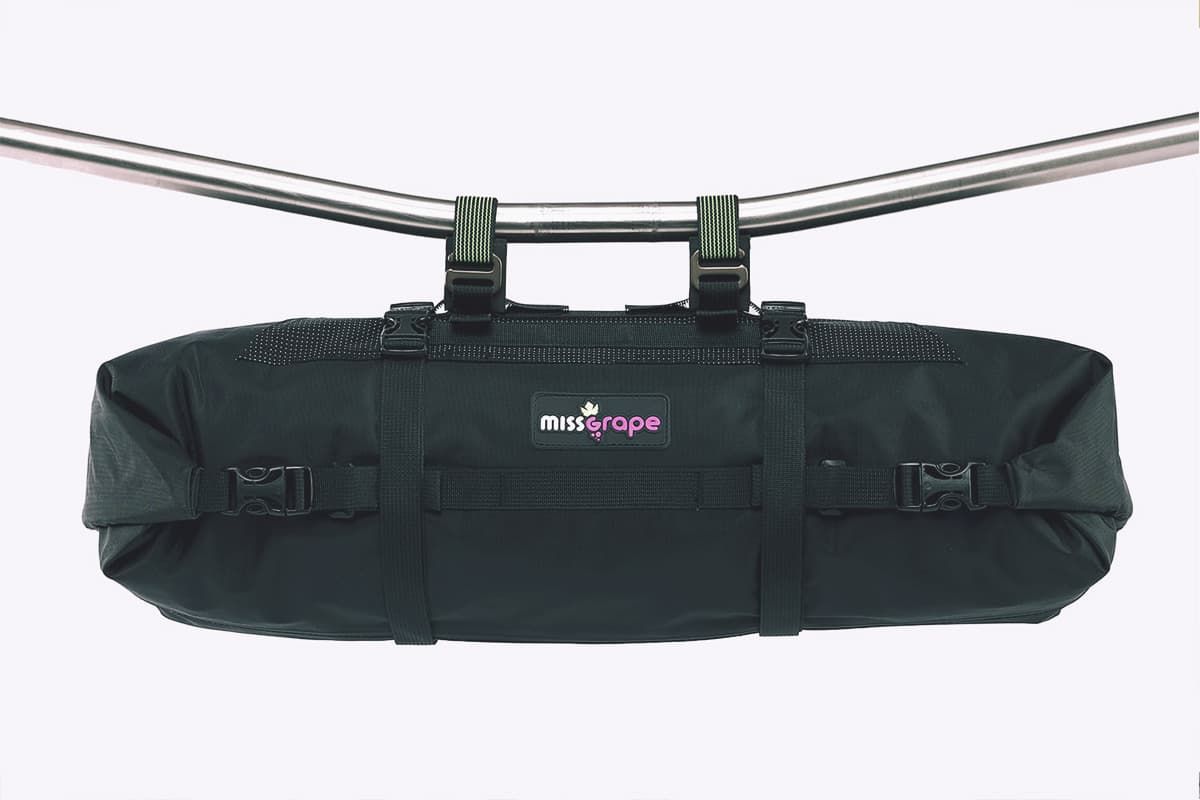 REVELATE DESIGN Harness + Saltyroll Bag
This famous American company offers many solutions for your bikepacking trips, and this particular second category of items is opened by their system giving the name to the whole category, called harness. The bag analyzed is the Sweetroll, and together with the Harness, versatile system capable of carrying up to 6,8 kg, pretty cheap if compared to other similar products, allows to hook and unhook quickly the bag not included in the package. Another product is the Saltyroll, to carry up to 15 litres, waterproof and double roll closure… and if it's not enough, add 69$ to the cart and you get the Egress bag, for more gear to carry... a great item!
Advantages
A legend!
Fast hooking and detaching system
Disadvantages
The bag isn't included in the support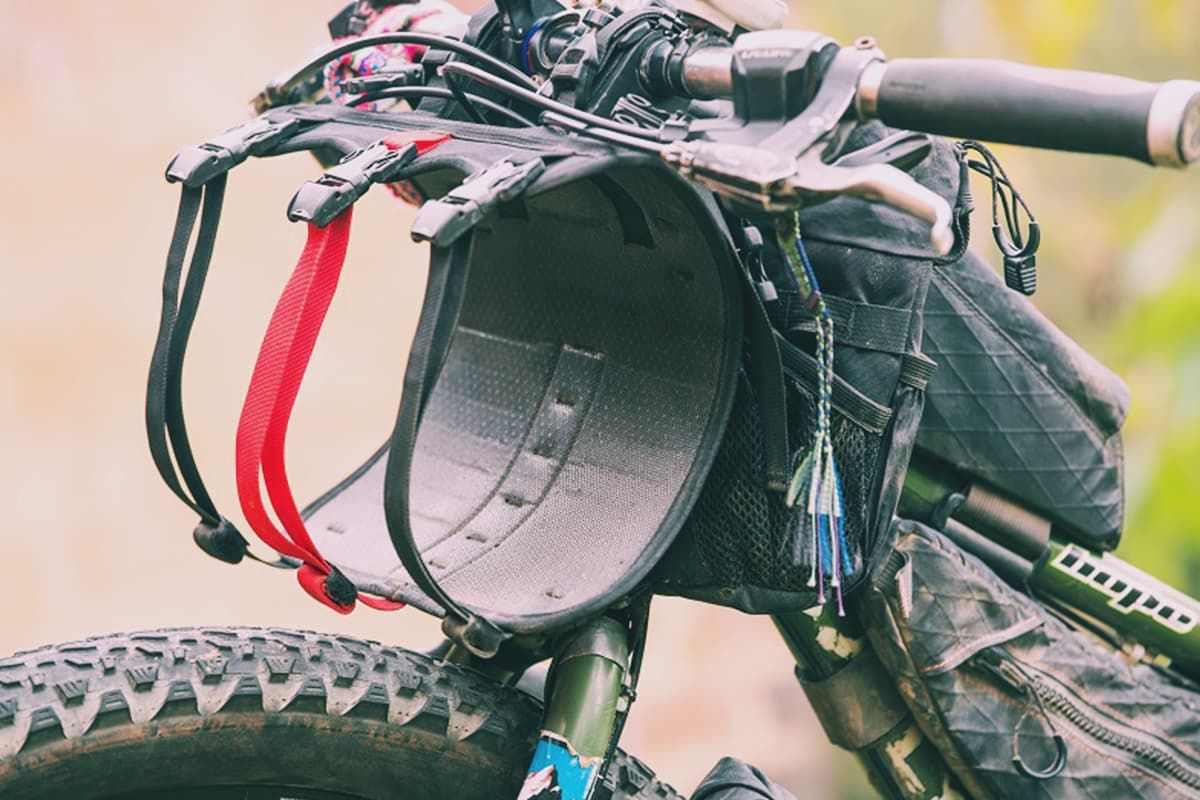 TOPEAK Frontloader
After the introduction to the harness systems, this handlebar bag is pretty much a copycat of the Revelate bag. A modest capacity, waterproof bag, with compression valve, handlebar spacers, this bag can carry up to 5 kg of gear: a good compromise for a medium price, but do not charge it too much if you don't want to break it during your trail ride!
Advantages
Linear Design
Compression valve
Disadvantages
The max load could jeopardize the structure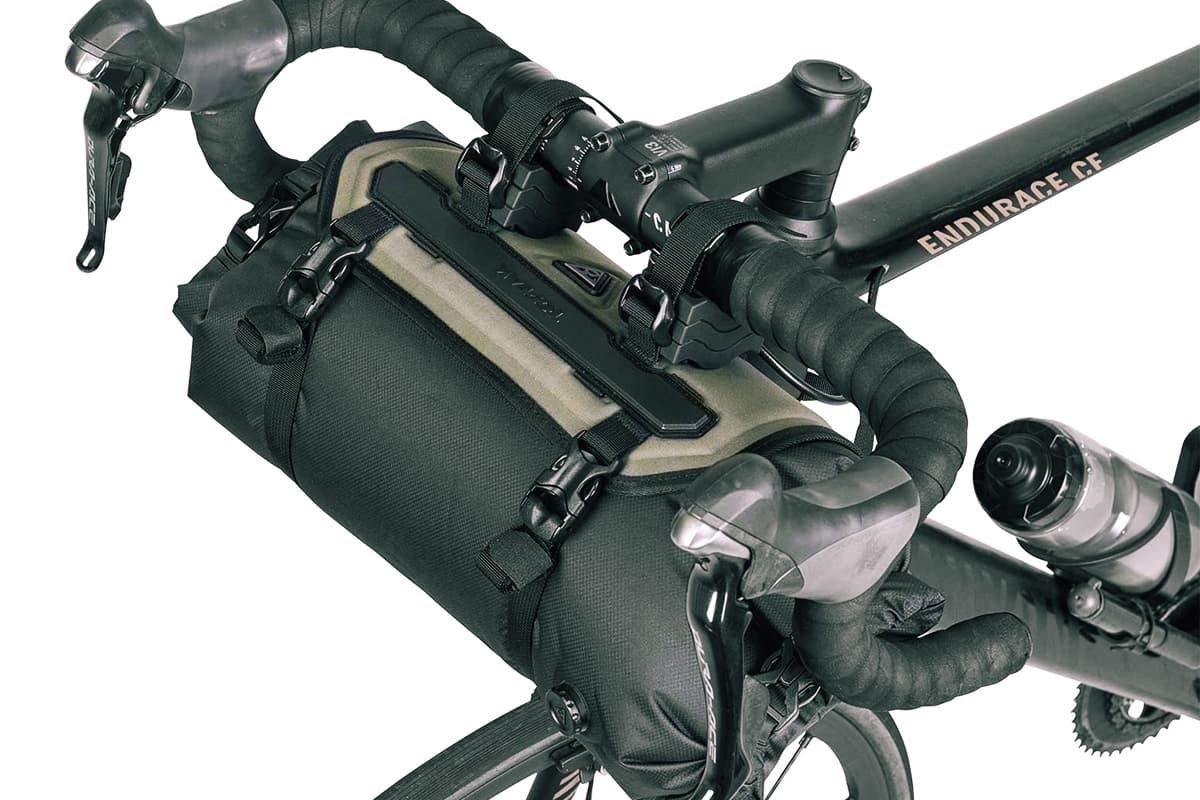 BLACKBURN OUTPOST Elite Handlebar Roll Bag
Fortunately, this American company has stopped producing the strangest hooking system on Earth, which gave me everything but a sense of stability and safeness. The new version of it, called Blackburn Outpost Elite Handlebar Roll Bag puts together two aluminium clamps with two straps, with a total of 4 elements hooking the bag to the handlebar. 14 litres capacity, up to 3,5 kg of load. A classy touch is given by the compression valve... unfortunately the price is stellar!
Advantages
Stable and safe system
Compression valve
Disadvantages
Price
CRIVIT (LIDL) Handlebar Bag
If there was a "lower your price" competition, this bag could easily win! Veronica tried all the three bags by LIDL for a review: simple materials, derisory price, but will it handle the gear carried? External cradle hooking to the handlebar, internal bag with single roll closure, it looks a bit fragile and shaky... The only certain thing is the price, unbeatable...
Advantages
Price
Disadvantages
The fragility of the materials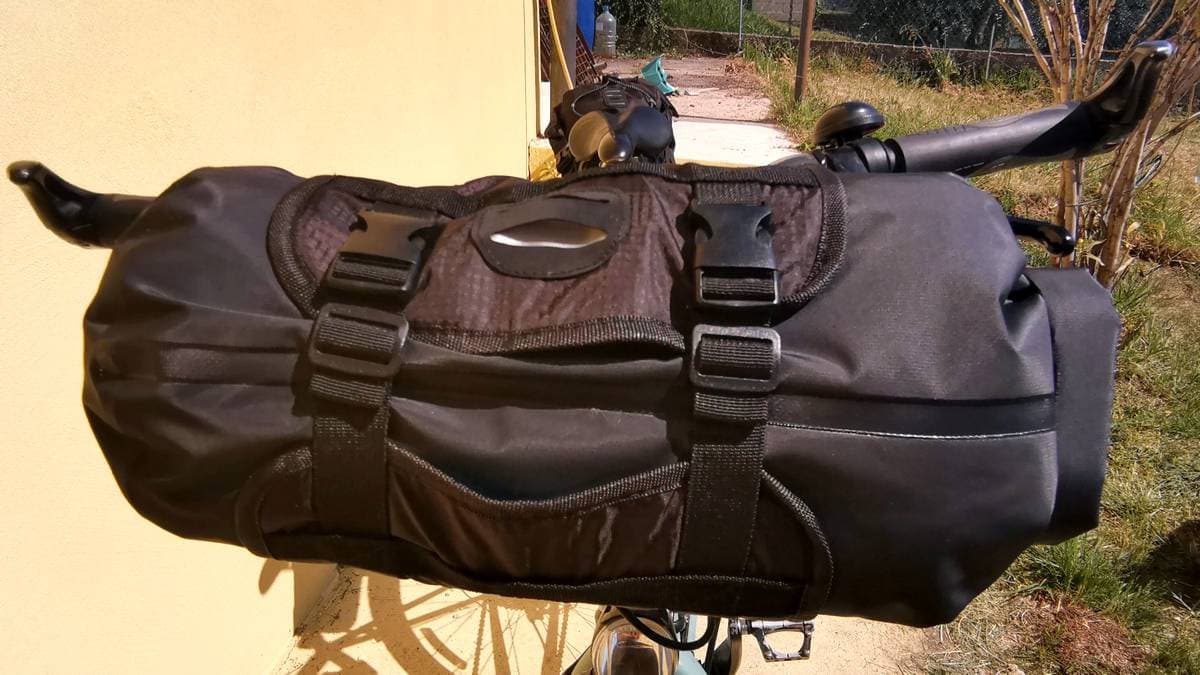 ROSWHEEL 7L Handlebar Bag
Very similar to the LIDL one, but it costs double! Like above, single roll, external plus internal bag... I personally wouldn't load this bag with a lot of gear... However, the more modern version of these bags are pretty elegant and look promising... very very good, but this newer version costs 85£!!!
Advantages
Fast hooking and detaching system
Disadvantages
Shameless copy of other models
The new version costs like a superior quality bag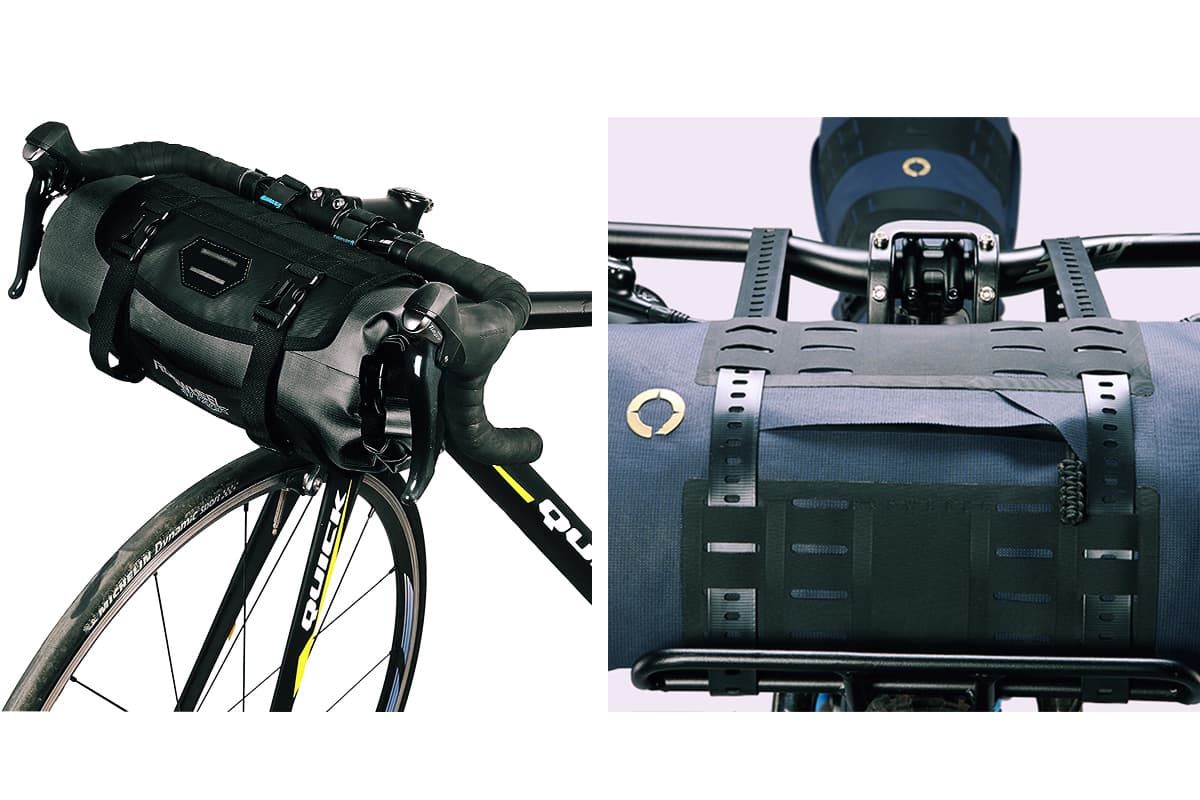 VAUDE Trailfront
Calling this bikepacking handlebar bag looks reductive: when opened, this dirigible allows carrying up to 19 litres of gear. Like its colleagues, it's waterproof, with a harness system hooked to the handlebar. The second (or the first?) German leader too launched in this universe, focusing on bigger capacity, more similar to classic bicycle touring mode... So be careful and consider the type of handlebar you have, and don't load it too much, and it brakes, as it happened to some people not so happy about it on Amazon.
Advantages
Insane capacity!
Harness system
Disadvantages
Insane capacity! (Yes, it can be a disadvantage too)
RESTRAP Bar Bag + Food Pouch
An interesting and elegant solution from this company, with two variants of the same model. The harness is the base concept, but to the bag inside it, you can hook by two magnets a secondary bag, called food pouch, comfortable mini bag for food or other gear. Not too cheap. but it looks great and proudly stable. Sexy.
Advantages
Epic design
Magnetic Food Pouch
Disadvantages
Price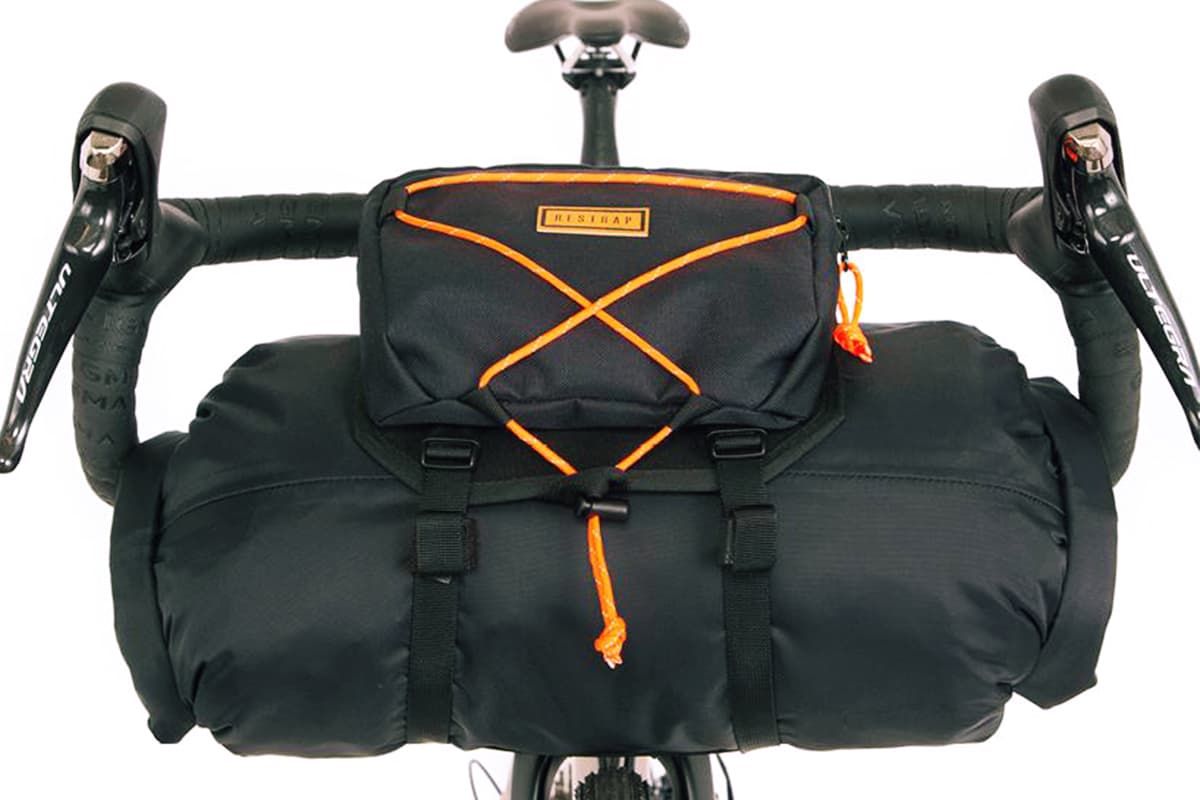 ALPKIT Kanga
Another harness system to hook directly to the handlebar and which can carry a bag, better if paired with the colourful Alpkit Airlock Dual 13L or 20L). With a pocket for the valuable objects, its three fibreglass straps allow fixing firmly a bag to this Alpkit Kanga. It comes from the UK, it has a competitive price, but my travel colleague Alessio - who has been using it for three years now - confirms the difficulty when mounting it and the damages it causes to the fork and pipe of the bike...
Advantages
Price
Disadvantages
Difficulty when hooking the support
It looks like damaging the fork or the frame
SALSA Anything Cradle + Salsa Bag + Salsa Front Pouch
On the company website, it's presented as the "superior solution for bikepacking". Without bragging, I do agree about it being a good hooking system, stable and whatnot... Robust nylon - the same of the Salsa Anything Cage HD, this support has got two aluminium clamps hooking to the handlebar, then with the Anything Straps, you can literally "hug" the Salsa Bag da 15L onto the cradle, to which you can add the Salsa Front Pouch, for your accessories or documents, 160 g and 1,7 L capacity. But the price of the combo all together is a bit high.
Advantages
Dream design
Robust and capacious
Disadvantages
Price of the combo
It risks falling down when heavy loaded
VAP CYCLING Butterfly 2
Let's wrap it up with the last company, from Italy, producing an innovative steel clamps system with a soft cradle. This helps to avoid weighing on the cables and keeping firm and stable the bag inside the cradle. If you stop and look only at the price, you'll be shocked. But it's all worth it! This system can be customized: Butterfly Long 22 cm, Short 16 cm, with or without Butterfly Wings… and then the real deal: this is not only a bag or a harness system, but you can also use the steel clamps to load a GPS, lights, a water bottle and a Bluetooth music box just like I do. The only down of my system (it's the older version, now fixed) is that you cannot unhook the cradle.
Advantages
The rigid spacing of the cradle from the area of the cables
Robust items carrier
Pleasant design
Disadvantages
Impossibility to detach the cradle (old model)
Price
These are "only" 17 bikepacking handlebar bags that you can find on the European and American markets... but there's plenty more! Now you know what to look for, depending on the type of bicycle traveller you are. Let us know what you use in the front area, leave a comment down below about your favourite bag!
ITA - Ho 33 anni e sono piemontese, anche se da qualche anno vivo e lavoro in Lombardia. Dopo un inizio da totale inesperto in questo campo, mi sono avvicinato al mondo dei cicloviaggi e della bicicletta sempre più. Oggi posso definirmi "cicloviaggiatore", e assieme all'altra mia passione - il videomaking - non mi fermerei mai! Cyclo ergo sum, pedalo quindi sono, per cercare di capire perché andare in bici sia così bello, terapeutico, ricco... E ogni volta che provo a capirlo, non ce la faccio, e sono costretto a ripartire sui pedali!
ENG - I'm from Piedmont and I'm 33 years old, I have been living and working in Lombardy for a few years. After a start without any competence in this field, I then approached the bicycle world more and more. Today I can call myself a bicycle traveller and videomaker who would never ever stop. Cyclo ergo sum, I cycle therefore I am. I ride my bike trying to understand why it is so beautiful, rich, therapeutic. And every time I try, I do not understand it. So I must leave again...