Bikepacking L'Eroica: a three days adventure
This article contains the itinerary and some info about bikepacking L'Eroica. Our guys Mattia Munegato and Marco Benetti cycled this route from 15th to 17th August 2020. You can find more info about this itinerary on the official website of L'Eroica.
To find technical info about this itinerary you can access L'Eroica website.
Bikepacking L'Eroica: a journey on the famous white roads
The track of this adventure - bikepacking l'Eroica - envisages 220 km, 108 of which on the famous Tuscan white roads (gravel and dirt), over 4.000 metres of elevation gain, 15 white roads segments and 5 areas and checkpoints: Chianti, Siena, and Val d'Arbia, Montalcino, Val d'Asso e Crete Senesi.
More than 20 years ago the creator of "L'Eroica" Giancarlo Brocci had the idea to start a Cycling Park in Chianti to "keep cycling close to people, bring people on their bikes and so keep alive these lands". It was 1993 and Brocci's idea was "to create something different, an area capable of attracting a diffused tourism by bicycle, and the great cycling. Back then Chianti was cut off the main streams, but what seemed its main minus became its main strength: secondary roads with very limited traffic, stunning natural views. All this, thanks to the bike, became the perfect business for the locals".
"L'Eroica" brought closer to the bike even the furthest enthusiasts. It gave voice and space to everyone. We're asking "to celebrate Coppi and Bartali as Fathers of the Country, because these two champions contributed to the image of Italy, building Italians' conscience after the Fascism and the Liberation war. they were an example dividing and reuniting back Italy in a common passion".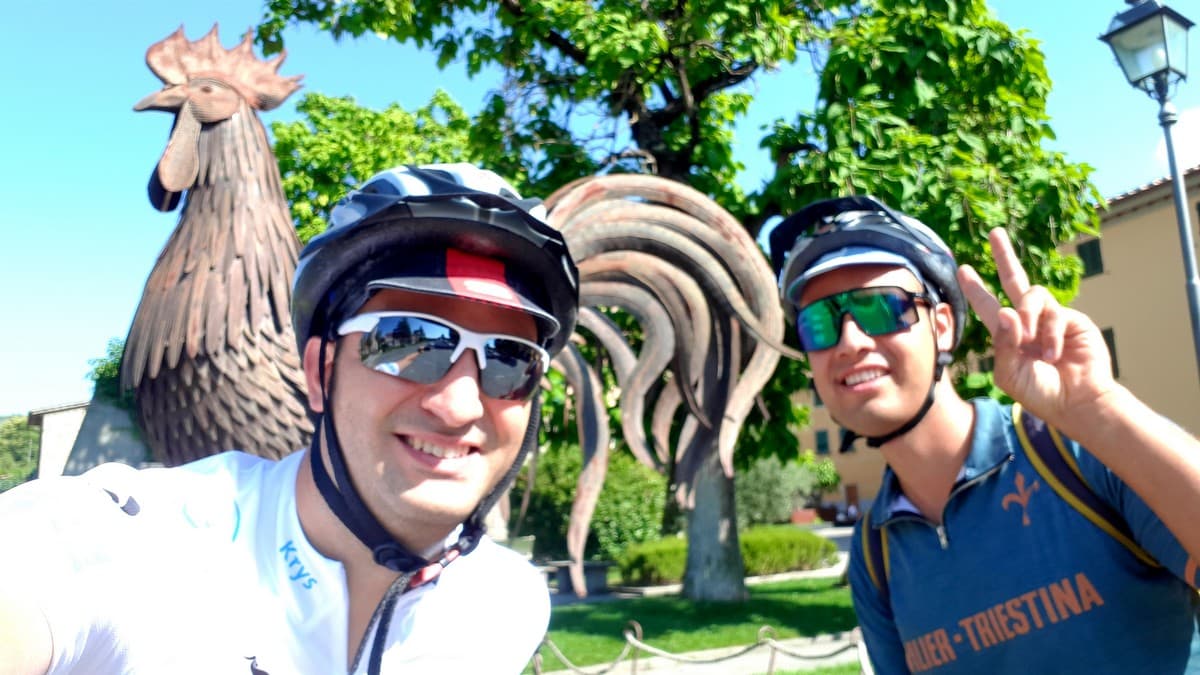 This project was born thanks to Luciano Berruti, collector, restorer, and proudly devoted to L'Eroica, true testimony and interpreter of the heroic cycling.
Bikepacking L'Eroica: from Gaiole in Chianti to Buonconvento by bicycle
Once reached Gaiole in Chianti on Saturday 15th August 2020, we set up our bicycles in order to cycle bikepacking L'Eroica. We start our adventure hoping that our luggage was enough: the word "bikepacking" means traveling without a front or rear rack, useful for bicycle touring.
To bikepack you just need a bicycle, the basic equipment, and some bikepacking bags... together with the desire to ride and discover the world.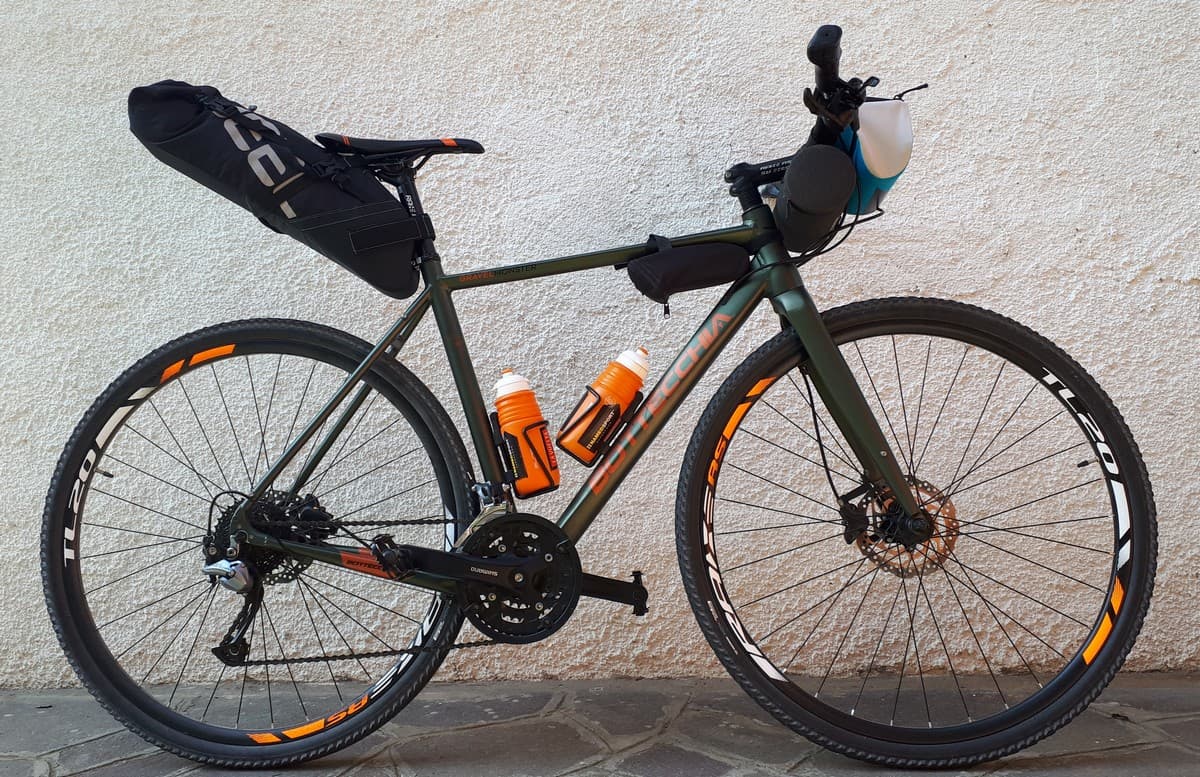 After a few km, the Castle of Brolio overlooks the Ricasoli's lands, the widest area of the Chianti Classico. Bettino Ricasoli, also known as the "Iron Baron" for its determination and belief in his ideals, was one of the most important politicians of the XIX century, in addition to being one of the supporters of the Unification of Italy. His name is strictly connected to Chianti wine. Ricasoli was the first to create the ideal formula for Chianti, by mixing three different kinds of grapes influencing Chianti's production.
We entered Piazza del Campo in Siena (making a short detour from the original permanent route of L'Eroica) through the same track of the "Strade Bianche" route, the "European southernmost Northern classical route", from the legendarySan Martino curve, where the winner of the Palio di Siena is decreed. Piazza del Campo is basically Siena's center and it's one of the most magical medieval places in the world: its shell shape is formed by the two curves, San Martino Casato.
In this square Torre del Mangia stands out, one of the highest in Tuscany and with its 87 meters is the third oldest tower in Italy.
The symbol of Siena takes its name from its bell ringer (Campanaro) Giovanni di Balduccio, famous for spending all his money, especially on food, and was named "Mangiaguadagni" (money eater) than shortened Mangia.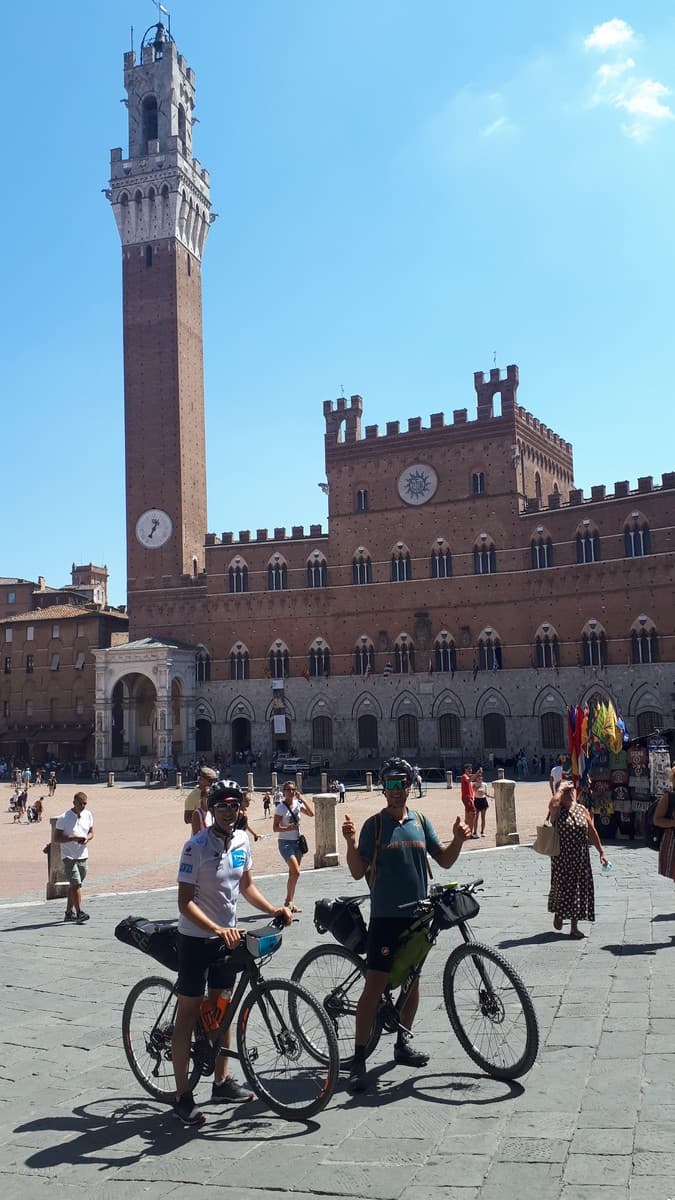 After a snack under the Torre del Mangia, following the Francigena Way, we got back on our adventure bikepacking L'Eroica and reached the Val d'Arbia and its typical segment from Colle Malamerenda to Radi with Murlo on the background.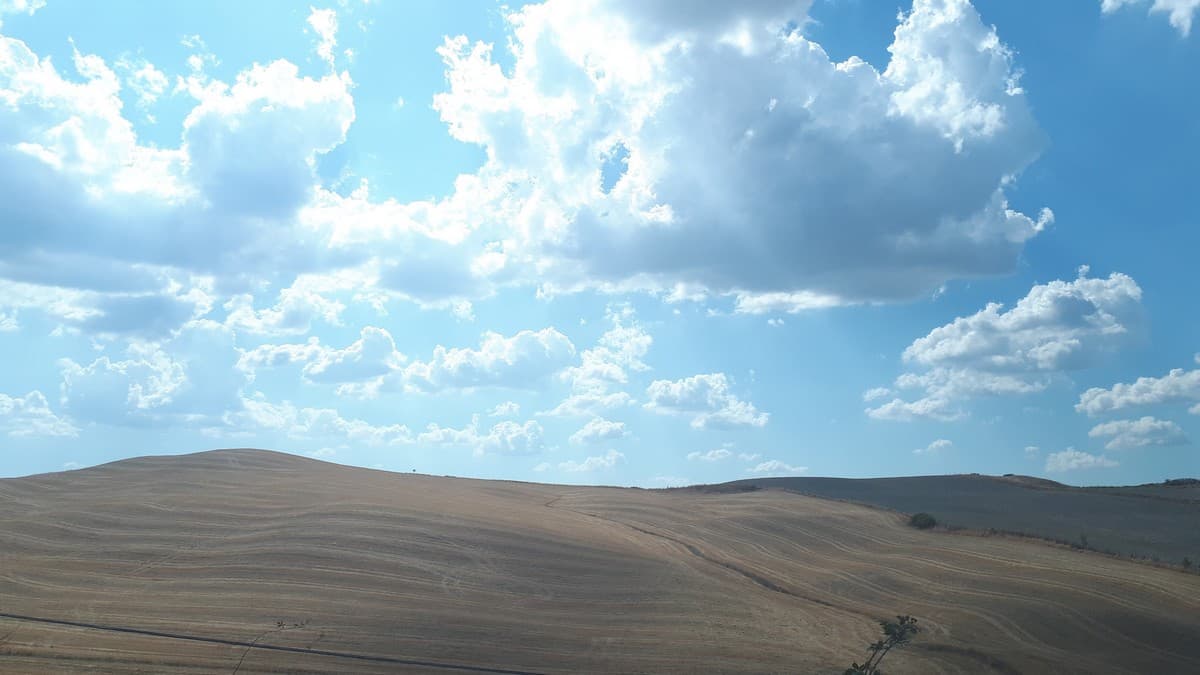 The first day ended in Buonconvento one of the "Borghi più belli d'Italia" (the Most Beautiful Villages in Italy), a medieval corner in the spectacular Valle dell'Ombrone.
Bikepacking L'Eroica: on the hills of Brunello
Cycling in Castiglion del Bosco (one of the most demanding segments of the whole itinerary), we were on the hills of the famous Brunello di Montalcino.
Montalcino with its majestic fortress is located in the last bit of the Val d'Orcia, in the middle of the Tuscany hills and surrounded by medieval walls.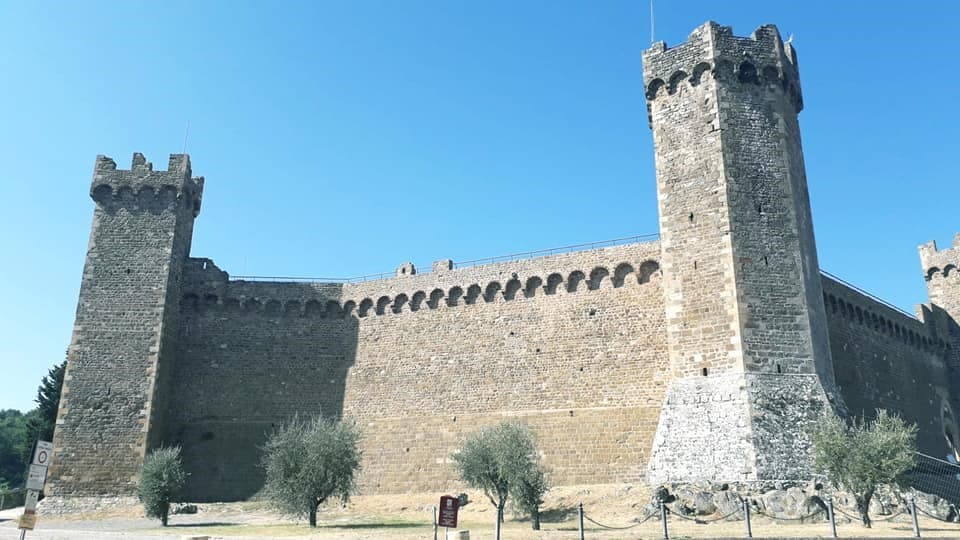 This village is famous for Brunello, one of the best wines in Italy and one of the most known in the whole world. Brunello was born in 1888 from an idea of Ferruccio Biondi Santi who decided to eliminate the most classical Chianti vineyards and using only Sangiovese.
Crossing the Val d'Orcia, UNESCO heritage, nature is the absolute protagonist: curvy hills, isolated villas, cypress alleys, vineyards, olive trees and golden wheat fields.
From this gold, we could ride towards the grey-brown of the clay, finely shaped into hills and depressions, of the Crete Senesi. The land is undulated in bare hills, rare poplar, and oaks. We could see the typical geomorphological phenomena: the so-called "calanchi", deep cracks on the side of the hills, then the "biancane", small dome-sized elevations, and the "balze", very steep walls, real cliffs.
We slept in Asciano, in the heart of the Crete Senesi.
We couldn't resist and tasted some wine with some pici con le briciole (pasta with breadcrumbs) and some cacio e pepe (pasta cheese and black pepper).
Giovannino Guareschi perfectly picked the real deal of the bicycle: "The bicycle? It gets you hungry and thirsty and lets you discover new tables where to satisfy them".
On the mythic roads of L'Eroica in bikepacking
The next day we started the ride with the gravel road of Monte Sante Marie, a hard climb, not so long but with very high gradients also because the bikes tend to slip and wheelie up... and if it happens you have to push! This stage, one of the most demanding and original of the "Strade Bianche" route is dedicated to Fabian Cancellara, a Swiss cyclist who won three times this race: a milestone celebrates his name here.
By crossing Castelnuovo Berardenga and Radda in Chianti we closed the permanent route coming back to Gaiole in Chianti on Monday 17th August.
Satisfied after bikepacking L'Eroica route, we got the last of six checkpoint stamps on our booklet.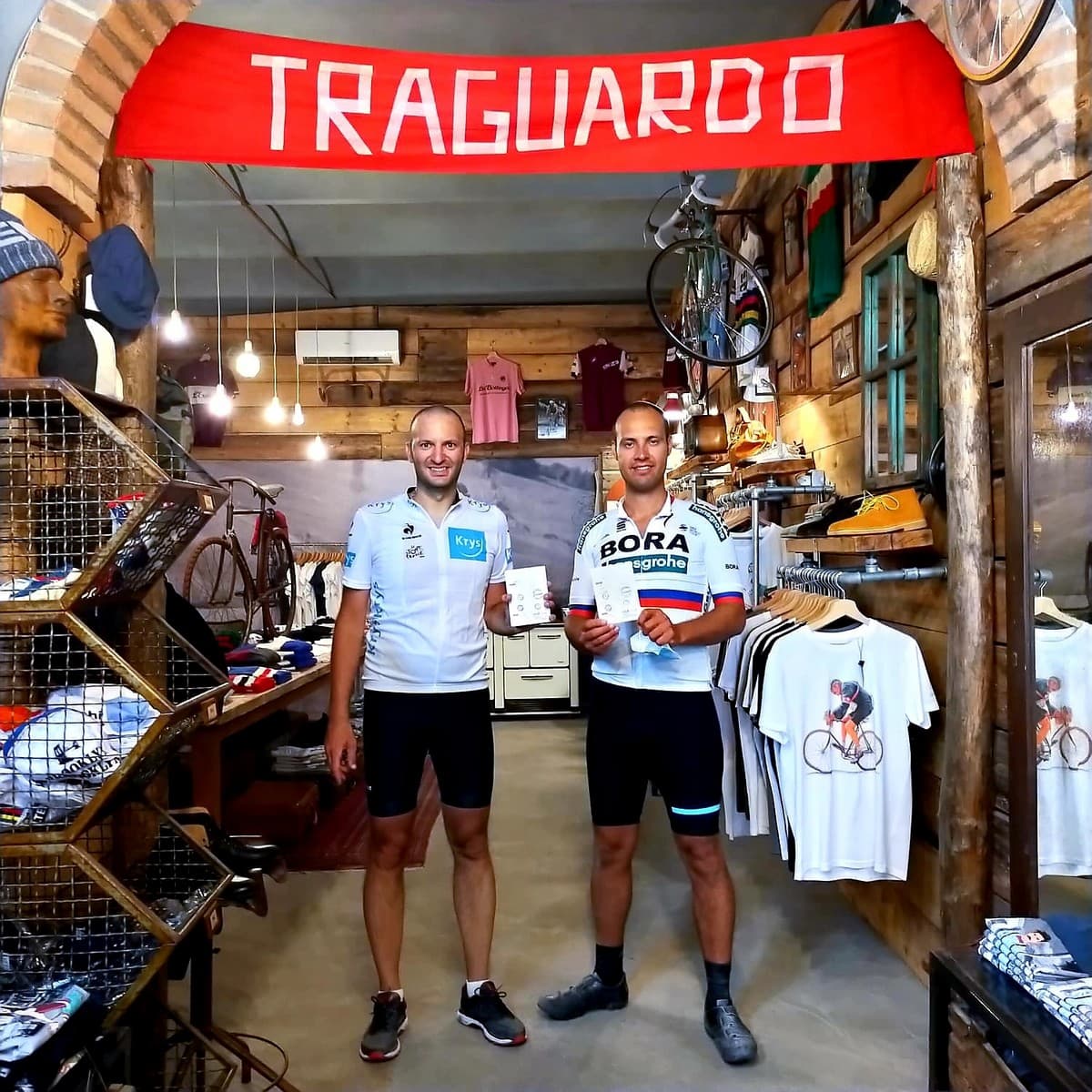 These stamps allow cyclists to get a special certificate called attestato eroico.
This is because every bicycle adventure "needs a talisman, something to keep and look at from time to time, an access key to memories", as the geographer, traveler, and speleologist Luigi Vittorio Bertarelli.
"Eroic cyclists are a growing kind", says Giancarlo Brocci, creator of "L'Eroica"
The stages of our bikepacking L'Eroica adventure
- 1st stage: Gaiole in Chianti - Buonconvento (Chianti, Siena Valdarbia) 73 Km, 1.126 m elevation gain
- 2nd stage: Buonconvento - Asciano (Montalcino, Val d'Orcia, Crete Senesi) 84 Km, 1.690 m di elevation gain
- 3rd stage: Asciano - Gaiole in Chianti (Crete Senesi, Chianti) 64 Km, 1.310 m di elevation gain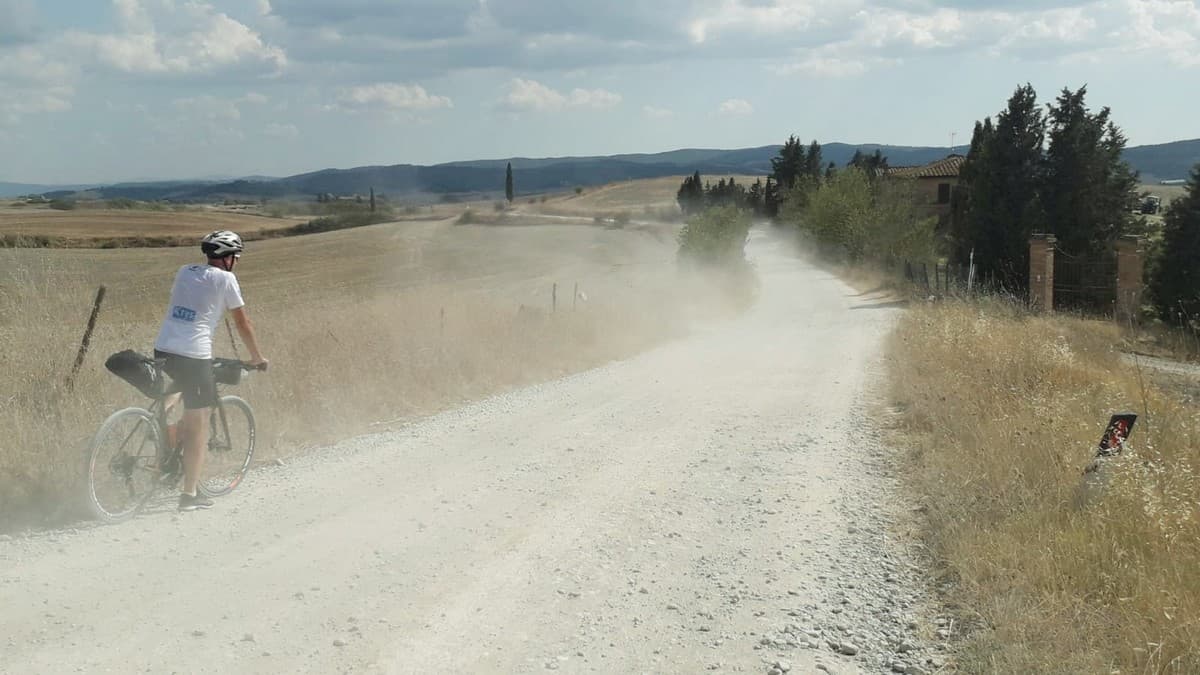 ITA - Ho 33 anni e sono piemontese, anche se da qualche anno vivo e lavoro in Lombardia. Dopo un inizio da totale inesperto in questo campo, mi sono avvicinato al mondo dei cicloviaggi e della bicicletta sempre più. Oggi posso definirmi "cicloviaggiatore", e assieme all'altra mia passione - il videomaking - non mi fermerei mai! Cyclo ergo sum, pedalo quindi sono, per cercare di capire perché andare in bici sia così bello, terapeutico, ricco... E ogni volta che provo a capirlo, non ce la faccio, e sono costretto a ripartire sui pedali!
ENG - I'm from Piedmont and I'm 33 years old, I have been living and working in Lombardy for a few years. After a start without any competence in this field, I then approached the bicycle world more and more. Today I can call myself a bicycle traveller and videomaker who would never ever stop. Cyclo ergo sum, I cycle therefore I am. I ride my bike trying to understand why it is so beautiful, rich, therapeutic. And every time I try, I do not understand it. So I must leave again...