Bicycle Touring: 10 best travel bikes of 2019 (in my opinion)
Buying a touring bicycle is always challenging, especially because we usually travel one or twice a year and it's not easy to face a purchase - besides, heavy - for an item that will mostly live in our basement. Luckily during these last years, the concept itself of bicycle tour has been changing, and along with it, the bikes evolved as well, becoming everyday things.
This allows us to make a more thoughtful choice, and maybe pledge a higher budget for this mixed-use means of transportation. This year too I decided to do a short (and surely not exhaustive) research, trying to understand which are the most popular travel bicycles and which are used with more satisfaction by bike tourists. See below the 10 best adventure and touring bicycles of 2019.
Updated on October 2018
Index
Let me just make a short foreword: as often happens, your bicycle choice is subjective and depends on the use you are buying it for. It would be wrong and misleading trying to say which is
the best touring bicycle
. In this list, I included - in my opinion -
the most polyfunctional and multidisciplinary bikes
. Thanks to
bikepacking
, which is becoming more and more popular also in Italy, and all the information you can find on the Internet, one can organize autonomously tours on adventurous routes, away from the traffic and the same old destinations. In order to
purchase the best travel bicycle
, you will have to consider this evolution in the way people travel. Below you will find bikes suitable for long asphalt paths. With some changes, though, the same bicycles don't scorn dirt tracks. These are
bikes suitable for long distances
, so
they favour comfort and reliability over performance
: for this reason, my list mostly includes
steel frameset bicycles
.
If you are looking for a polyhedric but still fast and quick bike, suitable for pedalling many kilometres on one day, you might be more interested in a gravel bike. If so, take a look at this list of the
10 best gravel bicycles of 2019
, always in my modest opinion.
Bombtrack Beyond
In 2018,
Bombtrack Beyond
was supposed to be Vero's new
adventure bicycle.
But, being Bombtrack a small company, it handles its orders with
insane slowness
: that's why ultimately Veronica had to "shift" her choice towards the second bike I'm presenting down below. Really versatile and at the same time elegant,
Bombtrack Beyond
presents a steel frameset with double-butted tubes, mechanic disc brakes (180mm and 160mm), SRAM GX-X5 chainset, 29" wheels (27,5" wheels in smaller sizes XS and S) with thru-axle in both front and rear hubs, a drop-bar handlebar and includes Rohlhoff hub cable routing. It weighs approximately 12.5 kg and there are two different colour variations: the matt blue you see below and matt metallic green. The cost of this travel bicycle, that we would have bought on the
Bikejamming website
is
1999 €.
For more info visit Bombtrack website
Genesis Tour de Fer 20
After stalling for a while, in 2018 Vero finally decided to buy a less "aggressive" bicycle than the Bombtrack Beyond. So Genesis Tour de Fer 20 has been chosen. This English brand presents a broad range of touring bikes, but we were not just looking for a steel frame. Tour de Fer 20 offers robust components and doesn't care much about the weight, as we usually do on our bike trips. The trustworthy Shimano Deore, a dynamo hub, the steel frameset, its 700c wheels, the Tubus steel racks, its three bidon mounts and the possibility to add a front rack: these are just a few of the features that helped us with this purchase. The turning point for Vero's choice of this bicycle over the Tour de Fer 30 model is the flat handlebar, which she prefers over the drop-bar handlebar.
This bike looks made to last... and if you are curious, you can read the specific review of the Tour de Fer 20 (just in Italian for now), written by Vero after testing it for a few hundred kilometres. The price is around 1600 €, whereas Tour de Fer 30 is around 1900 €.
For more info visit Genesis website
Koga World Traveller
Another growing company among the most demanding and dynamic bicycle tourists is
Koga,
which is expanding thanks to its
World Traveller
, ideal for long distances lovers. Its flat handlebar with integrated Ergon grips bar-ends is perfect for different hand positions. The bicycle is sold equipped with two kickstands (front and rear), front and rear carrier, dynamo hub, lights and ring lock. The Shimano SLX shift is way better than the previous bikes, but what turns my nose up are on one side the Magura disk hydraulic rim brakes (we had our bad moments with the mineral oil brake fluid during our trips, but I have to admit I have never tried these specific brakes), and on the other the aluminium frameset, lighter and more versatile but more difficult to get fixed if you'd have problems in some
not actually bike-friendly
countries. As you can see this is the only bike with aluminium frameset: I'm not sure if you guessed that I prefer steel framesets... One of the news from this year - as long as I'm writing in September 2018 with not so many information - is the full carbon fork.
The price is circa 2300 € but the trustworthiness of this Dutch brand has been proven, and if you are planning a long ride, this touring bicycle might be The one. If you want to save some money but lose in quality, you might consider the Koga Grandtourer, or if you are not so trained, there is an electric version of the World Traveller.
Surly Long Haul Tracker
Let's not leave the robustness club: Surly Long Haul Tracker is another great and loved bicycle. Steel frameset, simple but comfortable geometry, rear derailleur Shimano XT. Cantilever brakes (an antique at our latitudes) and bar-end shifters do not convince me. This star and stripes company has built a great reputation among bike travellers and not rarely I have seen its bikes during many trips. The frameset is often customized with different components, following the demanding traveller's desires. "Grandpa Thermos" green is this year's news. Amongst Surly bikes, Ogre's geometry is more ideal for bike-packers or dirt/trail roads lovers.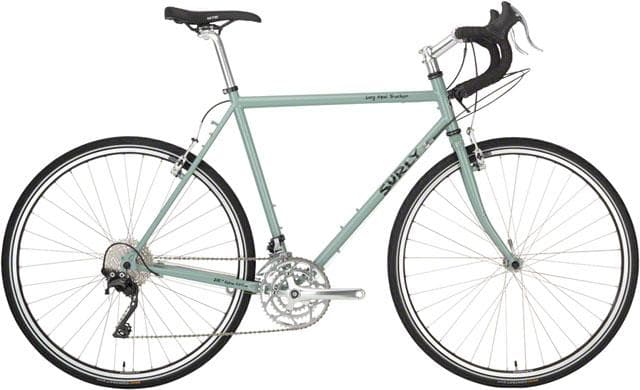 Kona Sutra
A successful model in bicycle touring is for sure Kona Sutra, by the American brand. This bicycle these last years has been modernized without being overturned. Steel frameset, Shimano shifters and Tektro disk brakes are a good compromise between innovation and robustness, considered the competitive price (1500 € circa). This year Kona introduced thru-axle on Sutra too, in addition to its model LTD: this can be either positive or negative, depending on the trip you are going to face. This model has mechanic disk brakes, 28" wheels and does not have a dynamo hub. Brooks saddle and Marathon Mondial tyres are a guarantee, however, the bar-end shifters are a peculiarity to be considered before purchasing. The company offers Sutra LTD for 2300 €, more offroad touring and adventure-oriented (loved by bikepackers) and one new gravel bicycle that you'll discover in the other article linked above.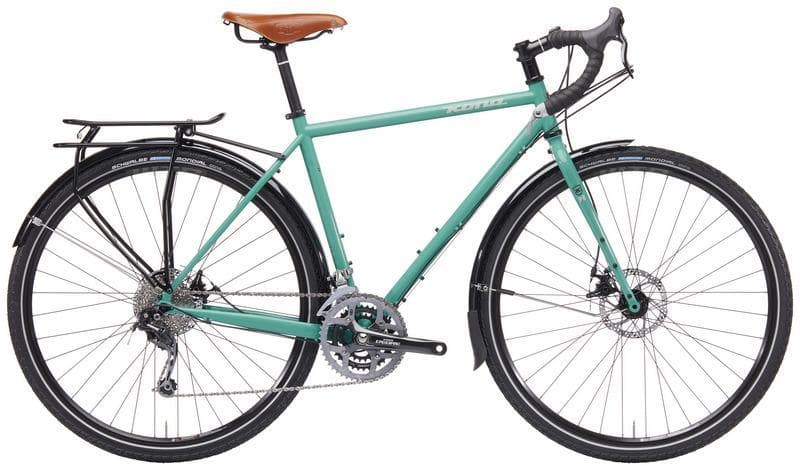 Fuji Touring
Fuji, another prominent brand from the Far East (even if it's based in the USA too) has successfully been developing a remarkable touring bicycle: Fuji Touring Disc. In my list of the best travel bicycles, I prefer to include the mechanic disk brakes model (like Sutra), although there is a V-brakes version of it. In comparison to the bikes presented until now, this is a bargain bicycle: its price is consequently more competitive (1200€ circa). It has a steel frameset (Raynolds 520), with three bidon mounts in and around the front triangle, 28" wheels with Vittoria Randonneur tyres, it is sold with a rear rack and it can fit cargo cages or a front pannier rack. If you are looking for good quality at a small price, it is a great choice.
Thorn Nomad
Thorn touring bicycles are a reference in Great Britain, but here they were almost impossible to find… problem solved thanks to the Internet! Firstly Thorn Sherpa (1300 £), then Thorn Mercury 700c, then Thorn Raven and Thorn Nomad (2413 £). The bicycle I chose to introduce to you, even if all the range is dedicated to trips and Thorn's strong point is robustness, is exactly this last one. Rohloff system (lack of front derailleur, internally geared rear hub… someday I'll talk about it) protects the shift, the most delicate component, especially during the trips.
26" wheels are easy to be found and replaced almost all around the world (although it's more and more complicated to find them in the most developed countries) and its steel frameset rhymes with solidity. Someday I'd really like to try one of these bikes! Pay attention: your order might take more than a month to be shipped in.
Trek 520
Trek 520 had to be included in this list: it's one of the most long-lived and best touring bicycles (the most long-lived of the American brand, for sure). The most shocking news of the year is the aluminium fork mounted on its steel frameset. Second news: the security system of Thru-Skew, blocking the front wheel unless the thru-axle isn't completely removed. Mechanic disk brakes, 27-speed Shimano chainset, Bontrager Tubeless Ready wheels with puncture-resistant tyres and drop handlebar. It is sold with an included front and rear rack. In conclusion: being older than 30 years, Trek 520 is living a new youth. The retail price is 1340 € circa.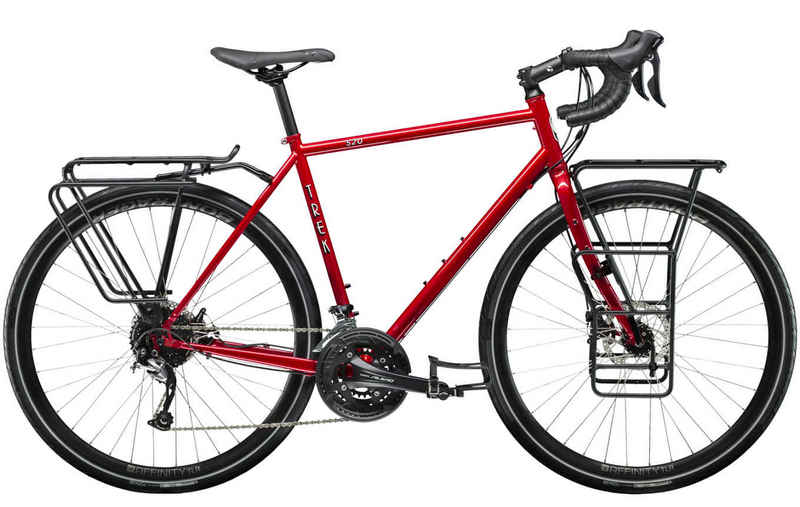 Salsa Marrakesh
Salsa bikes made themselves noticed among adventure travellers and its models Fargo, Vaya and Marrakesh are the most loved in Italy. Personally, I don't like them because of their drop-bar handlebar, but it's the market trend. For this specific list I have chosen Salsa Marrakesh, the most versatile of these three, suitable for long journeys or outdoor day trips, either on or off-road. Marrakesh too is being sold only in the drop-bar handlebar version, rather than with a flat handlebar. Steel frameset and fork, Shimano Deore chainset, 28" wheels, mechanic disk brakes, rear rack included. The most curious feature of this bicycle is the alternator dropout, that delivers incredible drivetrain versatility, allowing you to run single-speed or geared, freehub or Rohloff. The retail price on the official site (so we have to wait for the Italian price) is 1499$.
For more info visit Salsa Cycles website
Cinelli Hobootleg
I kept this travel bicycle for the very end of my list because I have direct experience with this one. For the record, the bike we used for the Lesotho and South Africa trip was the 2015 version of the Cinelli Hobootleg Geo. In 2019 there is some big news about the travel bike range by the Italian brand. Firstly the flagship product, Hobootleg, ideal for long journeys with Shimano Sora/Deore drivetrain, cantilever brakes, drop-bar handlebar, bar-end shifters, front and rear Tubus rack together with mudguards. A better frameset and fork tolerance (allowing you to mount up to 40mm wheels with mudguards on) and a new green (instead of the previous cream) are the two news of 2019.
In addition to the forefather Hobootleg, the absolute new-born is the orange Interrail, a great compromise between the two Cinelli already on the market. With its H double-tube handlebar ("Jones" type), hydraulic disc brakes, 10-speed transmission (having the front derailleur free might look a bit too high), thru-axle and a lot of bidons and pannier mounts, it looks ideal for minimal bikepacking.
Lastly "my" Geo has been modified following some market demands: sky blue replaced the old colour, hydraulic disk brakes supplanted the mechanic ones, from two front chainrings to the 11-speed only ring and the old flat handlebar is replaced by a very very open drop-bar (even Vero might like it). Differently from the Interrail model, with 28" wheels, here we can mount 29" or 27.5" wheels, up to 3" thick. These features make it more ideal for offroad than its brother Interrail, more fluid and fast than Hobootleg, more suitable for heavy loads and long-range voyages. Unfortunately, even my complete review of Cinelli HoboGeo, available on video in the dedicated page, is becoming outdated.
The price of HoboGeo climbs up to 1870€, however, the Interrail is very competitive (1190€). In the middle, we find Hobootleg (1460€), the only "ready to go" for classic bicycle tourism.
These are, in my opinion, the
best travel bicycles of 2019
, but this list could easily get longer! By the way, there are lots of
great craftsmen
, also and mostly in Italy, producing top quality custom-made bicycles.
What about you? Which one are you dreaming about or which bicycle would you love to ride during your 2019 trips? Let us know in the comment section below!
Bicycle Touring: 10 best travel bikes of 2019 (in my opinion)
-
5.0

out of

5

based on

1

vote
10 migliori bici da cicloturismo 2018
lifeintravel.it
I'm from Piedmont and I'm 30 years old, I have been living and working in Lombardy for a few years. After a start without any competence in this field, I then approached the bicycle world more and more. Today I can call myself a bicycle traveller and videomaker who would never ever stop. I ride my bike trying to understand why it is so beautiful, rich, therapeutic. And every time I try, I do not understand it. So I must leave again...