Bicycle Dynamo Hub: an overview and information
We cannot hide behind our finger... in XXI century technology surrounds us and even us, bicycle travellers, have to deal with it. Even the most extreme and savage bicycle traveller has the need to be connected, everywhere and always. Other than the ethical question I'm not going to analyze here, this need is also practical: which are the alternatives to the electricity that can be used when this isn't available? In this article, we list some of the most common alternatives, like the dynamo hub connected to the lights system or, thanks to specific chargers, to your electronic devices, in order to charge them.
Which are the alternatives for charging your devices during a bicycle trip?
It could happen, mostly to the most adventurous ones, to be alone in nature without the possibility to charge your devices to a wall socket. In this case, there are some accessories or bicycle parts that can cover for it.
Before entering the main topic of this article, let's take a look at the possible alternatives to recharge your device during a bicycle trip (GPS device, smartphone, action cams, laptop or battery packs).
The possible options to charge your electric devices are mainly three:
Dynamo hub
Portable solar panels
External batteries
By using the dynamo hub, this should be connected to a dedicated USB charger in order to charge GPS, smartphone, MP3 readers, action cameras, small cameras, and other electronic devices that we usually carry on a bicycle trip.
We will dedicate an article to the many USB chargers on the market, the solar panels and the external batteries.
Which is the best system?
But is the dynamo hub the best alternative?
As always, there is no "best", it depends on the specific use you want to do of it. In our case, for longer trips (Asia, South America, South Africa) we used portable solar panels, while Vero recently bought a bicycle with a dynamo hub that she will use for lights and charge a smartphone, the GPS device, her external batteries, and action cam.
How to choose the best (or the most suitable) charging system?
Well, let's take into consideration:
a dynamo hub, connected to a USB charger, is the lightest solution in order to charge your smaller devices like smartphone or GPS device;
portable solar panels can be useful, as I explain in this article where I list some of the most known solar panels for bicycle tourism, especially in order to charge laptops or tablets, which you couldn't with only a dynamo hub;
if you need some extra charge, for a weekend on MTB, you might just need an external power bank.
In conclusion, if you travel for medium-long periods but you only need to charge your smartphone, maybe using it as a navigator with a
GPS App
, you might only need the only dynamo hub (up to 5000-7000 mAh). If you need more power, it would be better to choose the solar panels (or both, dynamo hub AND solar panels), and if your trips are shorter (2-3 days) you can only bring a power bank.
Dynamo hubs
It is the ideal solution, coupled with a good USB charger, to recharge your smartphone and GPS device, that don't require much energy, and it is perfect to power your lighting system.
Dynamo hubs have been used for a long time now. Technologic evolution helped the transfer from the tire to the wheel hub (actually the first dynamo hubs date back to the '30, only the comfort and the efficiency reached high quality in the last years), reducing the noise and the friction of these devices, becoming more and more popular in bicycle touring. Nowadays dynamo hubs are perfect for powering the bicycle serial lighting system, for
these touring bicycles too
, but as said they can be used for many purposes, coupled with a specific charger converting the electrical current and allowing to charge USB devices. Before listing the most known companies producing dynamo hubs, you should know that more or less any hub requires a
minimum value of 2W
to start recharging, so a
speed between 12 and 16 km/h
, depending on the dynamo hub model.
Let's see the companies producing dynamo hubs:
Better known as SON, these are the most known and used, even if recently the market has broadened. SON dynamo hubs are sold with a 5-years warranty and they can reach 50.000 km (as stated on the website) without any maintenance. The most used models are SON 28 and SON deluxe: the first requires a minor speed to reach an adequate power and it's more suitable for a slower bicycle tourist, while the second model has a better efficiency but requires higher speed to reach the same power. For thru-axle bicycles, SON provides a model, SON 28 15. Almost every model is available for disc brakes wheels.
This Japanese colossus presents some dynamo hubs that, for their quality/price ratio, you could take into consideration: the Alfine series for Disc Brakes and Nexus series for V-Brakes. You have to choose wisely depending on your needs (for lighting in the city a 1,5W dynamo hub, for other purposes it's better to consider a 3W - 6V).
For example, you can find the dynamo hub
Shimano Alfine DH-S501
with bicycle touring specs around 68 $.
This Taiwanese company plays an important role in this market for its competitive prices and for the good reviews of its products by happy clients. This company also produces the
SP PD-8
Dynamo
mounted on Vero's
Genesis Tour de Fer 20
and we will give a specific review when properly tested. For now, SP produces three kinds of dynamos: 8, 8X and 9. The first is more suitable for bicycle touring, the second is dedicated to thru-axle wheels and the third is for riders looking for a lightweight dynamo.
Joule 3 Dynamo hub
, available for Disk brakes and V-Brakes, is another great choice. Its weight, as well as the compact design and its efficiency, are a plus. If you think about buying a product by this company, I suggest taking a look at the
Joule HG On/Off
dynamo hub,
allowing you to distance with a switch the magnets from the dynamo and so (almost) cancel the friction. The output, in this case, is 2.4W e 6V, but the major problem is the cost of this pretty toy.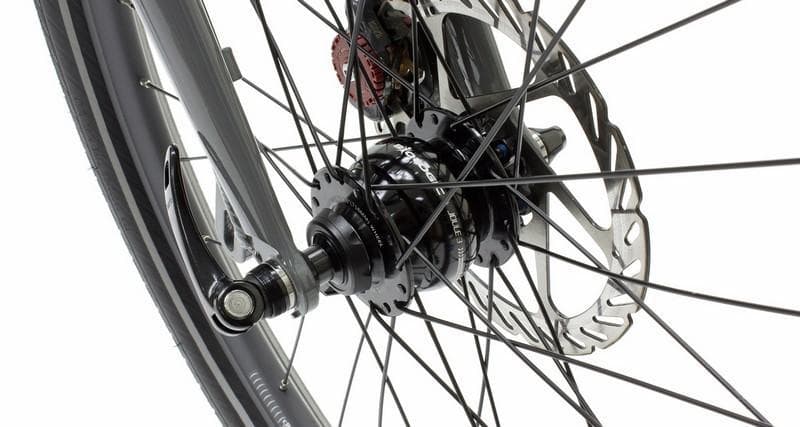 Likewise, similar products to dynamo hubs are the external dynamo power generators, which can be installed on every bicycle without having to change the wheel hub.
Here are some:
A slightly different product than the previous ones is this one. Both
MaxiDyn
(6V 12W) and
EcoDyn
(6V 3W)
dynamos
can be applied externally to the rear wheel and can be used on every model of bicycle. It's not a proper dynamo hub integrated into the wheel, but the possibility to have a 12W device on every model of a bicycle is pretty exciting...
Similar to the EcoDyn by SunUp, this accessory seems to be compatible with every bicycle model. It has to be installed on the rear wheel, externally, and at 20 km/h it generates 5W. It has a USB charger to be coupled, with a switch ON/OFF, in order to save the energy produced. The only doubt about this product is its efficiency at slower speeds.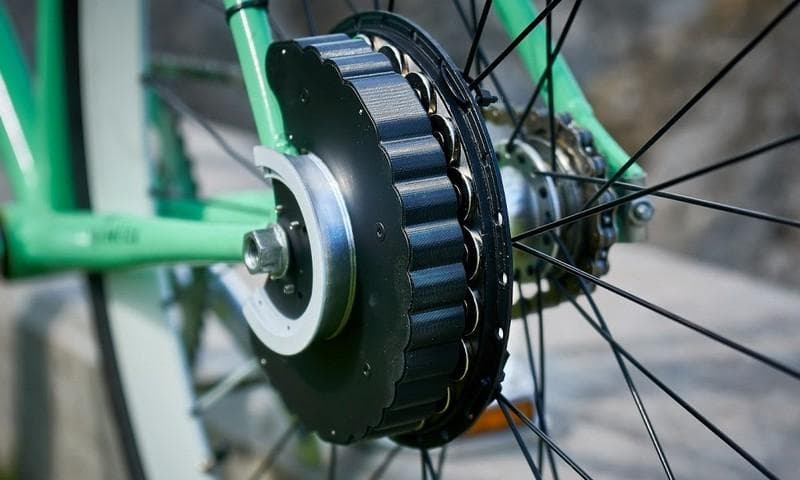 If you know other companies producing dynamo hubs and you are happy using their products, don't hesitate a leave a comment down below!
ITA - Ho 33 anni e sono piemontese, anche se da qualche anno vivo e lavoro in Lombardia. Dopo un inizio da totale inesperto in questo campo, mi sono avvicinato al mondo dei cicloviaggi e della bicicletta sempre più. Oggi posso definirmi "cicloviaggiatore", e assieme all'altra mia passione - il videomaking - non mi fermerei mai! Cyclo ergo sum, pedalo quindi sono, per cercare di capire perché andare in bici sia così bello, terapeutico, ricco... E ogni volta che provo a capirlo, non ce la faccio, e sono costretto a ripartire sui pedali!
ENG - I'm from Piedmont and I'm 33 years old, I have been living and working in Lombardy for a few years. After a start without any competence in this field, I then approached the bicycle world more and more. Today I can call myself a bicycle traveller and videomaker who would never ever stop. Cyclo ergo sum, I cycle therefore I am. I ride my bike trying to understand why it is so beautiful, rich, therapeutic. And every time I try, I do not understand it. So I must leave again...
Latest from Francesco - Life in Travel