UPDATED IN OCTOBER 2018
After a while this list has been updated with new reviews of the Apps originally included in the list, adding three new outdoor Apps and removing the ones that are no more available.
Although in the last years the phone batteries have seen a significant improvement in terms of duration, it's important to underline that the use of a smartphone for your outdoor activities should be integrated with a power bank... because be left without any battery in the middle of nowhere during your activity without knowing the right way to come back to the civilised world, should only be something to be told as an anecdote afterwards. If your activities are time limited, you can take this risk, otherwise, don't defy danger!
Before listing the best
outdoor, MTB and trekking GPS Apps
I must admit that I have been using some of them for a longer time and in a deeper level, while some of them have only been tested for days or weeks, just for reviewing purposes, in order to test their main features.
Everyone has one's own preferences and I am no different! If you are a beginner, my advice is to try all of them and decide which is your favourite GPS App, specific for your needs.
Personally, for example, I prefer using these Apps for my bike activities and my mountain bike hikes, rather than trekking or mountain walks.
All the
outdoor Apps
listed below have been tested on an
Android device
. Some have their twin for iOS, and some others are exclusive for iPhone (and I've heard they are legit): maybe I'll dedicate a list to these specific Apps.
Let's dive into the best outdoor apps, in my opinion!
My Tracks
This App by Google is pretty basic and allows you to record your routes during an activity, providing the most common stats (distance, speed, path and elevation). It allows you to save your file in an archive and share it through Google Maps, Google+ and other social media. You can mark waypoints and import routes from external memory. At the moment, though, it is impossible to modify the route directly from the App and maps different from Google Maps ones are not available. It is a basic App for beginners with not so many needs.
Orux Maps
I found this
free maps App
really
complete and exhaustive
. A nice surprise. I have been using it for some years now and it's one of the few Apps I always have installed on my smartphone. It's possible to record a route, save and have a list of activities, create waypoints even with photos,
download offline maps
(so you can save battery and there is no risk - if you don't have any connection - to get lost without cartography), create your own track and follow it on the go and you find a lot of stats. Nonetheless, there are dozens of maps available: beyond the classic Google tools, you have access to American topographic maps but, above all (as for me)
OpenStreetMap
and
Topo 4umaps (EU)
maps. Then you can share on social media your route or load it on the most used sites for routes sharing (GPSies, Everytrail, MapmyTracks...). Something really positive is the lack of ads even in the free version, which, unfortunately (I don't know if this is the reason) it is not directly available on Google Play Store because, as shown on its official site, it violates Google's payment policy. Anyway, follow the link you find here below in order to download it directly from the official site, whereas on the Google Play Store you'll find the "Donate" version, equal to the free one but which you can download Orux Maps by purchasing it at a cost of 3€ (at the moment I'm writing).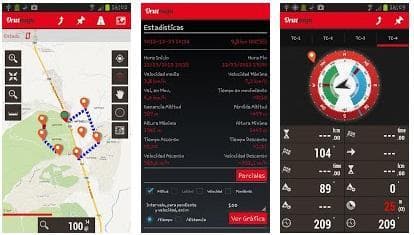 After years of constant use, I think this outdoor App is one of the best I can use alternatively to my GPS navigator. For this reason, I realized a short basic guide for OruxMaps, App for mountain bike, together with a video on our YouTube channel.
Outdoor Atlas
Easier than
Orux Maps
but functional. The maps already installed are
Opencyclemap
(and some french maps), which you can download and use later even without an active connection. Some plugins allow you to install Alpstein Tourismus maps (for north-east Italy, but I haven't tested them yet). It's possible to load a GPS route and follow it or create it with some waypoints (however Orux Maps is way more customizable) or record it during your activity.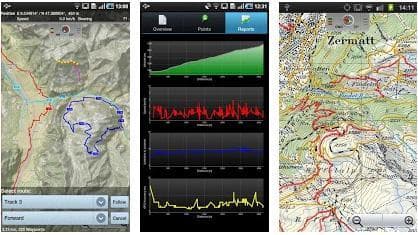 Every trail

All Trails

This is one of the most popular website's App for sharing outdoor routes, that changed its name from Every Trail to All Trails. It's really simple and clear. Great for tracking routes and sharing them with the App's community, but very limited in the free version: you can only view three favourite routes, you cannot download the offline maps in order to navigate without connection and you only find GoogleMaps maps. Its advantages are the numerous English guides with itineraries all around the world, the facility of use (you can easily skip from description to maps to photos and descriptions of the points of interest)...
Trimble outdoors navigator
This App is no longer available on the Google Play Store!
This would be a great outdoor App if it wasn't specific for Canadian and American markets because as a matter of fact, you will only find these counties' maps, other than the basic GoogleMaps maps. Furthermore, caching maps (downloading them to your SD card and navigate them without connection) is available only for the premium version. In this App as well you can keep an archive of your routes, some stats, add media (photos and videos) and geotagged waypoints. It is not available in Italian.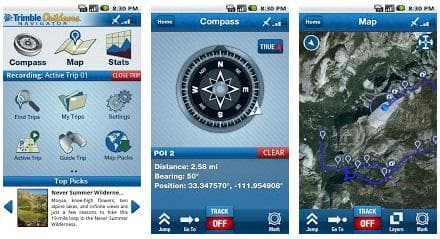 Alpine Quest Lite
At first sight, it looks like a very complete GPS outdoor APP, but the things you can do with the Lite version (the free one) are really few. The selection of the maps is very limited, you can create waypoints of different kinds, but the geolocalization is available only in the premium version. There is a convenient compass, but not much more. You cannot import, follow or create routes and navigate the Italian menu is not clear at all because of an inaccurate translation of the menu items.
All Sport GPS
This App is no longer available on the Google Play Store!
This App as well, developed by the same company of Trimble Outdoors Navigator, is more suitable to monitor your progress in training more than using your smartphone as a GPS navigator. Totally similar to Endomondo, it allows you to select the type of activity (MTB, street bicycle, trekking...), or view the map with your route (Google Maps), some stats (speed, time, distance, elevation) and a diagram with your activity details.
Locus Map
One of the most complete Apps. Available also in the FREE version, it offers the possibility to choose between many maps that can be navigated online or downloaded onto your smartphone. You can import your own GPS routes (or download ours from the download area of our website) or record your activities with planimetry and altimetric data while mountain biking or just hiking. Its functions, even in the free version, are a lot and all to be explored: the learning curve is pretty high, but once you get the knack, it turns out to be quick and easy. In the FREE version, the top ads bar could get annoying, but it's more than justified.
Among the outdoor Apps for leisure (not competitive use), I think Locus Map is the most complete and easy to use. The constant and quick updates made me use it alternatively to Orux Maps... and I might say even the free version is top level! that is the reason why I chose to describe its functions in my basic guide to Locus Maps, outdoor GPS App.
Osmand
Osmand stands for OpenStreetMap Automated Navigation Directions and uses OpenStreetMap database providing access to Wikipedia points of interests, proving to be one of the best outdoor Apps on the market. In the free version you are limited to 10 maps to be downloaded directly from the App: for MTB bikers it could be enough, but for longer journeys, you might consider an upgrade to the premium version. Like the most part of these outdoor Apps, Osmand too allows GPX routes navigation, recording and geocaching. There are also a lot of additional plugins like contour lines display or hill shading.
Wikiloc
This App derives from one of the most known and used outdoor websites and has one of the most active communities, dedicated to MTB, trekking, bicycle touring, mountaineering, ski or horse riding. So the most peculiar feature is not the presence of maps on which you can track your activities, but the possibility to select the routes from the community archives. of course, it allows you to record your activity and share it with the community. You can use online Google Maps or offline maps of your zone. Unfortunately, this is a free App. except for recording a route, all the useful features are in the premium version. You can buy "navigation packs" starting from 3 months up to 1 year, with a cost between 3 and 5 € circa, so you can download offline maps and follow routes already created
Maps.me
One of the most used outdoor Apps by travelling, trekking, MTB and bicycle touring lovers. Its popularity is due to its simplicity of use and its auto-routing function, automatically creating routes just setting both Start and Finish points. Moreover, this trekking and outdoor App is available either for Android and iOS. Maps can be downloaded for offline use, you can find some points of interest and you can create a route to follow. For more information and in order to learn how to use this App you can read the basic guide to Maps.me, realized after using it.
Sygic
Another App I recently discovered and that I had the chance to try only for a few excursions. Sygic is a car navigation oriented App and looks very similar to Google Maps. Therefore it is not suggested to be used for trekking or MTB excursions, whereas it can be used for road bicycle trips. Its advantage (and the main reason it is listed in this article) is the offline maps use, that do not need data in order to be navigated. As I stated, it is very similar to Google Maps, so you can follow your route to the destination point following vocal directions and advice. Its simplicity of use makes this App more suitable for less nerdy travellers, for people preferring a less technologic solution. If you have more advanced needs, just skip to one of the other Apps listed in this article.
Two more Apps I have been suggested to use (but I haven't had the time to use them) are Viewranger and Runtastic... but there will be plenty of it for more updates in the future.
Almost all these Apps are available in a premium version, with some extra features with cover, but this is for you to be discovered...
Despite it is very comfortable to have all the functions in one device, I think I will always be integrating the use of my smartphone with a more specific device that I own since I started travelling, a cartographic GPS device: its precision, but more important its battery life is just not comparable.
The power of these App lies in the possibility to use features that you won't find in any classic GPS device (to create photo or video waypoints, to track your activity directly on your device, different maps to be downloaded...). These features, for people like me who love sharing their routes online, might help saving some desk work. In order to lock faster the satellites you might want to try
GPSFix
,
FasterGPS
or
FasterFix
, while in order to ckeck the satellites status, their precision and other data you can use
GPSstatus
.
After having been testing the outdoor Apps, being a bicycle touring lover, I tried using five free bicycle touring Apps, which you can read my impressions about. If you are a Windows smartphone owner, or you need an App for your PC, check the article View GPX files on a Windows PC: GPX viewer and recorder. If you look for something more precise, solid and performing than a smartphone App, you can buy an outdoor GPS device: here you find the main and most popular companies.
And what about you? Which outdoor Apps are you using and are familiar with? Which ones do you fancy and do you suggest or advice against? Let us know down in the comment section!